When it comes to convenience in the kitchen, many people are turning to the Thermomix. It's a revolutionary kitchen assistant that does many of the smaller and larger cooking tasks involved in recipes. So, instead of chopping up your vegetables, sautéeing and cooking meats with a side of rice, this all-in-one cooker can do all of that without having to dirty as many dishes.
So, while you can still prepare delicious meals without one, it offers a bit of luxury for home cooks to level up their cooking game! And at Carolina® Rice, we love finding new ways to help our consumers create impressive dishes with perfectly cooked rice. So, we'll walk you through some of its capabilities with recipes using our rice if you're interested in giving this option a try!
What Is a Thermomix Exactly?
Created by the German company VorWerk, a Thermomix is truly a one-of-a-kind machine that essentially prepares and cooks food at adjustable temperatures and speeds. However, that is just the beginning of the benefits to this multi-cooker; it comes with a built-in-scale, a steamer and a helpful touchscreen that walks you through recipes step by step.
What Can A Thermomix Do?
If you're thinking to yourself, I can do that with a food processor and a skillet, think again! It actually does the work of about 20 different kitchen appliances in one compact unit. And, one of the things many people like about it is that it prepares many recipes from start to finish.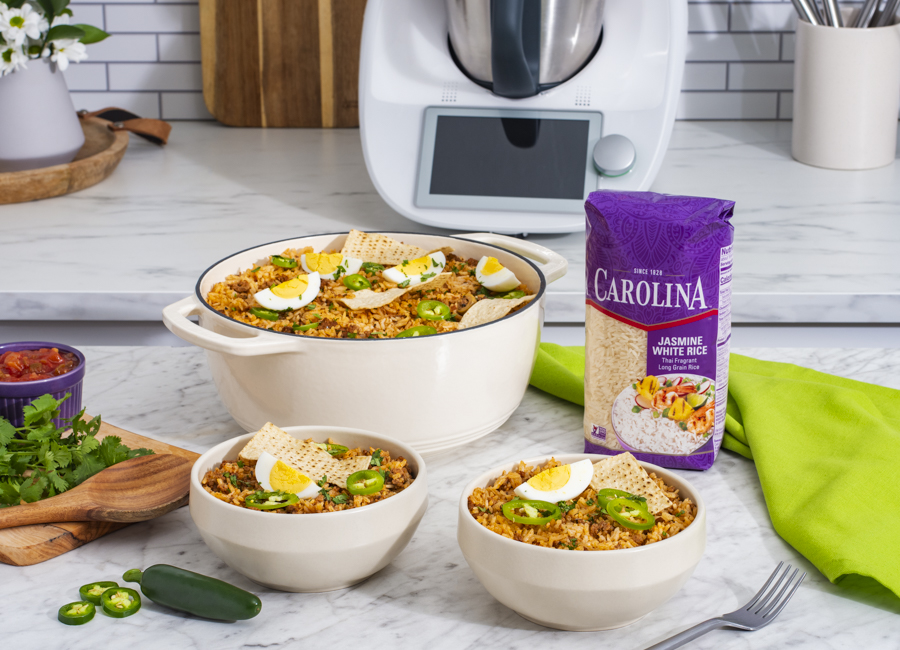 So, while it is completely possible to cook your meals using different tools you already have, many rave at the convenience of having it all in one cooker that takes up a little less space on the counter and offers you a bit more time.
Below is a short list of some of its key functions:
Food processor and blender.
Cooker with multiple functions to sauté, simmer, steam and blend.
It can cook, chop, crush, emulsify, whip, mix, steam, blend, knead, grind, simmer, grate, and mill.
The latest models also work as a rice cooker, kettle, egg boiler, to ferment, sous-vide, and slow cook.
Thermomix Recipes
From a rich and creamy Risotto to a spiced Chicken Curry with Rice, and even cookie dough or homemade pizza dough, you'd be hard pressed to find a recipe that it can't prepare on its own, or at least prepare partially.
Even down to seemingly simple tasks, the Thermomix can cook rice perfectly every time, which for many can be a lifesaver! To see a recipe in action, take a look at our recipe video for a tasty Peruvian-inspired Thermomix Green Arroz con Pollo topped with a homemade salsa criolla and our Carolina® White Rice!
If you'd like to try but don't have a Thermomix? Try this incredible Grilled Chicken Thighs with Arroz Verde with whole grain Brown Rice made in a dutch oven!
For another tasty option, try this Empanada Rice Bowl using fragrant Carolina® Jasmine Rice. Or, use your Thermomix to prepare a savory dough for our tasty Chorizo and Rice Empanadas.
Can a Thermomix Make Sweet Recipes?
It might be pretty obvious that a kitchen multi-cooker can prepare savory dishes, but what about sweet treats? Of course, the answer is yes! From brownie batter and banana bread to pie dough and filling, you can prepare all kinds of delicious desserts.
Starting with a classic, we've adapted our favorite traditional Rice Pudding Recipe to be prepared in this Thermomix Arroz Con Leche recipe.
For a few more ideas, you can use it to:
Mix a pie dough and whip up the meringue to put on top of this Key Lime Pie Rice Pudding.
Make a caramel or dulce de leche sauce to pair with these Empanadas with Rice Pudding.
Mix ice cream in order to top with our Popped Rice. Note: you'll need to make sure and place your ice cream mix in the freezer to reach the perfect texture.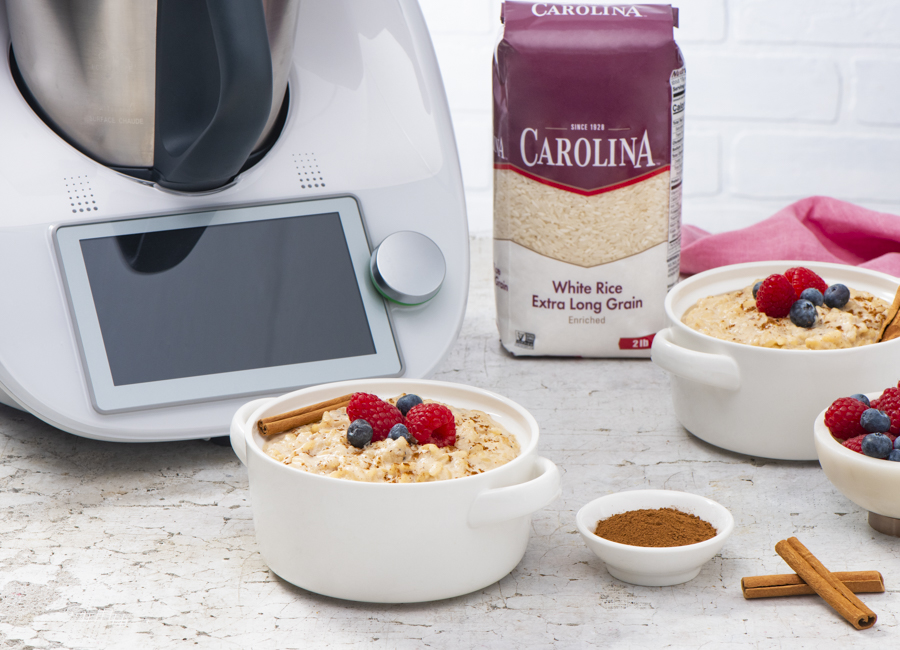 Can a Thermomix Bake?
One important thing to note is that while it can do many things, it can't replace an oven, pressure cooker or deep-fryer. It can create and knead dough or batter but you will need an oven or stove to finish those jobs.
Can a Thermomix Help Me Make More Homemade Food?
Yes! If you prefer to eat more organically and are always looking for ways to cook more homemade food, the Thermomix is a huge timesaver. Forget churning your own butter, this kitchen appliance can help with that.
If you love to bake bread and are looking for ways to mill your own Gluten Free Rice Flour or any other flour from wheat, grains or berries, it also has that capability!
If you are trying to incorporate more fermented foods into your meals, make homemade kimchi or yogurt with the ferment option.
Do Professional Chefs Use Thermomix?
The truth is that this appliance is so durable and efficient that even kitchen chefs at professional restaurants have been using this and other cooking appliances for years. This reliable tool can quickly chop vegetables or simply grind coffee in a cinch. And, because it can stir while heating to a specific temperature, it allows a chef to be more hands off without worrying that their recipes will burn, curdle, clump or overcook.
No matter how you choose to cook, whether it's with a convenient multi-cooker or using your favorite pan, spatula and tongs, Carolina® Rice will always be there to help you prepare your rice dishes perfectly! For more tips and recipe ideas, make sure to take a look at our Cooking section.