There is something special about the vibrant color and delicious taste of green rice, or arroz verde, that has the ability to brighten up any meal spread. A blend of herbs, spicy or mild peppers and broth are added to long grain rice for depth of flavor with a touch of acidity from lemon, lime or vinegar. 
This dish may have originated in Mexico, but, much like other Latin American dishes, such as arroz con pollo or arroz con leche, the recipe changes from family to family and region to region. At Carolina® Rice, we're going to unpack the most common ingredients used in different green recipes with meal inspiration for you to try at home! So, let's get started. 
What Rice Is Best For Green Rice?
For best results, we suggest using a light and fluffy long grain White Rice or a more aromatic variety such as Thai Jasmine Rice or Basmati Rice.
Can Brown Rice Be Used?
If you enjoy the nutty flavor of whole grain Brown Rice, it can also be used to make recipes like these amazing Grilled Chicken Thighs With Arroz Verde. This recipe is made with our brown rice for a tasty nutrient-dense addition to your meal.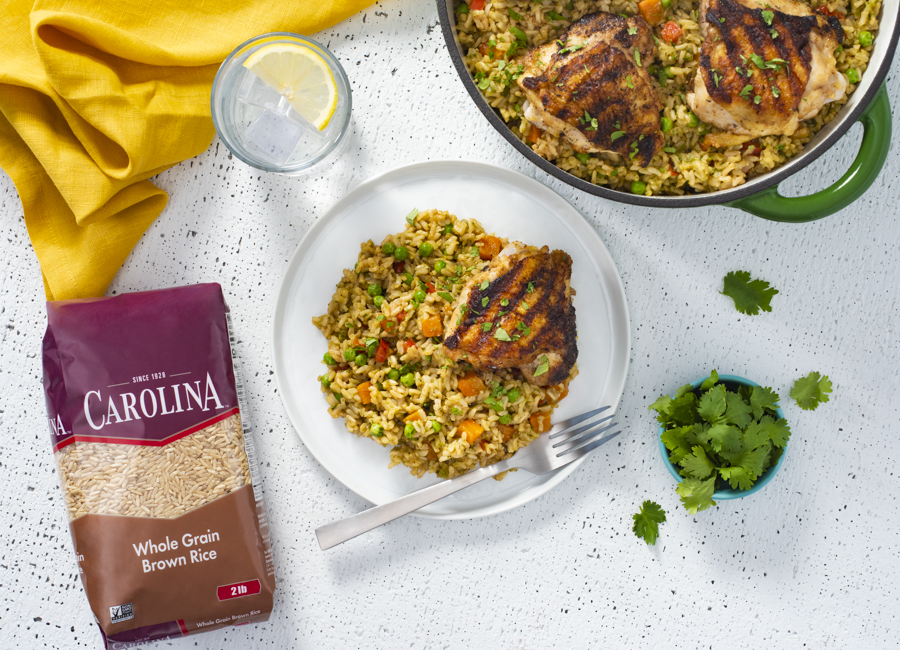 Green Rice Ingredients
With varying additions, there are certain common ingredients that every green rice dish must contain. We've included them below with a few recipe ideas to try them out. 
Herb and Pepper Blend
While there is no single authentic recipe, traditional versions always use a blend of herbs such as cilantro, parsley, green onions or other local options with a spicy pepper such as poblano, serrano, jalapeño, anaheim, or a combination. Milder versions may swap out the peppers for spinach or a tomatillo sauce. 
Water, Broth or Stock
To cook your rice, water can be used, however homemade or store-bought broth/stock adds a level of incredible flavor that works to elevate the savory taste of your dish.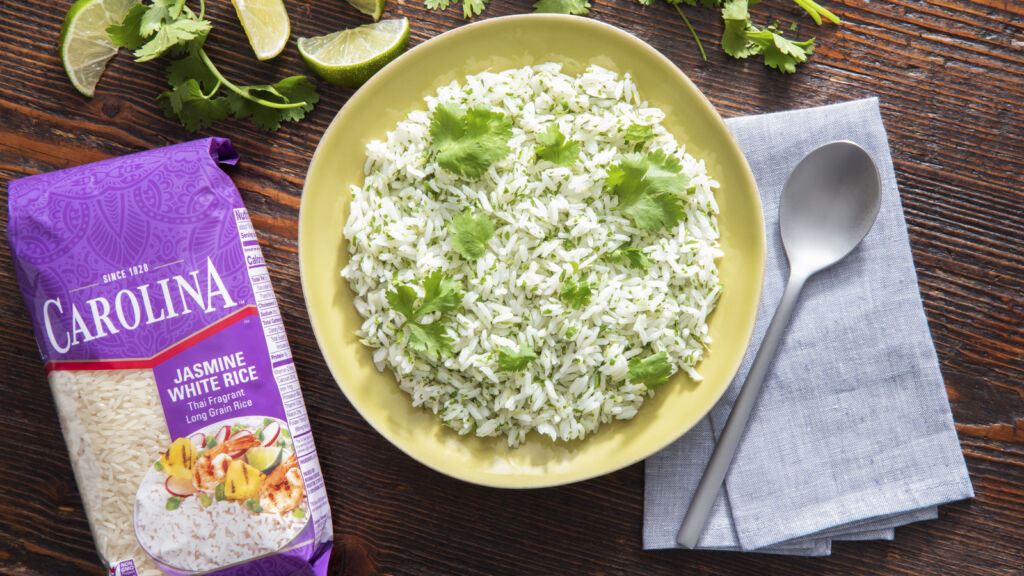 Acidic elements, salt and cooking fat
In order to balance out the taste in your dish, it is essential to use an acidic element such as lemon, lime or vinegar to brighten up the taste of the herbs. This works in combination with salt and oil or cooking fat of choice which may include olive oil, corn oil, sunflower seed oil, butter, ghee and coconut oil. 
How To Cook Green Rice
Green Rice can be prepared in many ways, but we are going to show you just three delicious options to make at home using your stove, oven and a multi-cooker Thermomix. 
Stovetop Method
If you're cooking your rice over the stove in a saucepan or skillet, you can do it one of two ways. The grains can be toasted with aromatic vegetables and simmered in the herb purée and broth mixture. Or, it can be cooked first following the traditional method and then mixed with the other ingredients. Either way, it will be absolutely delicious!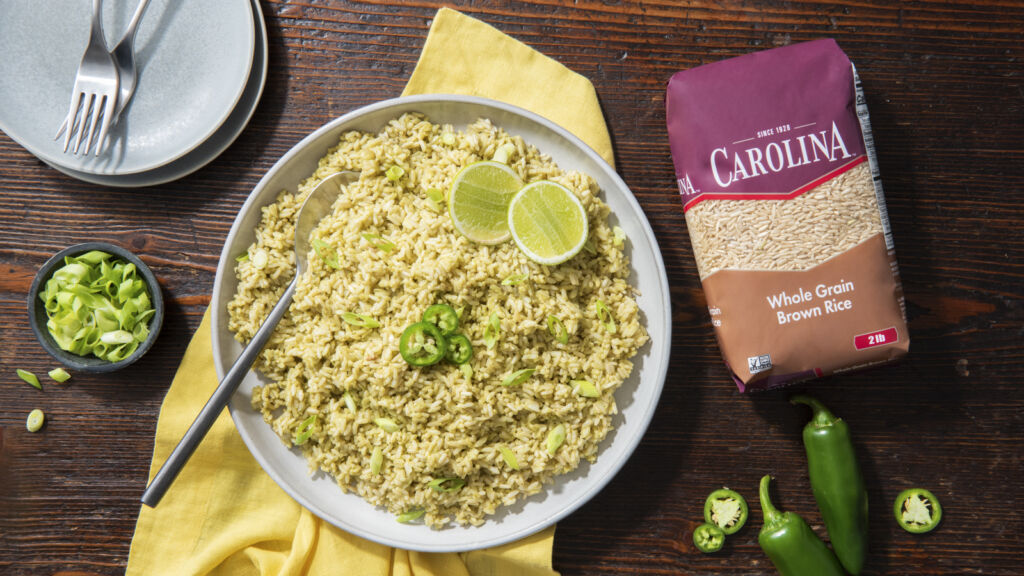 Try these two recipe ideas using the second stove method:
Oven-Baked Green Rice
This oven-baked Creamy Arroz Verde casserole is made using a milder homemade tomatillo sauce in place of hot peppers with fresh lime juice, Mexican cream and melted Monterey Jack cheese. Everything cooks up together into an intensely green and fragrant dish of fluffy grains created by Vianney Rodriguez (Sweet Life Bake).
Thermomix Green Rice
In case you were wondering, yes green rice can also be cooked in kitchen multi-cookers from Instant Pot to Thermomix. Try it for yourself in this Peruvian-inspired Thermomix Green Arroz Con Pollo recipe today complete with a homemade salsa criolla of red onion, lime juice, jalapeño, salt and cilantro.
How To Switch Your Recipe Up
If you'd like to take your green rice dish to a new level with all kinds of ingredient options, we've got some inspiration ranging from different cooking liquids to new herb combinations and additional green vegetables. 
Add Other Cooking liquids
One of the simplest ways to switch up the texture is to use a cooking liquid aside from broth or water such as coconut milk, cream or cow's milk. Try this Creamy Poblano and Cheese Rice using a combination of cheese and milk for an extra rich texture. 
Use a Salsa or Sauce
Another way to add new flavor is to use a different sauce or a salsa of choice. Try using a homemade chimichurri in this recipe for Classic Chimichurri Rice or in a meal like this Chimichurri Rice with Mixed Grill. You can also use store-bought options like this Salsa Verde Rice recipe using a prepared salsa. 
Use Additional Fruits and Vegetables
If you're looking for new ways to use your zucchini, this Zucchini Rice recipe is exactly what you need! Using Parmesan cheese with green onions, cilantro and basil, it has plenty of flavor and color for your meal.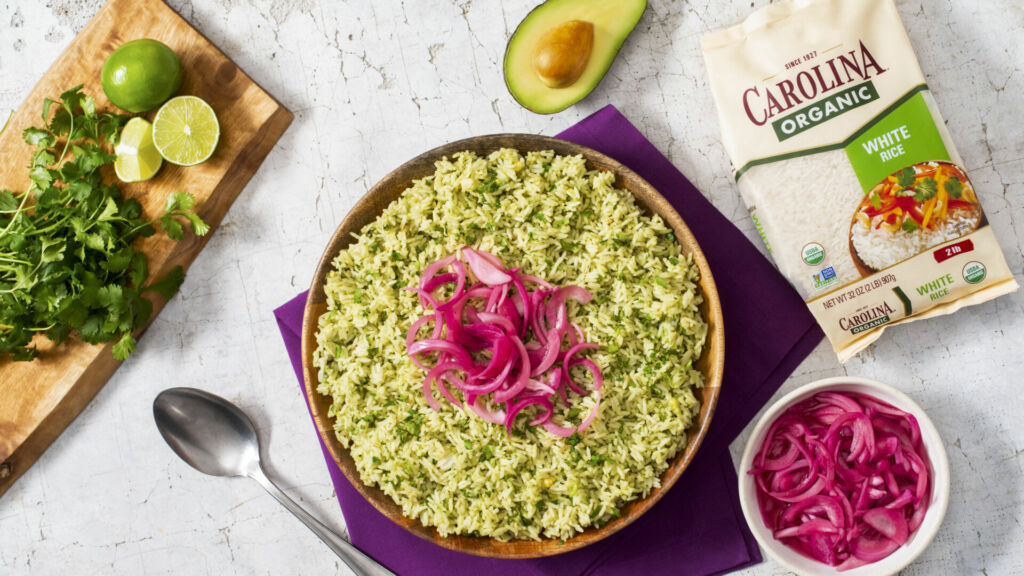 Mashed avocado, or your favorite guacamole, offer incredible taste and texture in this Lime Avocado Rice. Add a dash of cayenne pepper for a kick!
Top with a Garnish
Finally, we suggest adding a garnish on top using citrus zest, extra herbs, toasted nuts, crispy or caramelized shallots, sesame seeds or crumbled kale chips. 
Now that you have the building blocks to create an impressive dish, prepare your own traditional version or feel free to get creative in the kitchen and unfollow the recipe a bit for something delicious and personalized with Carolina® Rice!