Make your holiday meal a feast with colorful and more importantly delicious side dishes! With everything going on during the holiday season, it might be hard to focus on your meals, so that's why we're helping you plan ahead and get inspired with our top side dish recipe ideas! From Thanksgiving, all the way to a Tamalada, New Year and a Christmas Celebration, make sure to bookmark this page for your meals this year.
Starter Turned Side Dish
If you're planning a buffet-style meal or have a large table this year, using finger food starters can make it easier for everyone to grab one and pass the plate along. Start by making a delicious filling wrapped in wonton wrappers like these Air Fryer Mushroom and Cheese Pastelitos or your favorite corn or flour tortillas with these Black Bean and White Rice Taquitos.
If you'd like something a bit more customizable in terms of size, try something new this year like this Afro-Peruvian Tacu Tacu dish made with seasoned rice and beans cooked pan-fried in a pancake-like shape.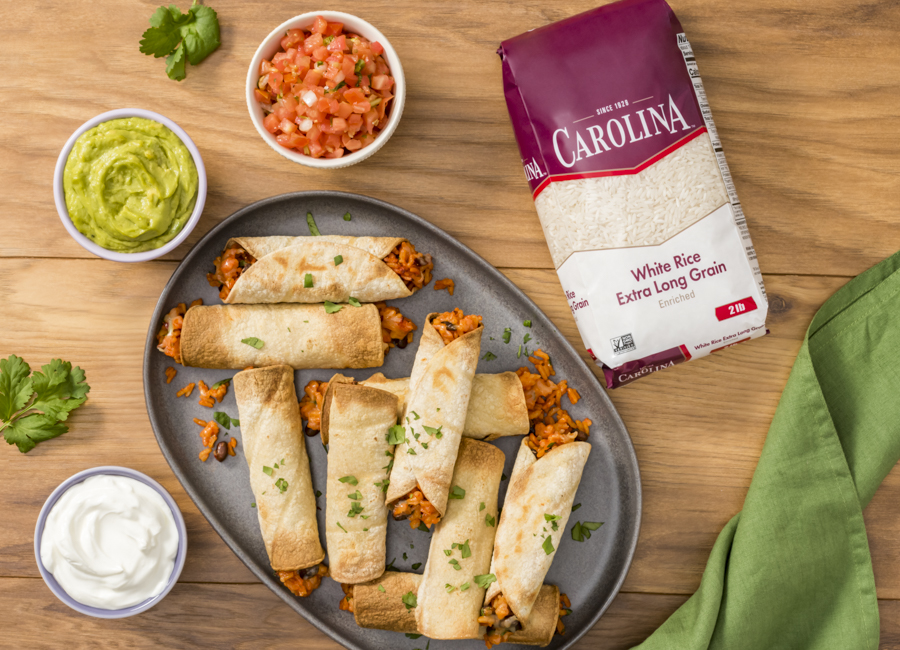 Vegetable Side Dishes
On almost every holiday table, you'll most likely find a plate of vegetables! Use one of these recipe ideas below to add a pop of red and green color to your spread or get creative and create your own delicious dish with your favorite Carolina® Rice variety.
Stuffed Veggies
If you're looking for a show-stopping dish to impress your friends and family, elevate your vegetables by making them into stuffed vegetables!
Try using squash to make one of these options:
Zucchini Boats: Fill with a mix of Italian sausage, vegetables, adobo seasoning and whole grain Jasmine Brown Rice.
Stuffed Butternut Squash: Stuff with an incredibly balanced sweet and savory filling of pork, Jasmine White Rice, apple and more.
Brazilian-inspired Shrimp Stuffed Pumpkin: Move the turkey or ham centerpiece aside for this stuffed pumpkin filled with a creamy blend of shrimp, tomatoes and cheese all served with Brown Rice.
Roasted Vegetables
If you have a long list of recipes on your menu, a plate of delicious roasted vegetables with rice might be just the thing you need to add to your feast.
Use your oven to create a classic like this Green Bean Rice Casserole with an added crunch on top of toasted pine nuts! For more traditional recipes, take a look at our tasty Thanksgiving recipes.
Or, add a pop of color with vegetables and vibrant rice like one of these options: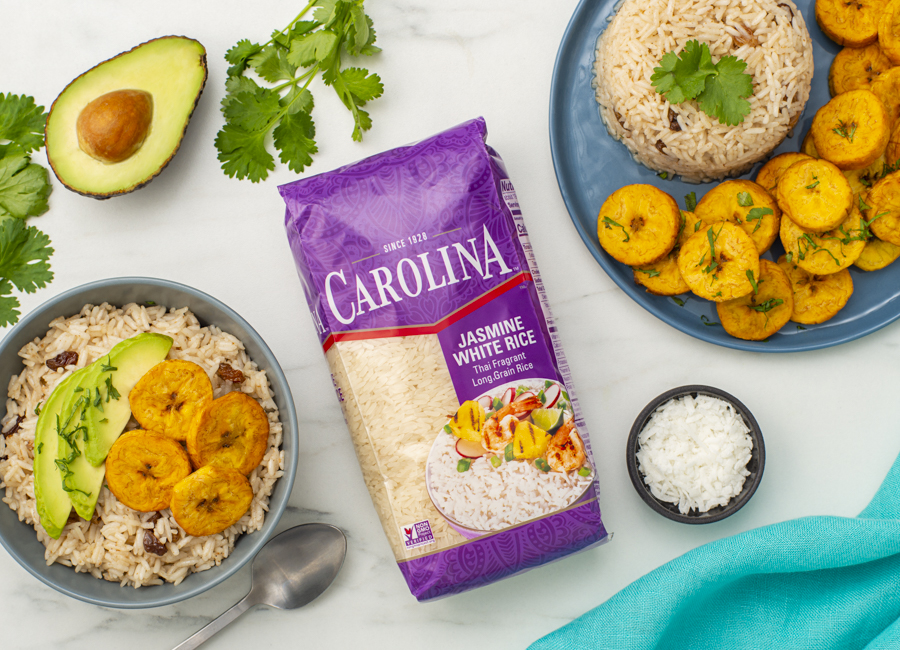 Rice Salad
If you need something a bit more fresh on your table, use crisp vegetables in a Mango Brown Rice Salad for a dish that is full of refreshing fall flavor.
For a quick, but delicious dish try a Green Rice and Chicken Salad using our specialty Garlic & Olive Oil Ready to Heat Jasmine Rice with fresh or frozen vegetables, cheese and Italian dressing.
Rice Pilaf
Another elevated idea to add to your spread is a savory Rice Pilaf. Use this recipe for Christmas Arab Rice Peruvian-style with an aromatic base, Carolina® Organic White Rice, vermicelli noodles, toasted almonds and a sweet touch of raisins.
Tex-Mex
For flavors that never fail, add a bit of Mexican or Tex-Mex taste to your table. For a classic side dish, use our recipe for a Quick Spanish Rice, a simple Cilantro Lime Rice, or get creative with your favorite toppings and make a Nacho Rice dish.
If you need something a bit creamier with a kick, this Poblano and Cheese Rice is exactly what you need. Or, for more authentic Mexican flavor, you may even want to try making some Tamales with your family. Don't forget to add a little something to finish the meal. Opt for a classic recipe for rice pudding or sip on a warm holiday Atole!
Get creative this year with your holiday menu using one of these ideas or adding your own personalized touch and unfollowing the recipe. Find all kinds of main and side dish recipes along with a few sweet and savory ideas for hosting a Holiday Breakfast or Brunch using Carolina® Rice.