If you're a big fan of the holiday season, you might be thinking year round about what you'll make for your Thanksgiving meal, and we say, it's never too early to start planning that tasty menu! Whether you like to keep things traditional and enjoy the classics, or you're looking to incorporate some new dishes into your holiday spread, you can never go wrong with a tasty rice recipe.
Dinner for 2 or 20, regardless of how many people will come together this holiday, you can be sure that a dish made with Carolina® Rice and a little love is a perfect addition to your Thanksgiving feast. And, there are so many varieties of rice available that making a rice side doesn't have to mean a simple bowl of plain rice, although it can be a great option with a bit of seasoning! To make your planning seamless, we've put together our top new rice recipes and some classics with a twist that you're going to want to jot down before you head to the store.
Sweet and Savory Appetizers
Make sure to keep those appetites at bay while the turkey is in the oven with some fun and delicious starters.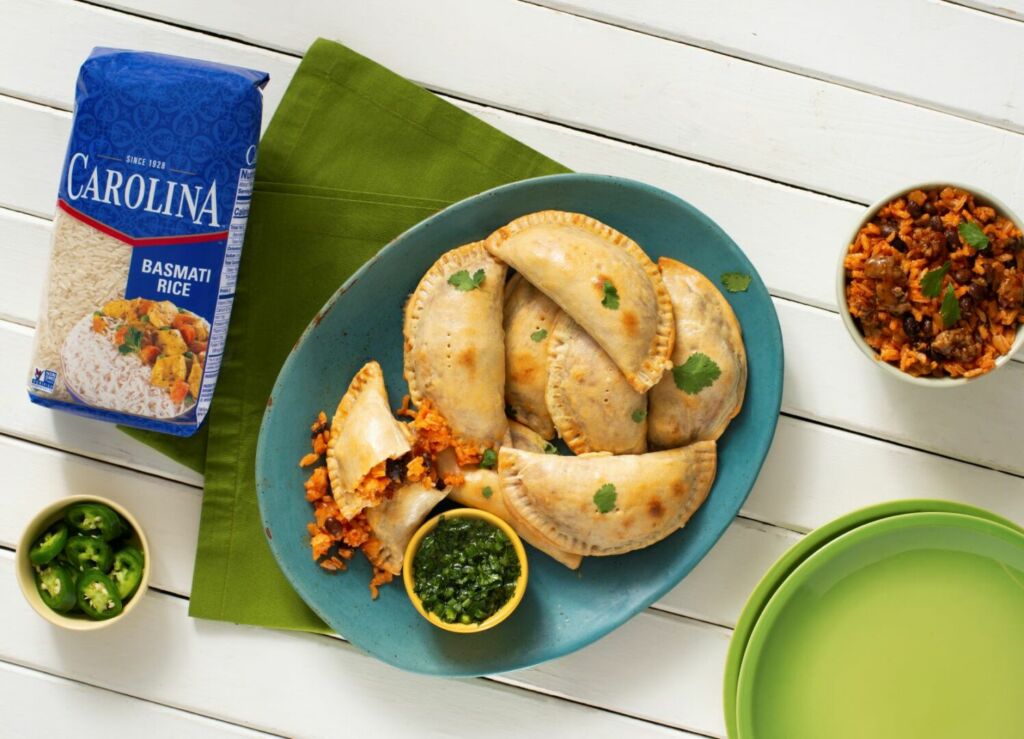 Stir things up a bit this year by starting with something different: Chorizo and Rice Empanadas. These tasty and savory little pastries are filled with fragrant Basmati Rice, beans, chorizo, and cheese for the absolute perfect shareable finger food to enjoy while the main feast is prepared.
Or, for a little something sweet to munch on while you cook up a storm, try these irresistible Plantain and Rice Rellenitos. Made with sweet rice and plantain dough filled with sweetened refried black beans, these tasty morsels are also a delicious and simple starter that's easy to share and perfect for holding off those Thanksgiving hunger pains while the main course is on its way out. To make these into bite sized desserts, sprinkle with cinnamon sugar for a warm and crispy bite of deliciousness.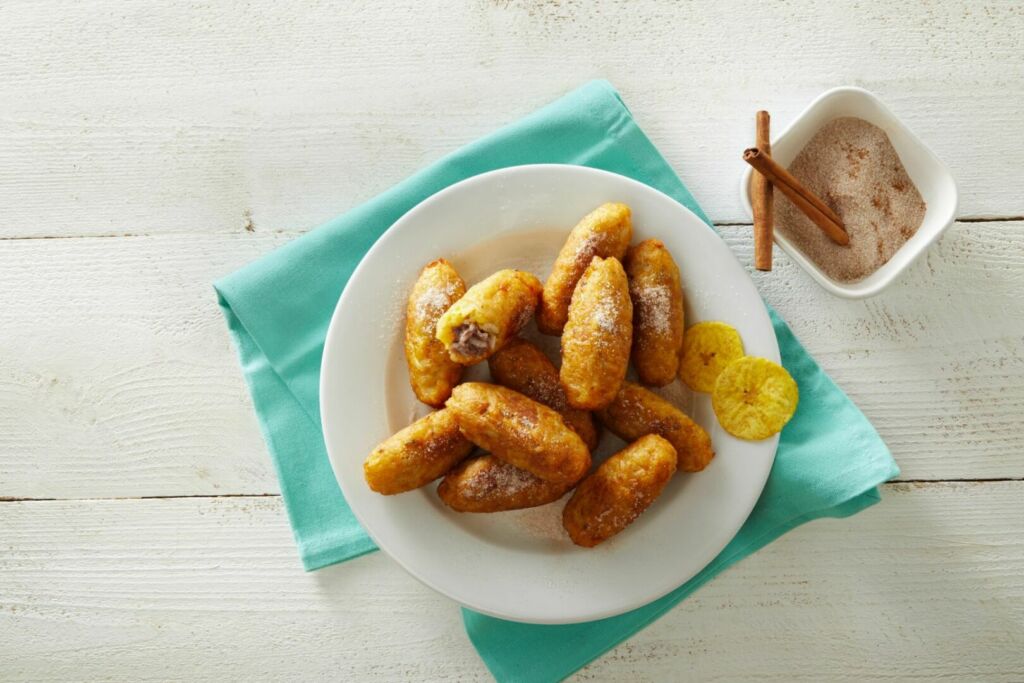 Dinner is Served
Whether you want to stick to the classics or are ready to try something new, you can be sure that these tasty rice dishes will make this year's Thanksgiving an amazing one.
The Classics
For this holiday season, if you choose to stick to traditional dishes but want to upgrade the flavor with a few tweaks, we've got exactly what you're looking for.
Green Beans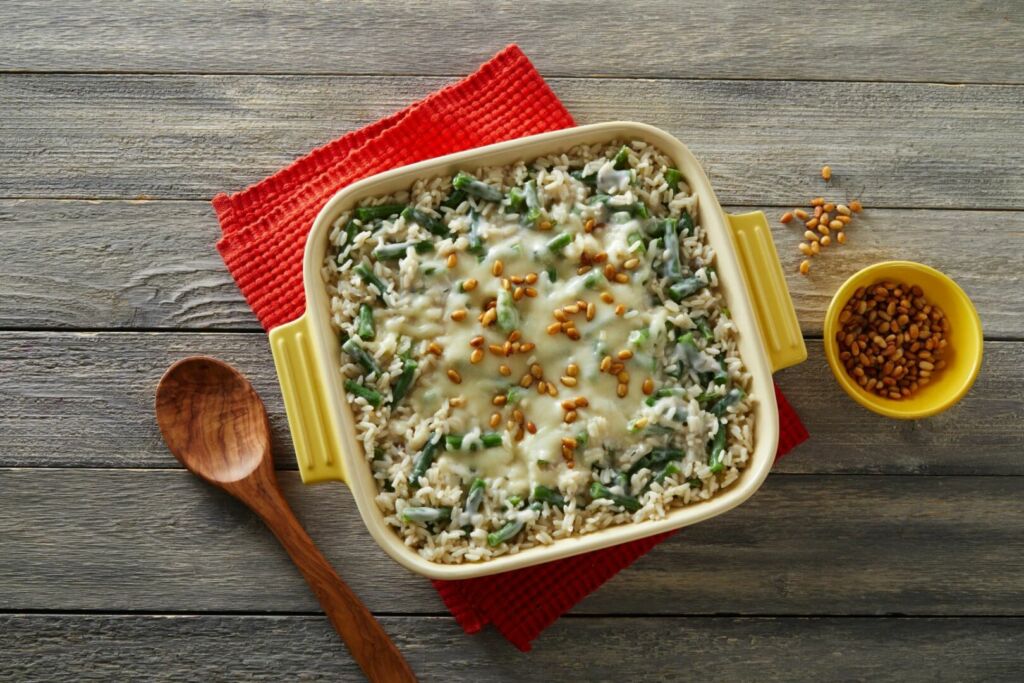 This delicious Green Bean Rice Casserole has everything you love about the traditional version like green beans and cream of mushroom soup. But, we've added Latin-style cheese for a kick, Carolina® Parboiled Rice for added flavor and fluffy texture and topped with toasted pine nuts for a mix of creamy vegetables and a crispy finish in every bite.
Stuffing With Roast Chicken
Don't forget the stuffing with this Roast Chicken with Chorizo, Brown Rice and Mushroom Stuffing Casserole. Made with Carolina® Brown Rice instead of bread and with the addition of tasty chorizo, this recipe is the perfect spin on a Thanksgiving classic! Just substitute the roast chicken for that holiday turkey and you'll never have a new favorite stuffing recipe for years to come.
Cranberry Sauce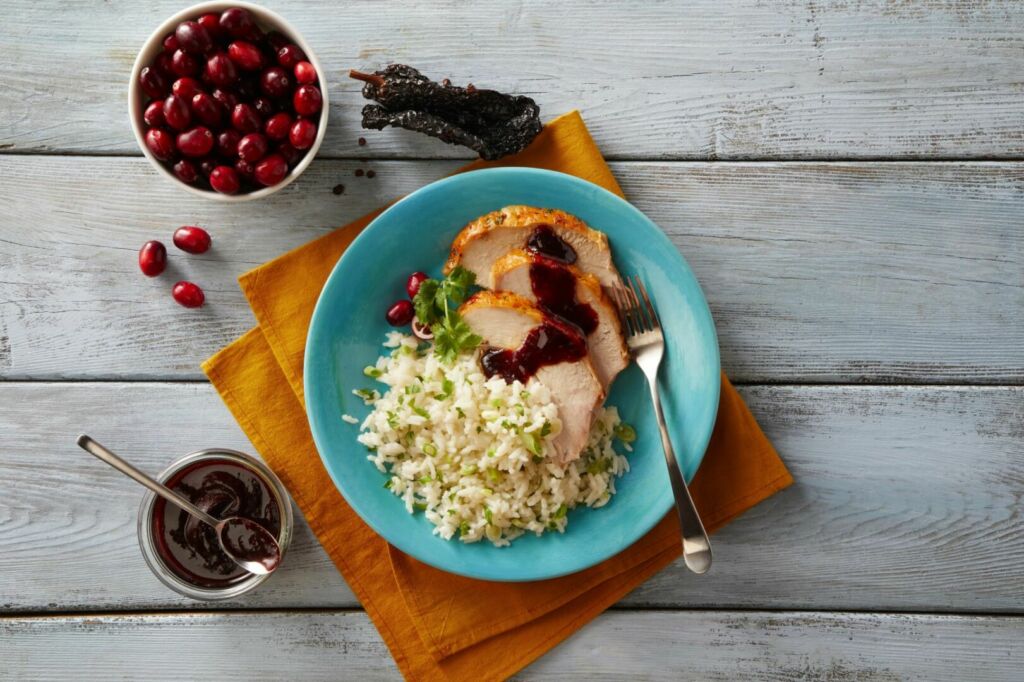 If you're a fan of the vibrant red color and taste of cranberry sauce, this dish of Rice with Cranberry Ancho Sauce adds a spicy twist to a Thanksgiving classic by adding ancho chile peppers to the mix. Enjoy it on Thanksgiving day, or as the perfect recipe for all of that leftover turkey afterward.
Start New Traditions
While there are certain staples you might always want to have, there is always room on the table for a few new recipes, too!
Fall flavors are what Thanksgiving is all about so why not build on that and create new traditions by including dishes like this beautifully vibrant and delicious Jasmine Rice with Butternut Squash, Green Onion, & Serrano Chile made with fluffy and fragrant Carolina® Jasmine Rice.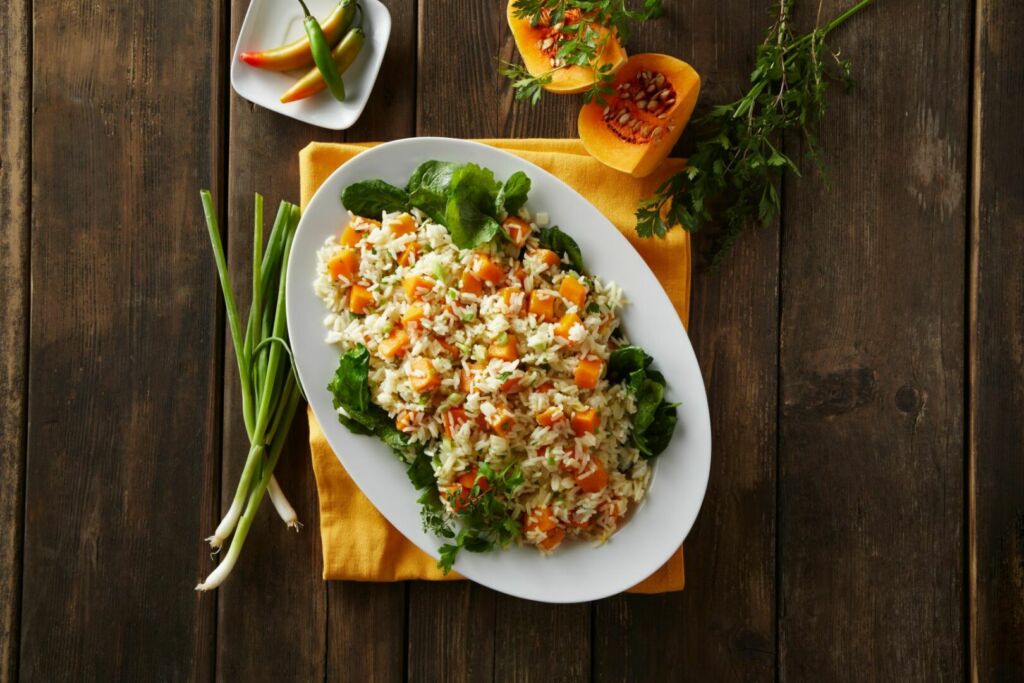 And for a bit of Latin flair at this year's holiday meal, why not add this delectable Poblano Pepper Strips with Cream and Rice for a touch of green and a tasty way to heat things up!
There's Always Room for Dessert
No meal is complete without a little sweet something at the end for good measure. And while it's hard to imagine any Thanksgiving dinner without pumpkin or pecan pie topped with a big dollop of whipped cream, there are other sweet treats to also be enjoyed during these festive times.
If you're feeling a bit sleepy after enjoying a big, delicious meal, this Coffee Mousse Rice Pudding is just what you need. A little bit of sweet creaminess made with a strong brew is the perfect way to wrap up any meal. We suggest making your rice pudding with cooked rice infused using a mix of water, milk and sugar.
Not a fan of coffee? One (or two, or three) of these delectably fluffy Sweet Rice Tamales made with Carolina® White Rice, cream cheese, fresh blueberries, and all perfectly wrapped up in a tamale corn husk will truly hit the spot for the sweet bit needed to wrap up an amazing meal. You can even save this recipe for a fun holiday treat to unwrap as a delicious gift.
Enjoy your meal with a bit of new and old, but always with your favorite Carolina® Rice to help you get the job done. And, if you find yourself looking at a whole lot of extra food in your fridge, we've got you covered. Make sure to check out all of our leftover recipe ideas for the entire week after! There are also plenty of kitchen essentials to learn on our website such as how long to cook rice for.