It's easy to fall into a dietary rut when life's got you busy, but there is no reason to when you have Carolina® Rice on hand. Enjoy delicious, hearty, meat-free meals at any time of day with your favorite grains, veggies, sauces, and vegetarian protein foods. Creating tasty and filling meals without meat is not only simple but incredibly satisfying when you pair complementing flavors and textures.
Exploring new recipes and ingredients can seem a bit overwhelming if you don't consider yourself a whiz in the kitchen, but that doesn't have to be the case! Let's take a look at how you can expand your meatless recipe repertoire without stress or hassle. From rice and bean recipes to exquisite rice bowls, to grilled and stuffed veggies and even tasty skillets and casseroles, there are endless ways to create delicious meat-free dishes to satisfy any appetite!
Non-Meat Proteins
There are plenty of meatless ways to consume the protein your body needs. Adding things like legumes, tofu, nuts, eggs, seeds, and dairy to your meals is a great vegetarian way to meet your protein needs – without sacrificing flavor!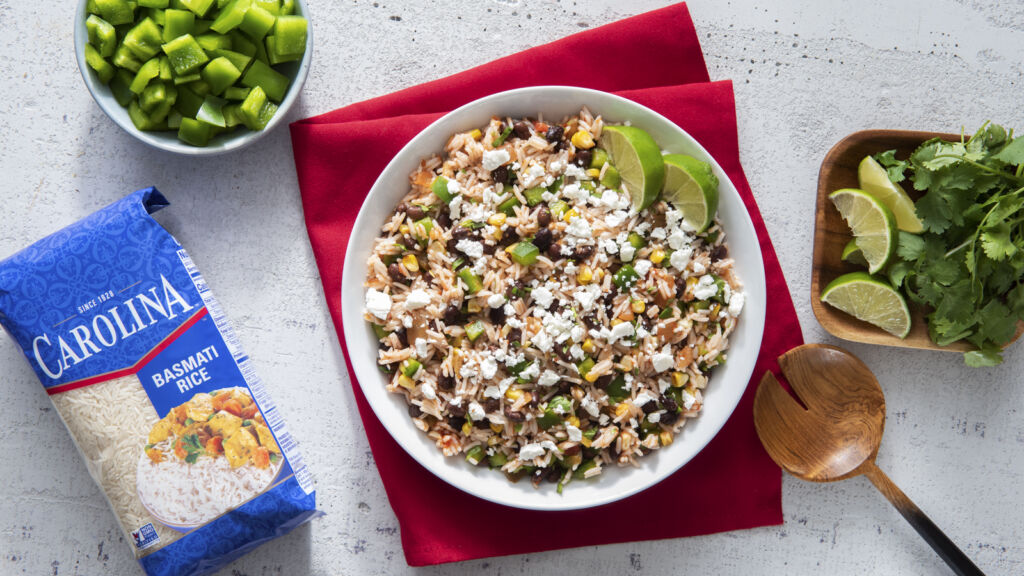 Legumes
An easy way to create a nutritional, vegetarian meal is to use legumes as a protein source. Not only are legumes a tasty way to make a hearty meal, but they are also a great meatless source of protein that can be enjoyed in hot or cold dishes like soups, casseroles, or salads. Use them to create delicious and filling meals like this Spicy Southwest Rice Salad or this Rice and Beans Taco Bowl with Quinoa.
Nuts
Nuts are another great source of protein and are also packed with fiber. Adding them to vegetarian meals is a tasty way to add not only protein but flavor and texture as well. Try this tasty trick in your favorite dishes like salads or rice bowls, and make sure to try it in this sweet and savory Creamy Risotto with Pears and Blue Cheese.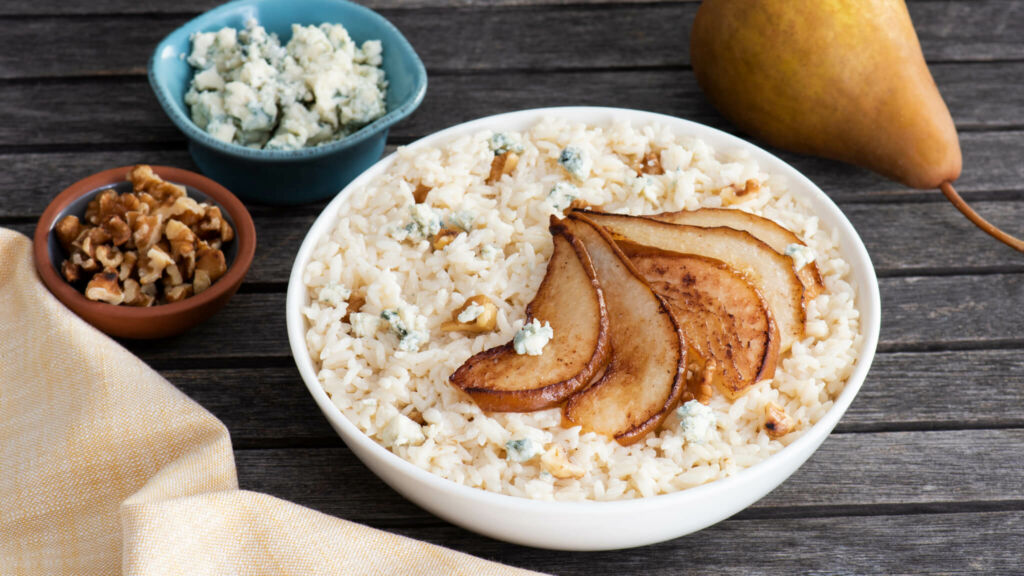 Tofu
A great alternative to meat is the ever-versatile tofu. With its neutral flavor and varying softness, these blocks of soybean milk curds are the perfect addition to recipes that traditionally call for meat like chicken or pork. From fried rice to these Asian Rice Bowls With Tofu to paella, you can create delicious, hearty meals that will keep you full for hours.
Eggs
Adding eggs to a vegetarian meal is an easy, not to mention delicious, way to add an extra bit of protein to your dish. Whether you're mixing them into a tasty fried rice recipe or topping your favorite rice bowl or bibimbap with a perfectly fried egg, you can be sure that your vegetarian meal will not only be delectable but will keep you full for hours, too.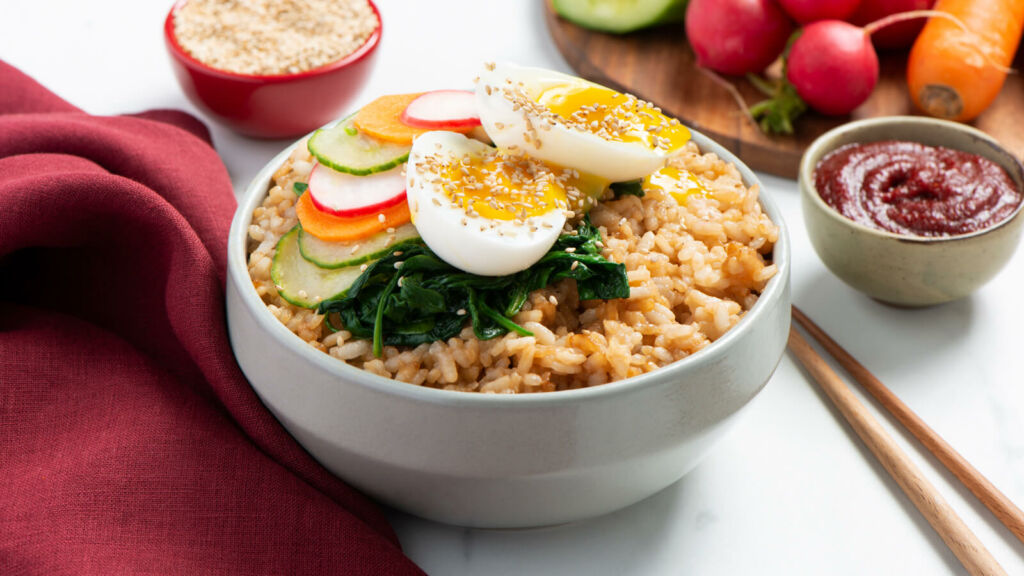 Try this vegetarian Madras Curry Spanish Rice with Lentils featuring fluffy grains, lentils, and eggs or this Korean-inspired Bibimbap Rice Bowl for a simple and delicious lunch or dinner any time of the day. What do these tasty dishes have in common? They are topped with a scrumptious sunny side up egg.
Dairy
Milk, yogurt, and cheese are all great sources to meet your daily protein intake. Using cheese and even yogurt to flavor foods is a great way to add protein to vegetarian dishes while also adding delicious flavor and creamy textures. When you're craving simple comfort food, look no further than dishes like our Creamy Rice Mac and Cheese or this Chipotle Queso Rice for a bit of heat. For dessert, make sure to use this delicious rice pudding recipe!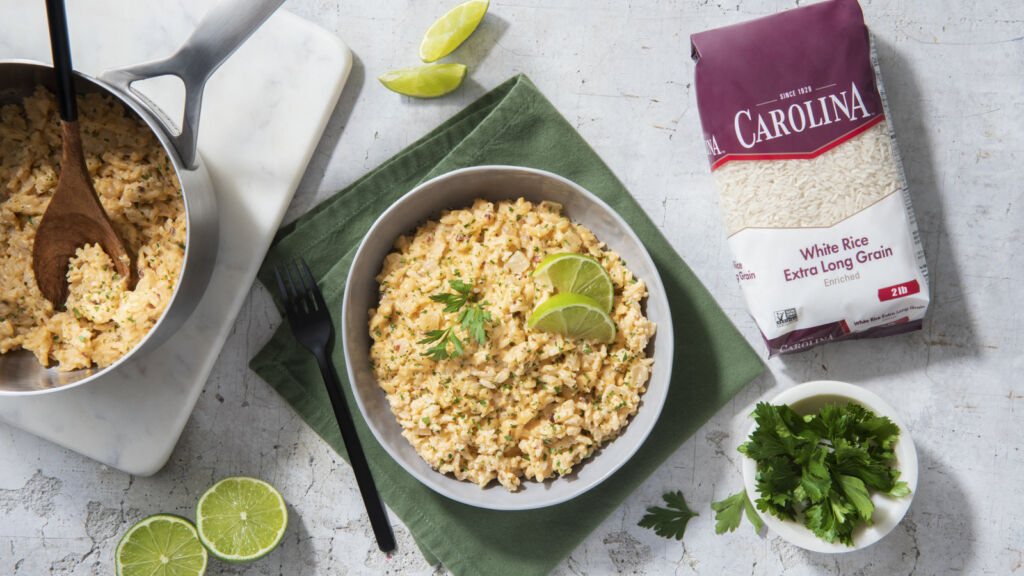 Easy Vegetarian Options
Creating meat-free meals is sometimes as easy as omitting meat from a recipe altogether, or substituting it for something like tofu or mushrooms – even just an array of fresh vegetables! Find inspiration in this list of recipes, and try them today!
Stuffed Vegetables
Stuffed vegetables are another great way to create tasty and satisfying meat-free meals that will keep you full for hours. Get creative and stuff your favorite veggies with rice, cheese, sauce, other fresh veggies, herbs, and spices. The possibilities here are endless and we highly suggest trying these Wild Rice, Goat Cheese & Spinach Stuffed Portobellos, and these finger food Rice and Cheese Stuffed Jalapeños.
Restaurant Style Meals
If you're craving something tasty as what they serve at your favorite Japanese place, you are sure to love this restaurant style recipe. These Veggie Rolls with Sushi Rice are a simple and delicious alternative to traditional sushi made with fish, proving eating vegetarian can be tasty and delectable!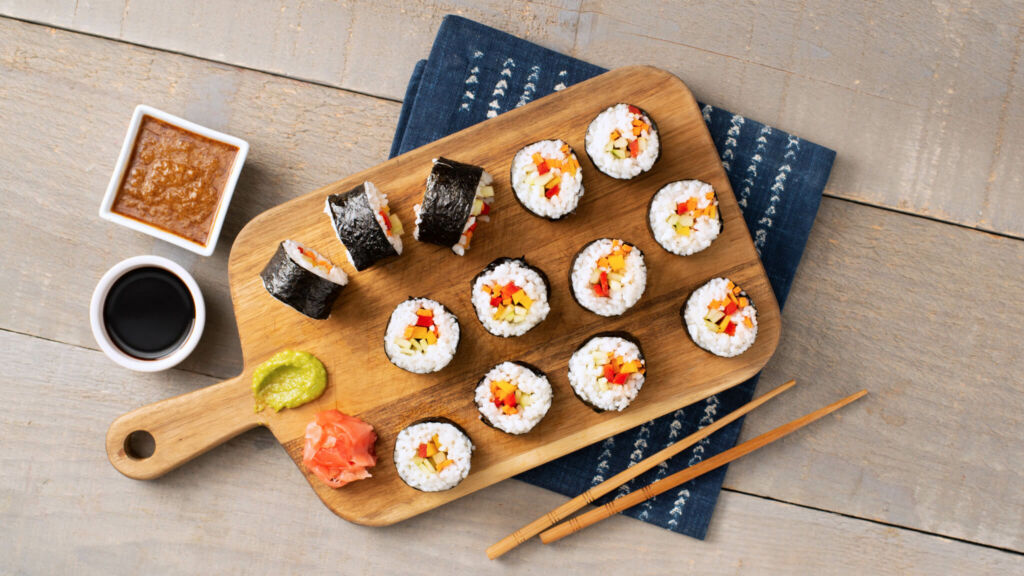 Roasted Veggies
Grilling veggies is an incredibly simple way to bring a meal to life with flavor. Throw your favorite veggies on the grill and pair them with your favorite rice and sauce for a quick, easy, and delicious way to create a meatless meal. Roast Fall-inspired harvest vegetables like brussels sprouts, butternut squash, parsnips and carrots with fresh herbs to create a delicious and flavorful Vegetarian Paella to switch up your average weeknight meal.
If you're looking to eat less meat and more veggie-forward meals, the options are truly endless once you get that white rice to water ratio just right. Choose from any of these tasty meals or explore and create your own using your meat alternative of choice!