Learning to mix and match different food groups can be a complete lifesaver at mealtime and can save you from ever having to think about what to make for dinner tonight or lunch tomorrow again.
Not sure what mixing and matching is exactly? It's learning how to prepare and combine your meals using proteins + vegetables + carbs + fats so you can prepare more complete meals that complement each other. The mixture of these food groups makes them more complex systems to keep you feeling full and satisfied longer.
Think of it like purchasing different items of clothing to be able to mix and match together. This also makes grocery shopping and meal prepping easier as you know what different foods you need and can mix and match for lunches and dinners throughout the week without getting bored. We'll show you how it's done and give you example meal ideas along the way. And don't worry, even if you follow a Gluten Free, vegan or vegetarian diet we've got you covered!
What to Mix and Match
The first step is choosing the ingredients you like from each group. You can plan for yourself, you and your partner or even for your family. Choose what works best for you.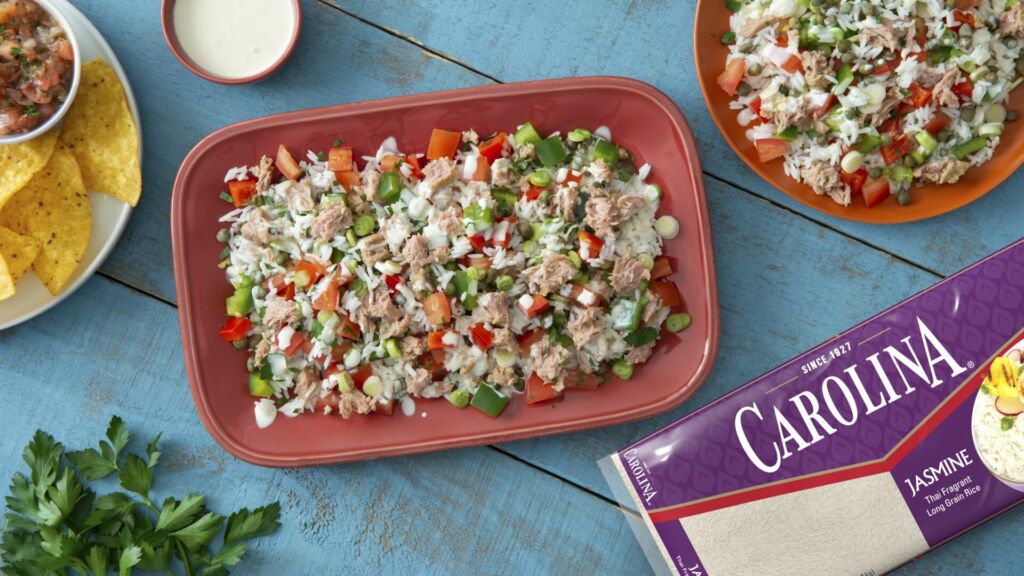 Carb
To make the process easier, we've chosen to stick with one core carb that is highly versatile – rice– and choose our recipes by adding onto that. Rice is perfect for pairing and meets needs, as it is readily available, budget-friendly, naturally Gluten Free and filled with vitamins and nutrients. Not to mention that there are a number of different varieties to choose from including white rice, whole grain brown rice, aromatic jasmine, and even wild rice.
Lunchbox tip: Rice reheats well in the container, but if you want to heat your rice separately when adding it to your lunch at the office, choose a quick option like Carolina® Ready to Heat Jasmine Rice pouches that are microwave-safe and cook up in just 90 seconds.
Protein
Now that we have our core rice base, we can choose which proteins to add on. A few example proteins include chicken, eggs, beef or vegan and vegetarian options include: beans, quinoa, tofu and tempeh.
If you're a beef lover, try this Mexican seasoned Beef Stir Fry that combines:
Carb: Carolina® White Rice
Protein: flank steak
Vegetables: red bell pepper, onion, jalapeño
Fat: oil
If you're looking for a refreshing recipe with more pantry ingredients that you can store and use when you need, try out this Rice Salad with Canned Tuna combining:
Looking for a vegetarian option? We've doubled up on the protein for these Quinoa Taco Bowls with beans and quinoa: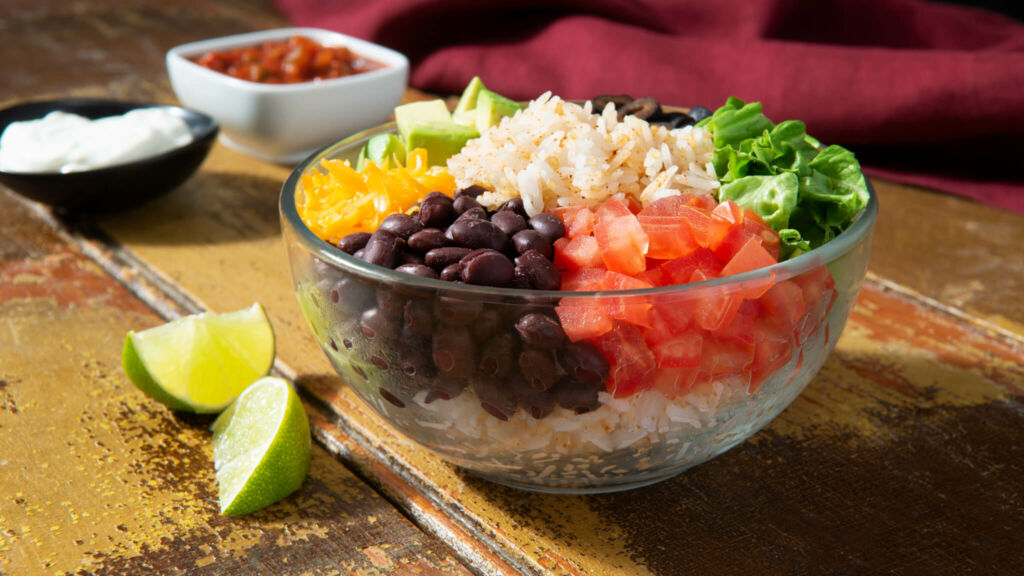 Vegetables
Next choose your favorite vegetables to add onto your protein and rice. Make sure to get creative with vegetables that are in season and keep a varied selection to make sure and eat the rainbow instead of just your greens. Here, you can use frozen vegetables or even pick up fresh vegetables from your local grocery store salad bar or even use the leftover roasted vegetables from your BBQ.
Use what you like and that you have available to you. Also, make sure to mix and match if you find a recipe you like but aren't convinced with the vegetable options. A few example vegetables include:
Asparagus
Tomatoes
Bell peppers
Broccoli
Carrots
Cauliflower
Edamame
Mushrooms
Onions
Eggplant
Lunchbox Tip: Have your vegetables chopped and ready to go for the week to use in meals or for a snack. If you're planning on preparing your meals ahead of time, buy 5 containers for each day of the week to have your meals ready. Find ones that fit your needs with separators for each ingredient or larger containers to simply mix your vegetables and other ingredients together.
Fat
When we say fat here we're talking about the good kind of olive oil, avocado and nuts that, when eaten in moderation, can be highly beneficial and are necessary for your diet. Toss these on top of your meals to add an extra touch of flavor, texture or combine with herbs and zest to make homemade dressings.
A few fats:
Avocado
Nuts (raw, unsalted and unroasted are better)
Olives
Seeds: flaxseed or sunflower, sesame, and pumpkin seeds
Olive, avocado or coconut oil
Nut butters (almond, peanut, cashew, etc. in small portions)
Certain cheeses: mozzarella, feta, brie, cheddar, cottage cheese, ricotta
Lunchbox tip: if you're meal prepping, these might often be left on the side to add in later or you can use various options together to prepare a dressing that you keep in a small container until you're ready to enjoy!
Choose Your Method
Now that you have your food options chosen, it's time to choose how you want to eat it. Your meals can be enjoyed in many ways ranging from fried rice or a stir fry to tacos and wraps. We have a few methods and meal option examples you might find helpful.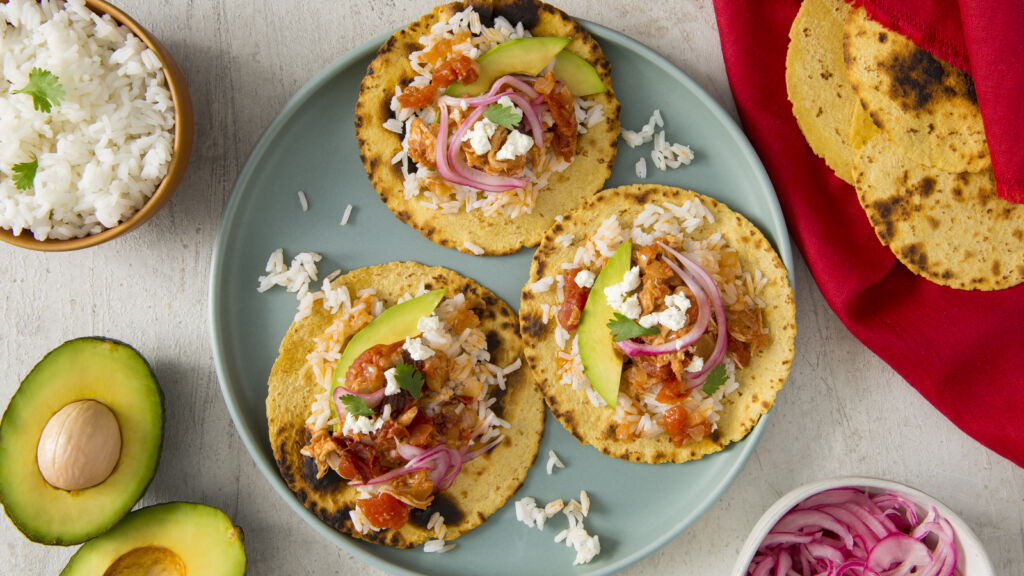 Make it a rice bowl with Hawaiian inspiration. Check out this Salmon and Sticky Rice Poke Bowl that is full of flavor!
Carb: Carolina® Short Grain Rice (ideal for sticky compact rice)
Protein: smoked salmon
Vegetables: asparagus, edamame, carrots, fresh ginger
Fat: avocado, sesame oil, sesame seeds
You can also make it a casserole oven bake like this Southwest Chicken and Rice Casserole.:
Carb: Carolina® Whole Grain Brown Rice
Protein: chicken
Vegetables: zucchini, green chilies, jalapeños and tomatoes
Fat: cheese
Wrap up your ingredients in a tortilla or lettuce wrap. Try out this recipe for Chicken Tinga Tacos with Rice.
Carb: Carolina® White Rice
Protein: chicken
Vegetables: red onion, diced tomatoes (or corn)
Fat: olive oil, avocado, feta cheese
Or you can simply toss everything together in a Turmeric and Rice Breakfast Bowl:
However you choose to combine your ingredients, just make sure to remember the fool proof combination of a carb+protein+vegetable+good fat! Make lunch even better by also treating yourself to this amazing rice pudding recipe.
For more great tasting recipes along with cooking tips on topics like how to get the rice cooker ratio and how to make a chaufa recipe, check out our website.