Vegans and vegetarians know that when it comes to meat-free meals, there's nothing restrictive or less exciting about going green. Even if you're a meat lover with a passion for diving into delicious meaty meals, you wouldn't want to miss out on the world of delicious options that vegans and vegetarians enjoy. There are a lot of meat-free wonders out there, some of which include ingredients such as legumes, seeds, nuts, and soy-based foods like tempeh, allowing you to delve into a less explored area of culinary delights.
Whether you're an enthusiast of vegan or vegetarian food, (or not) no one can deny the importance of including vegetables in our diets. Here at Carolina® Rice, we're delighted to share these Delicious Ways to Eat More Veggie-Packed Meals with you. Here, you can find out how to combine the nutritious with the delicious for a range of original crowd-pleasing recipes. 
Food for Vegans
While vegetarians do not eat meat, vegans do not eat any foods that come from animals altogether. Here's a list of some of the things vegans do and do not eat.
Do
Nuts, seeds
Bread, rice, pasta
Vegetable oils
Legumes such as peas, beans, and lentils
Dairy alternatives – soy milk, almond milk, coconut milk
Fruits and vegetables
Don't
Eggs
Cheese, butter
Beed, pork, lamb, and other red meat
Chicken, duck, and other poultry
Fish or shellfish such as crab, clams, mussels
Milk, cream, ice-cream, and other dairy
Honey
Mayonnaise
Before we move on, let's be clear about the differences between veganism and vegetarianism.
Differences Between Vegetarianism and Veganism
In this day and age, we hear the terms more often than before. Vegetarianism and veganism are on the rise.
Vegetarianism:
Vegetarianism is a dietary choice that means not consuming meat, poultry, seafood, and sometimes even products such as gelatin and rennet. However, vegetarians may consume animal products like eggs, dairy products, and honey.
Veganism:
Veganism is a dietary choice that means not eating anything that comes from animals, including meat, dairy products, eggs, and honey. Vegans base their diets on plant-based foods like fruits, vegetables, legumes, whole grains, nuts, and seeds.
Take a look at these Hearty, Vegetarian Dishes Everyone Will Love. Here, you can learn how to make some irresistible meat-free meals any time of day by combining your favorite grains, veggies, sauces, and vegetarian protein sources. Crafting delicious and hearty dishes without meat can be incredibly fulfilling when you blend complementary flavors and textures.
You may also want to check out this Quick Guide to Stuffed Vegetables for some impressive appetizers and side dishes made of delicious veggies options. For more of those, but with a vegan twist, read on!
Meat Free Appetizers and Satisfying Sides
For vegan appetizers that will please everyone, you're in the right place! At Carolina® Rice, we're happy to share with you original and innovative ways to make meals that will wow your guests!
To get started, these Rice and Turkey Stuffed Peppers make a great dish, rich in flavors of Carolina® Whole Grain Brown Rice, onions, garlic, bell peppers, thyme, basil, oregano, and more. To make this meal vegan, you only need to make one small adjustment by swapping the turkey for a tasty substitute. We recommend black beans, quinoa, or chickpeas. You can also include a vegan cheese to melt on top.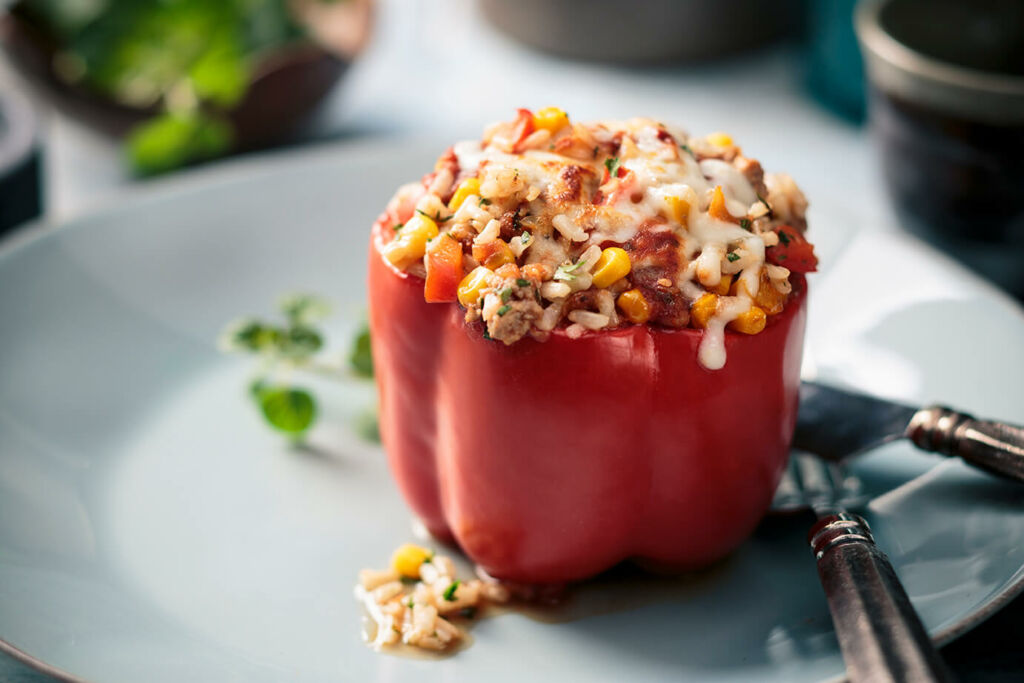 For a well-loved side dish where you just can't go wrong, try our Easy Coconut Rice. With coconut milk, cilantro, a pinch of salt, and Carolina® Thai Jasmine Rice, you'll have a winner in no time!
Mouthwatering Mains
Rice Bowls
Vegan Tinga Rice Bowl – This will make a great addition to your vegan recipe collection. It's a dish that boasts delicious flavors and hearty ingredients such as chickpeas, hearts of palm, and avocado, all nestled atop Extra Long Grain Carolina® White Rice. This rice bowl is sure to become a new favorite, perfect for a quick on-the-go lunch or a satisfying family dinner.
Spicy Salmon Brown Rice Bowl – To make a vegan version of this dish, simply use plant-based ingredients. Did you know that you can create vegan mayonnaise by combining soy milk and oil? And, of course, swap out the salmon for a tasty alternative and you're on your way to a delicious meal.
Asian Rice Bowls With Tofu – This flavor-packed rice bowl with crispy marinated tofu, sliced zucchini, carrots, and creamy avocado atop a bed of fried rice can be ready in under 30 minutes. Indulge in the savory taste of this dish that is sure to satisfy your cravings!
Fried Rice
There are so many delicious ingredients you can add to a fried rice recipe to give it a new twist. This Arroz con Coco and Fried Plantains is a meat-free dish, complete with crispy plantains that are full of sweetness!
And if you can't get enough of sweet flavors, why not this Mexican Horchata with Cinnamon? You can make it with coconut milk or almond milk to make sure it stays vegan. Either way, this dessert is bound to delight!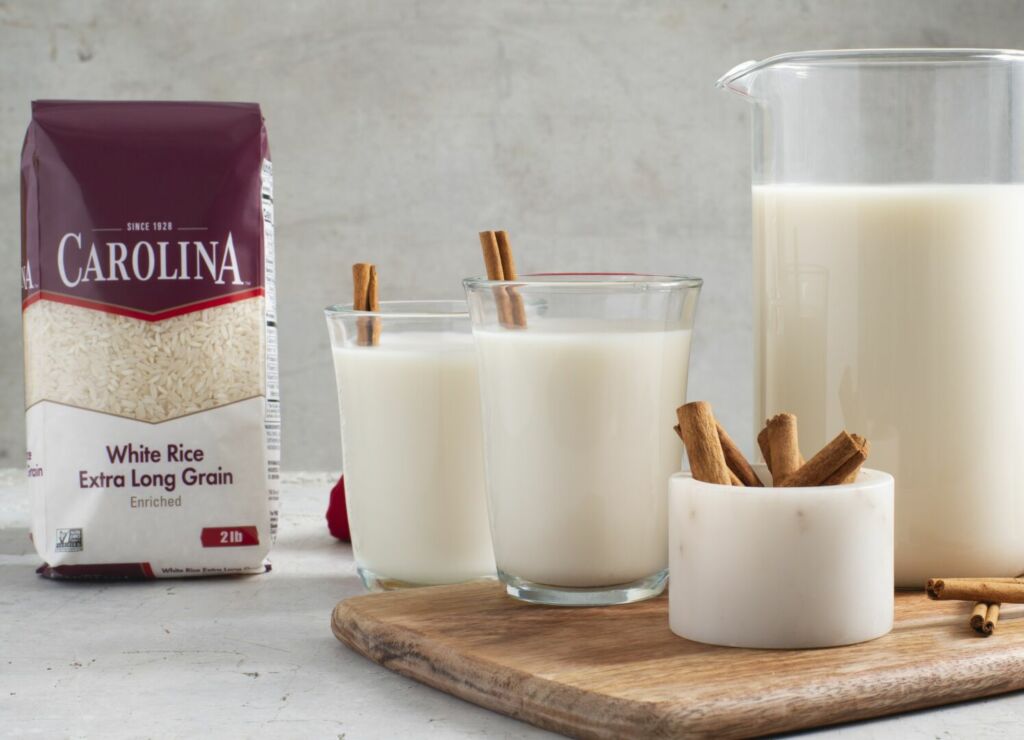 Meat Substitutes
As vegan and vegetarian diets are on the rise, so are meat alternatives. You can experiment with tempeh, seitan, canned or fresh jackfruit, tofu, or other sausage/burger/meatball/chicken alternatives made with quality ingredients. You'll be surprised how tasty some of them are!
Delicious Desserts
These indulgent vegan desserts boast luscious, sweet, and creamy flavors that speak for themselves. No need for butter, eggs, or cream to make them taste better. Start with our Coconut and Almond Rice Tart that you can enjoy with fresh fruit or a vegan whipped cream topping. Alternatively, try our Coconut Rice Pudding Milkshake for another sweet treat.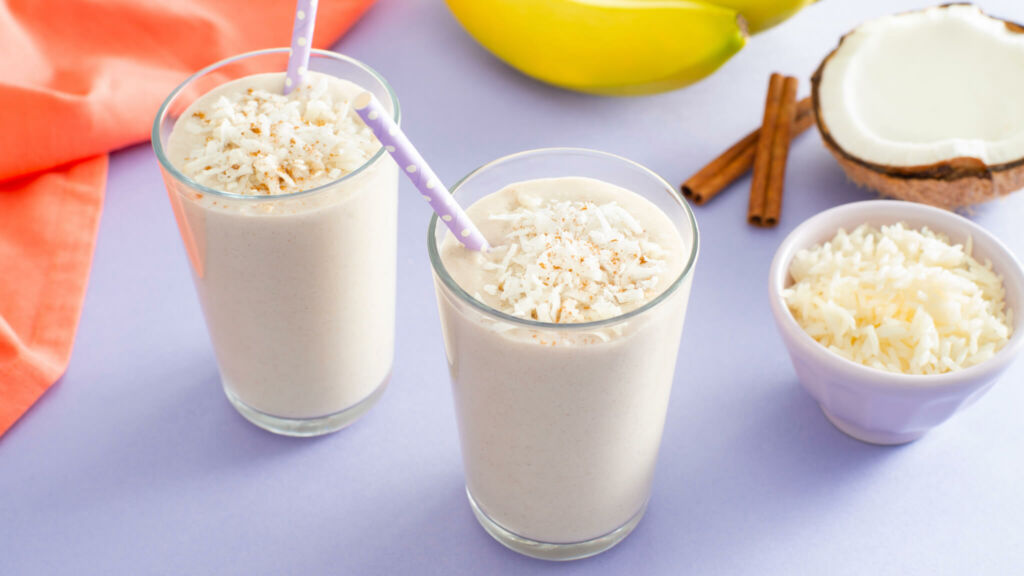 For unique tips and tricks when it comes to cooking, come and visit our blog.