It doesn't have to be difficult to prepare meals for the entire family. You can prepare a wonderful meal quickly with these delectable dishes. These recipes, which range from quick rice bowls to traditional comfort cuisine, are sure to satisfy everyone at the table. Now gather your supplies and start cooking these family-friendly recipes using Carolina® Rice.
Breakfast for Champions
Before you drift off to sleep, Carolina® Rice's variety of breakfast recipes will have you dreaming of your breakfast table. Breakfast is considered one of the most important meals of the day for a reason. Carolina® Rice provides everything you might want for breakfast, including hearty plates of eggs, smoothies, and breakfast bowls.
Breakfast Bowls
You're in luck if breakfast bowls are your go-to meal. Our Spiced Breakfast Rice Bowl is perfect if your family likes sweet foods! It is made with berries, handmade maple butter, and day-old jasmine rice. This recipe's incredible adaptability is one of its best features. Each member of the family is free to add their favorite toppings, such as honey or granola, or lighten it by reducing the amount of sugar.
Condensed milk is used to perfectly cook this sweet and creamy rice dish, which has flavors of nutmeg, cardamom, allspice, cinnamon, and brown sugar. A gorgeous dish that would make even your preferred brunch spot jealous. Fresh berries, coconut shavings, homemade maple butter, and optional whipped cream are added as a garnish.
Our Jasmine Rice and Quinoa Breakfast Bowls with Tropical Fruit is another sweet alternative. This delicious breakfast bowl will have you and your family walking on the sunny side of the street thanks to the tropical fruits, a delectable rice mixture, and coconut milk.
If you have never started your day with a breakfast bowl like this, let us be the first to inform you that this tropical treat is not only a substantial breakfast but also undeniably delicious.
Imagine a dish that includes quinoa, jasmine rice, pineapple, and mango that are in season, savory coconut flakes, banana slices, a hint of honey, cinnamon, and salt. By adding vanilla extract, you can make your breakfast bowl fit for a king or queen. If you know you have a busy morning ahead of you, you can prepare it the night before.
Our Turmeric Breakfast Rice Bowl should satisfy your craving if you tend more toward the savory end of the spectrum. Use our Premium Carolina® Jasmine Rice, Red, & Wild Rice Blend to make this cornucopia-filled rice bowl dish. Serve this breakfast with scrambled eggs, sweet potatoes, and silky avocado to keep you full all day. To give it a delicious crunch, sprinkle on some pumpkin seeds. If you want to broaden your rice bowl horizons, read our piece on rice bowls for any meal.
Lunch and dinner are just a few hours away now that breakfast is over. Your options are endless when using Carolina® rice. There are several recipes that the whole family will enjoy from our extensive assortment. Let's look at some of the best possibilities for pleasing meals for the whole family.
Easy and Delicious Lunch Ideas
It is easy to get some greens in with this Creamy Broccoli and Cheese Rice Soup. Made with broccoli florets, mushrooms, celery, carrots, and chicken, this light lunch will surely become a family favorite. It is ready in only 10 minutes or less!
You're not sure what to serve your extended family when they come to visit. Our delectable Bolitas de Arroz y Queso are a great place to start. Your family will stay close to the kitchen knowing that these delectable appetizers are nearby. They are also ideal for dipping in the sauces of your choice.
After the cheese balls are gone, dive right into these Green Chicken and Turmeric Rice Burritos With items like feta cheese, hummus, grilled chicken, lettuce, cucumber, and tomatoes, your visitors might never want to leave!
Dinnertime is approaching as the day comes to a close. Especially if everyone has diverse tastes, cooking for the entire family might be difficult. Yet, with a little imagination, you can prepare wonderful, hassle-free family meals that everyone will love. Let's look at some of those choices.
Easy Dinner Options
It's Monday, which means no meat for dinner. You want to take a risk and try something different. Our Rice and Beans Skillet Dinner is the ideal recipe for making that leap. This entertaining spin on a New Orleans tradition is ready in no time.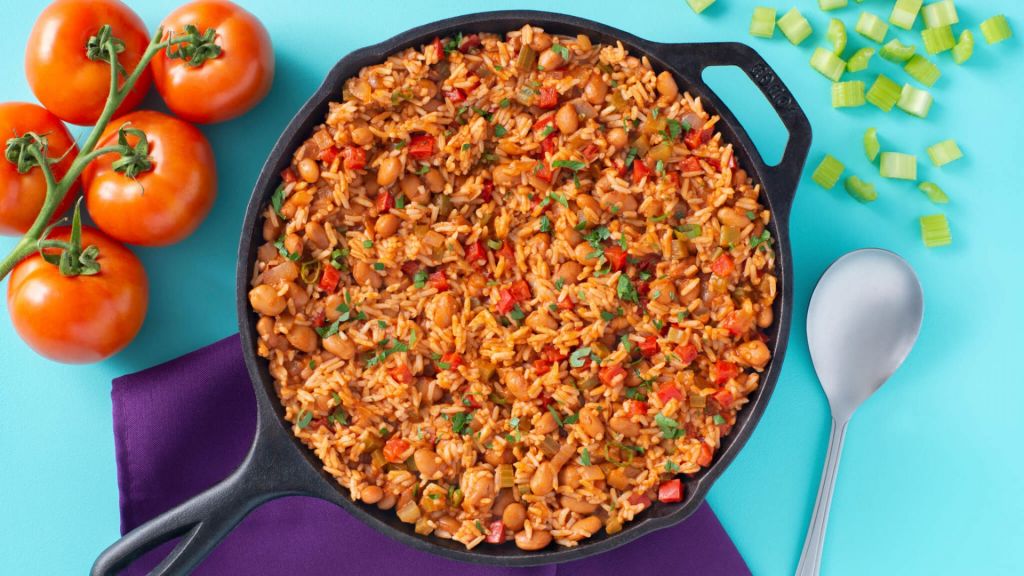 Made with Carolina® Garlic & Olive Oil Jasmine Rice, onions, celery, cajun seasoning, pepper 
pinto beans, and more.  This Cajun favorite is sure to please the whole family. We have a number of meatless dinner alternatives that are simple to prepare. Click here for more options. 
 Everyone is craving Tex-Mex? Why not offer this Simple Tex Mex Rice Bowl that the whole family can help prepare. Made with our Carolina® Ready to Heat Cilantro Limón Jasmine Rice, ground beef, brown sugar, cumin, oregano, paprika, and more. The entire family can enjoy the assembly. Include all the extras, including fresh cilantro, cheddar cheese, and sour cream. Why not enhance the atmosphere with some entertaining music?
Another fun and unique meal that the whole family will enjoy is our Stuffed Plantains With Rice & Beans.  Made with our Carolina® Ready to Heat Jasmine White Rice, plantains, black beans, refried beans, tomato, cilantro, and more. Stuffed Veggies are an excellent idea for dinner to ensure that everyone in the family eats their vegetables.
To complete your meal, Carolina®Rice offers easy and amazing dessert options like this Coconut Flavored Rice Pudding.  Made with coconut milk, coconut oil, vanilla extract, and more. To try your hand at other types of pudding take a look at our How to Make Perfect Rice Pudding blog. 
For more delicious recipes check out the Carolina® Rice website.