The energizing meals you can create with this spicy, flavor-packed rice will leave you speechless when it comes to cilantro seasoning.
When combined with fragrant Jasmine rice, the delicious, all-natural flavors of lime juice and cilantro are the perfect way to break the mold. Delicious recipes for quick evening meals or lunch ideas are available for Carolina® Rice. You won't be dissatisfied whether you use our Ready to Heat Cilantro Limón Jasmine Rice or add cilantro as an additional ingredient. Let's review some fundamentals of cilantro before moving on to some dish ideas.
About Cilantro
Cilantro is an herb that has been used in cooking for generations. It has a distinct flavor that could be characterized as lemony, herbal, and just a little bit peppery. Cilantro is frequently used to flavor foods like salsa, guacamole, curries, and salads in Asian, Latin American, and Mediterranean cuisine. Several meals benefit from the vivid flavor that cilantro adds, and chefs love it for its distinct scent. This herb is interesting to experiment with, whether you're searching for a fresh way to season your food or you're just intrigued about its flavor.
How to Keep Cilantro Fresh and Flavorful in Storage
Cilantro is very adaptable and gives any meal a distinctive flavor. However, you must know how to preserve it properly if you want to take advantage of its full flavor and freshness.
Fridge Storage Without Washing
Just wrap the bundle of unwashed cilantro in a clean piece of paper towel before putting it in a plastic storage bag. This should make it last for up to a week.
Storage in a Mason Jar
After it has been cleaned and dried, put the whole cilantro in a mason jar with a thin coating of cold water. Then, place it in the refrigerator and cover it with a plastic bag. This is the ideal choice if you want to remove leaves as necessary. Cilantro ought to keep for up to a week.
Storing the Whole Cilantro in the Fridge
Spread out the full cilantro leaves once they have been thoroughly cleaned and dried, being careful not to smush them down. Wrap the cilantro with two gentle folds. The wrapped cilantro should be placed in an airtight container with a paper towel covering it. Place in the fridge after tightly sealing. The cilantro should last for up to three weeks!
Ideal Recipes for Cooking with Cilantro
You've come to the correct place if you're searching for the greatest recipes to make with cilantro! You can choose from a number of recipes that use this adaptable herb with Carolina® Rice. Each food will taste and smell better with cilantro added, from salads to shrimp and chicken dishes. Let's first examine how to cook Carolina® Ready to Heat rice before looking at various recipes.
How to Prepare Carolina® Ready to Heat Rice
If you decide to use our Cilantro Limón Ready to Heat Jasmine Rice these are the steps you should follow to prepare it:
Traditional Carolina® Jasmine Rice is pre-cooked, so it will be ready to enjoy after heating for 90 seconds in the microwave. If you prefer, it can also be heated over the stove.
Microwave method: squeeze the unopened pouch to separate the grains. Tear the top off and microwave on HIGH for 90 seconds. Cooking for the family? To heat 2 bags at once, heat for 2 ½ minutes. No need to add water, simply heat and enjoy. Be careful when handling and opening the hot pouch, as it may be too hot.
Stove: gently squeeze the sides of the pouch and pour rice into a skillet. Add 2 Tbsp of water and heat, stirring occasionally until heated through. This will take about two minutes. Serve immediately.
Recipes That Use Carolina® Ready to Heat Rice
Tex Mex
Enjoy a rainbow of tastes and sensations with this deconstructed twist on a long-standing family favorite—the taco! Everyone enjoys tacos, right? This easy-to-follow but delectable meal will be popular with both the young and the elderly. We've got chicken breast, bell pepper, lettuce, pinto beans, guacamole, and more in our Lime and Cilantro Rice Taco Bowl! The good news is that if you have family members who have diverse meal preferences or eat at different times, taco bowls are very versatile. They are quite simple to adapt to each person's preferences.
Your taste senses will be delighted by the flavorful yet straightforward Simple Tex Mex Rice Bowl. A tasty and substantial dinner made with Carolina® Ready to Heat Cilantro Lime Rice and smokey cumin beef is ideal for preparing for midweek lunches. View some of our additional rice bowl selections.
If you are wanting to use our other rice varieties and simply want to add cilantro as part of your recipe ingredient list, we also have plenty of options to choose from.
Recipes that Include Cilantro
Seafood
There are no elements overlooked in this Creamy Risotto with Cilantro and Shrimp. In addition to Carolina® Arborio Rice, this dish also includes simmered onions, garlic, cilantro, and chicken broth. Once you've added some delicious shrimp and fresh parmesan cheese, this risotto might just become your new go-to weeknight meal.

Chicken
Chicken is on the menu tonight and Pollo Con Arroz Verde is a must-try recipe. Made with Carolina® Jasmine Rice, chicken, onions, peppers, salsa, cilantro, and more. This dinner is bursting with flavor and will undoubtedly make the weekly menu cut list.
Another yummy chicken menu that includes cilantro is our One-Pot Green Curry Recipe. From freshly chopped cilantro to fluffy Carolina® Jasmine Rice, our One-Pot Green Curry Chicken contains a ton of fresh aromatic ingredients but still has a spicy kick that will leave a lasting impression.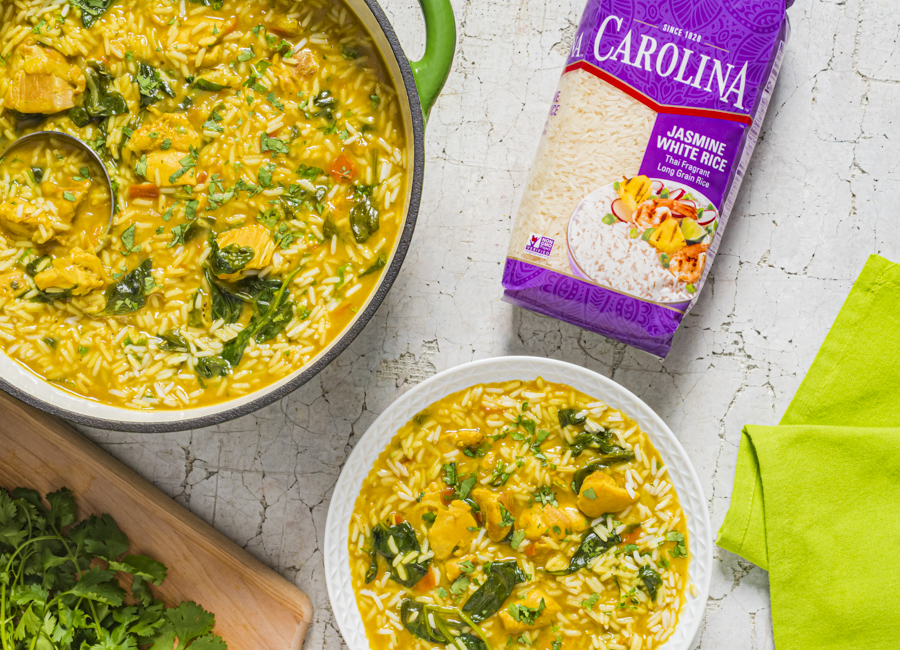 Recipe Tip: Cleaning fresh cilantro as soon as you get home from the grocery shop is recommended since it is frequently very sandy. Wash again after changing the water a couple of times until there is no more grit. Spin the cilantro in a salad spinner as soon as it has been thoroughly cleaned. As an alternative, strain it through a sizable sieve and shake off the water.
For more delicious recipes check out the Carolina® Rice website.