It's that time of year again when the leaves start to change color and fall off the trees, chilly weather sets in and we can enjoy all kinds of specialty comfort food and drinks! Celebrate the fall season in style by taking full advantage of the delicious tastes and flavors that come with different autumn harvest ingredients.
There's a lot to love about fall and harvest ingredients and sometimes when you combine flavors together you can create something extraordinary. That's why we've put together a list of our top ingredient combinations and favorite fall vegetables with recipe inspiration for you to enjoy all season long!
Fall Staples
Make sure to stock up on seasonal fall staple combinations and vegetables to keep on hand for when you want to add just a bit more fall flavor to some of your favorite dishes.
Delicious Ingredient Combos
Pumpkin Spice Blend
Possibly one of the most iconic fall flavors, the pumpkin spice blend is perfect for all kinds of desserts, drinks and sweet treats. We've taken the famous drink one step further and made it into a creamy Pumpkin Spiced Latte Rice Pudding. Similar to the classic rice pudding with cooked rice, this recipe gets a fall twist using homemade or store-bought pumpkin puree and pumpkin pie spice generally made of cinnamon, ginger, nutmeg and allspice.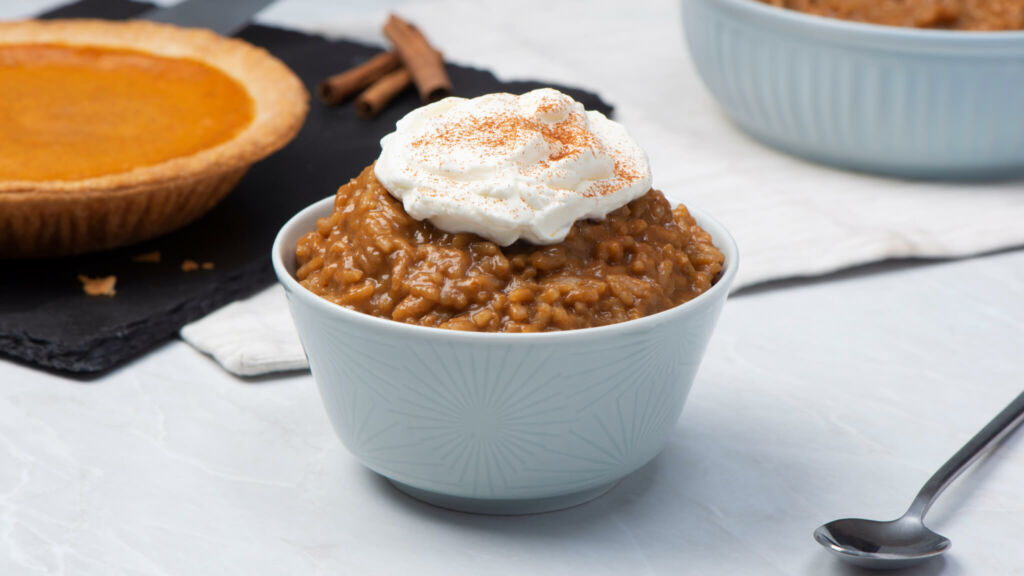 Maple Syrup + Spices
Maple syrup is great for more than simply topping your waffles, it can also work as a delicious and natural sweetener for fall favorites as it is harvested in fall and winter to enjoy all year round! Often overlooked, combining maple syrup from maple trees and spices is a wonderful way to enjoy sweet fall flavors and this Spiced Rice Bowl is made with a lovely mixture of brown sugar, nutmeg, allspice, cloves, cardamom, cinnamon and a blend of maple syrup butter.
Ginger + Caramel
Fresh or ground ginger is a great ingredient to bring out the natural sweet flavors of other fall vegetables such as butternut squash or even pumpkin. We've found just the right amount of each ingredient for this flan sweet treat – Ginger Pumpkin Rice Creme Caramel.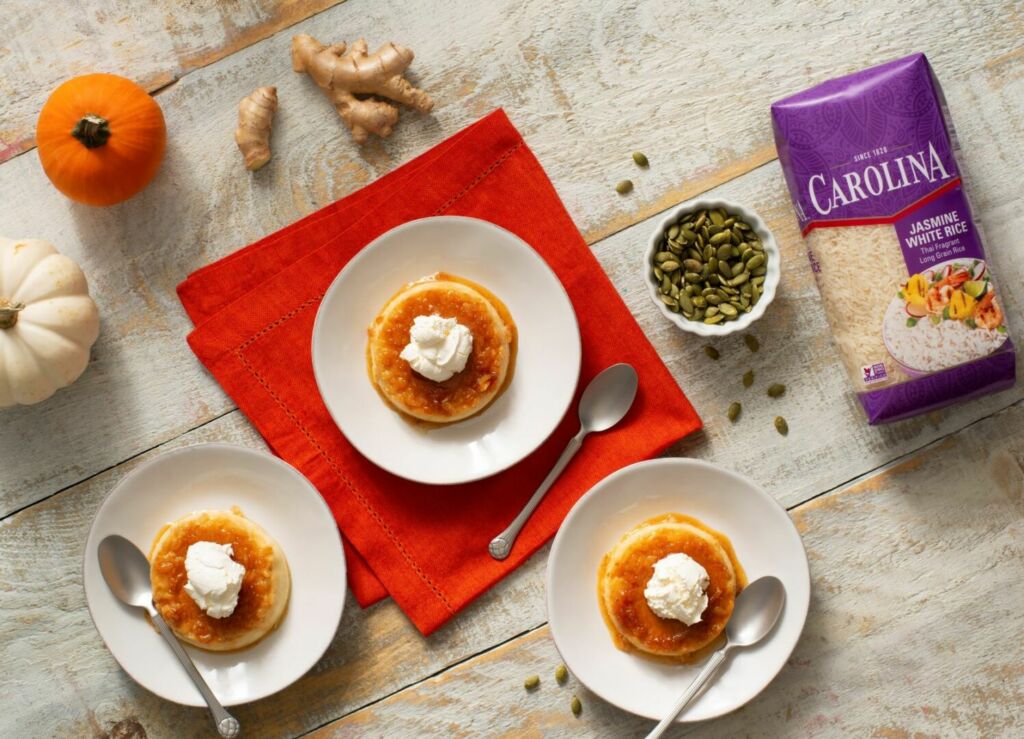 Apple + Cinnamon
Just about anything with warm apple cinnamon sounds tasty, including this delicious Apple Cinnamon Rice Bowl using a premium blend of Jasmine Rice with Quinoa from Carolina® Rice. With just 5 ingredients like fresh apples, water/milk, cinnamon and maple syrup you're set to go with a simple and delicious breakfast or snack!
Essential Autumn Vegetables
Brussels Sprouts
Not commonly considered a fall vegetable, Brussels sprouts are indeed at their peak in the fall. Take advantage of all of that green goodness in this dish of seasoned White Rice Topped with Roasted Green Vegetables like asparagus, broccoli and Brussels sprouts. Tasty and filling to give your table a touch of vibrant color and taste!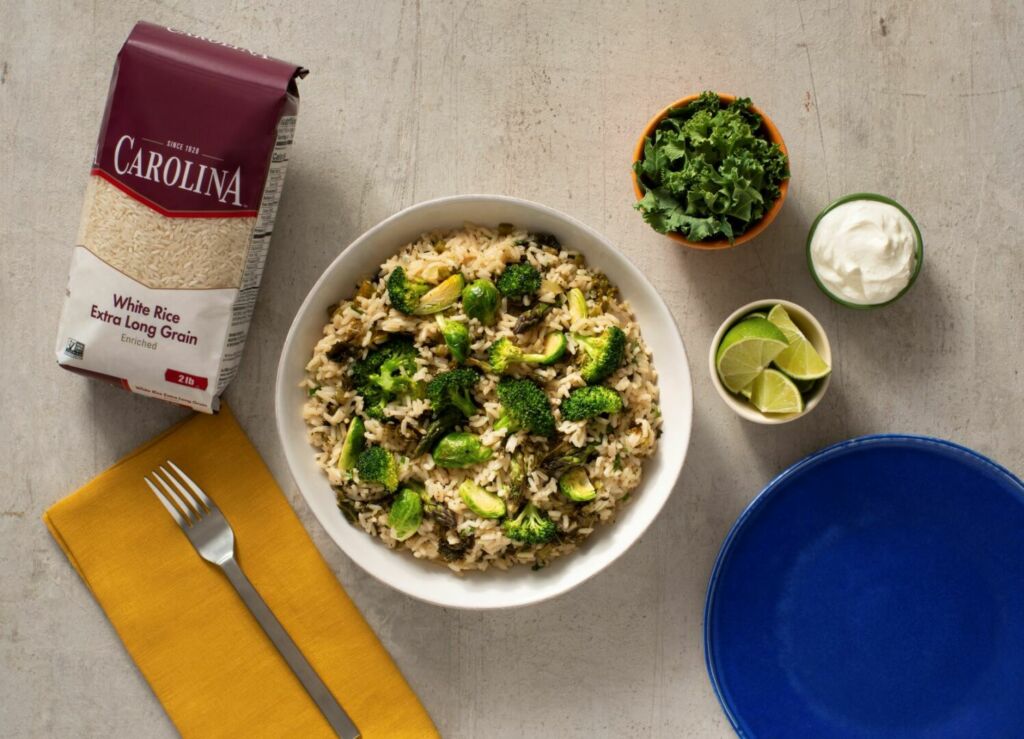 Root Vegetables
As root vegetables grow underground they absorb a lot of different nutrients from the soil in cool weather making them perfect ingredients, and although a lot of them can be found year round, their peak season is from fall through spring.
What's better than using main root vegetables but using a whole blend of them like in this Roasted Harvest Veggie Paella. When roasted, the vegetables become extra delicious and caramelize for flavor in every bite.
Mushrooms
Although mushrooms are commonly bought throughout the year, the best mushrooms are grown in the autumn season and we couldn't miss out on all of that goodness using mushrooms in this Truffle Risotto. Although this recipe calls for truffle oil with fresh shimeji mushrooms, feel free to swap in your favorite or most readily available like portobello, button, cremini, oyster or more! No better way to add umami to a dish than with mushrooms.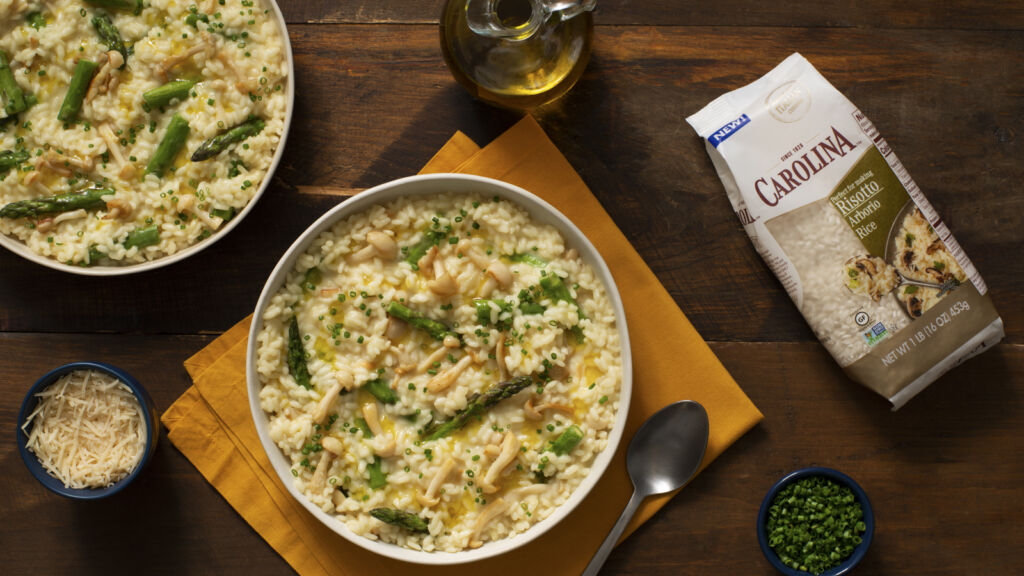 Squash
One common autumn vegetable used increasingly more often is winter squash in all its varieties including butternut squash, pumpkin, acorn squash and so much more. Aside from a simple puree to add to your Thanksgiving pumpkin pie or treat, we've compiled our favorite ways to use these vegetables in your meals!
Stuffed Butternut Squash
One new and inventive way to use butternut squash is to fill it with delicious ingredients and oven-bake it to perfection. This roasted and Stuffed Butternut Squash is filled with a combination of ground pork, aromatic jasmine rice and apple for a delicious way to enjoy classic fall produce.
Yellow Rice Side Dish
Another great way to enjoy different types of squash is to combine them with flavorful dishes like yellow rice. Take your pick of butternut squash or pumpkin with these two variations of delicious yellow rice and vegetables.
If you enjoy the fragrant taste of Carolina® Basmati Rice in this Homemade Yellow Rice Dish seasoned with turmeric and broth combined with butternut squash and leafy kale this is the one to choose.
Comforting Soup
When you need a simple comfort food soup to cozy on up with during the chilly months, winter squash are the perfect ingredient to add both a savory and slightly sweet touch to your meal. Try it for yourself in this Pumpkin Coconut Rice Soup made with Carolina® Ready to Heat Jasmine Rice all ready in just 10 minutes!
Make this fall season the best yet with your choice of Carolina® Rice and a blend of harvest vegetables for a delicious meal any time! Looking for more seasonal sides or main dishes? Check out our Thanksgiving Day meal ideas for a bit of inspiration. You can find more information on our products such as 'how many calories are in a cup of rice?' or 'what is arroz chaufa? On our website.