One of the most well-known Spanish cuisines is paella!  It consists of rice with a variety of different components that come from both the land and the sea. It is simple to understand why we are drawn to this vibrant and fragrant dish! Paella is extra enticing due to the addition of spices like saffron, paprika, and oregano. It is appropriate for a variety of events, whether it's a happy festival or a treasured family get-together. You'll be amazed by its success when you decide to share it with others!
Tips for Cooking Perfect Paella
Maybe you or your abuela have already attempted to make this delicacy. Are you certain that you followed the right steps? Although it takes time to prepare paella, it won't be too challenging once you have tried it a time or two. First, let's look at some pointers you can use to make your paella-making process go as smoothly as possible.
First and foremost, take your time. Cooking is a marathon, not a sprint, and patience and careful attention to detail will pay off.
Second, because rice is the centerpiece of the platter, choosing the right kind is crucial. We provide a variety of Carolina® Rice that is excellent for paella preparation: The Valencia (Short Grain) Rice, which becomes tender, compact and moist all at the same time thanks to its ability to absorb the liquid.
Last but not least, a professional cook never stuffs the paella with too many ingredients since the secret is to avoid going overboard with the quantity and let each flavor of the meal shine out.
Following these tips in the proper way, you'll be able to keep things original by following the #UnfollowLaReceta concept.
History of Paella
Valencia is the birthplace of paella, which is in part attributable to the fact that it has long been one of the main centers for rice production on the Iberian Peninsula. We are discussing a cuisine that links this civilization with the Roman one, which introduced the large and shallow pan commonly used to create paella. Between the 15th and 16th centuries, peasants needed something to eat that was made with ingredients they already had on hand. The dish has changed over time and currently comes in a variety of forms that we will now take a look at.
Chicken Paella
Contrary to popular belief, seafood is not always used when making paella. In reality chicken, but also other types of meat, can be an important component of this dish.
What could be better than a dish of chicken and vegetables? Well, inside this Jerk Chicken Paella you'll also find our delectable Parboiled Medium Grain Rice, a true specialty! Of course, the enormous high-sided skillet will be stuffed with aromatic ingredients, just like any genuine paella. In this instance, the curry and jerk paste give this dish a really savory touch.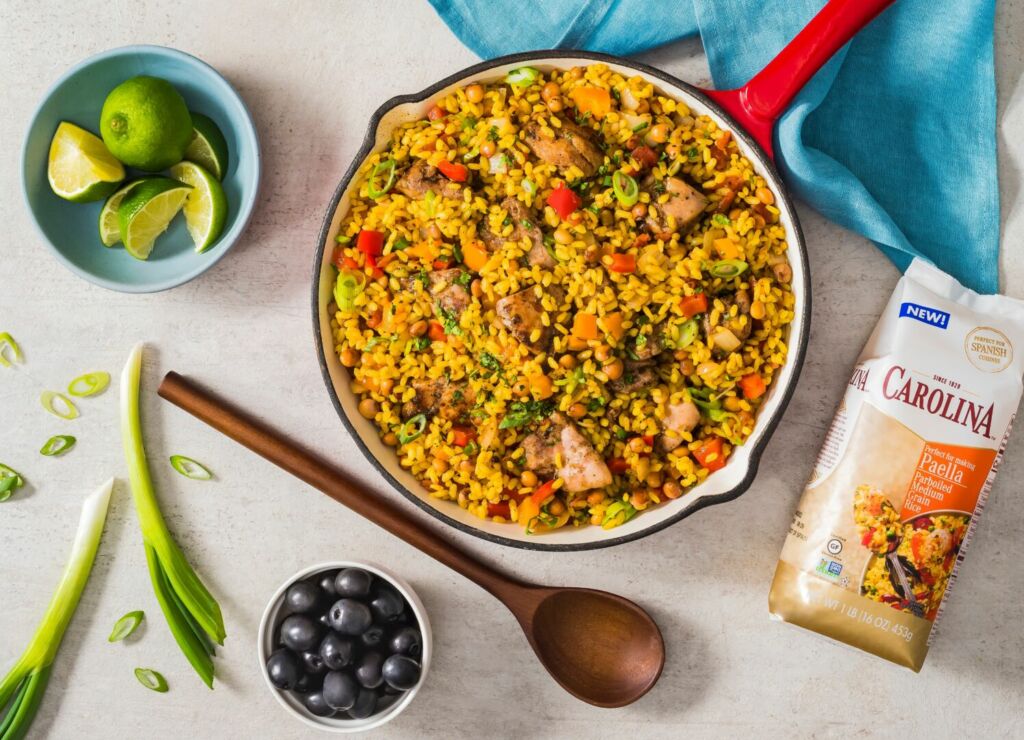 Since we were little we have loved chicken drumsticks! This is due to the fact that they taste great, especially when well-seasoned. In addition, trying to envision life without bacon is a difficult task. If you appreciate both meats, today is your lucky day! You can make this Bacon and Kimchi Paella with Chicken using Carolina® Rice, straying from the typical paella recipes and going on a gastronomic adventure.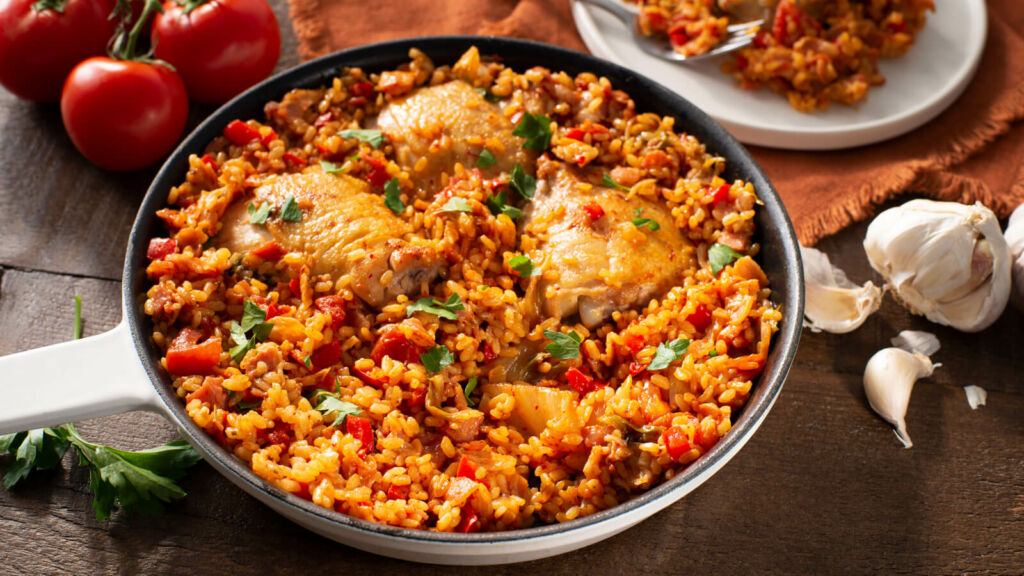 Seafood Paella
Traditional Paella
The aroma of seafood is what we always associate with paella. Fortunately, you don't need to travel all the way to Spain to sample an Authentic Spanish Paella with Seafood. In fact, you'll discover with us how to make this special dish at home. Just make sure you have all the ingredients on hand, including the Carolina® Parboiled Medium Grain Rice, as well as the vegetables and spices (red pepper, tomato, garlic, parsley, sweet paprika, and saffron). Don't forget to visit the seafood market to buy some monkfish, mussels, calamari rings, and prawns.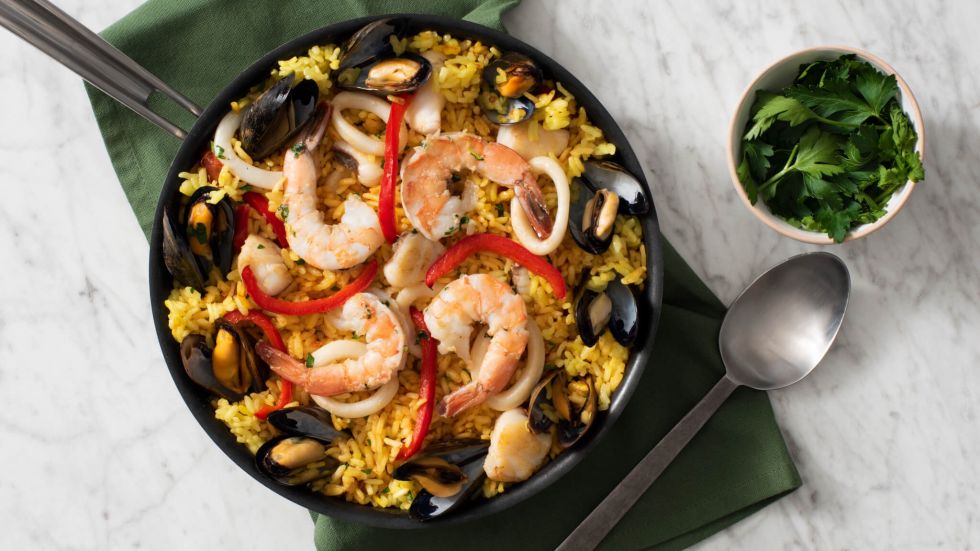 Traditional Paella with Chorizo & Shrimp is a different variation of Spanish paella. As you combine the chicken broth, smoked paprika, bay leaves, shrimp, chorizo, and peas, don't forget to stir. This paella complies with all the standards of Spanish cuisine to produce a medley of salty, hot, and savory. Note: Any mussels that don't open should be discarded.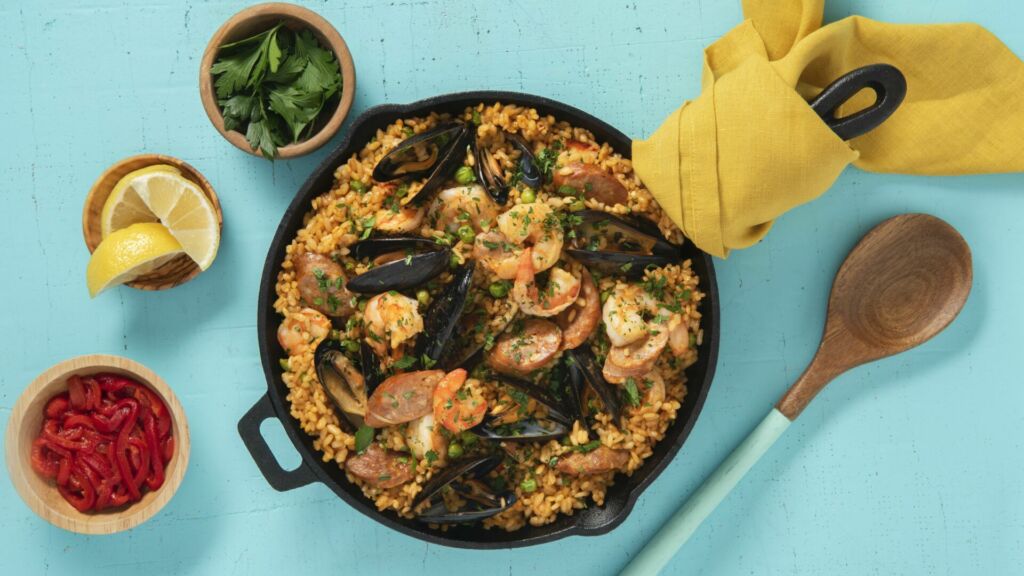 Tuna Options
This Tuna and Artichoke Paella is a great option if you don't have all day to prepare with abuela. The only necessary vegetable is artichoke, so you won't need to spend the extra time cooking the fish. You'll be using canned tuna in its place. Don't forget to mix in green beans if you are looking for a deeper flavor. The addition of saffron threads, bay leaves, and paprika also adds extra flavor.  The fewer ingredients make it more accessible for a weeknight dinner option.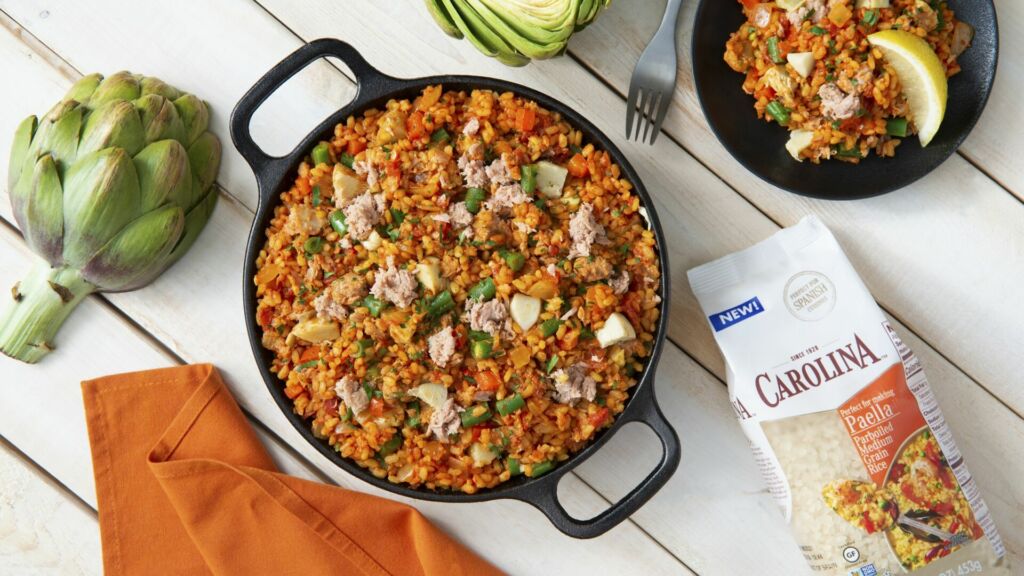 Exotic Flavors
This Mexican-Style Seafood Paella is a great choice if you like even bolder flavors! In this delightful revision of a Spanish classic, paella meets Tex-Mex. This delicious recipe differs from the typical Spanish paella in a fun way, by utilizing ingredients usually found in Mexican cuisine, such as red peppers, jalapenos, chipotle, cilantro, and lime. This paella dish is guaranteed to quickly become a favorite since it perfectly reflects those Tex-Mex flavors. It expertly blends chorizo, chicken, shrimp, mussels, and spices like cumin, oregano, and turmeric for a potpourri of flavorful and enticing aromas.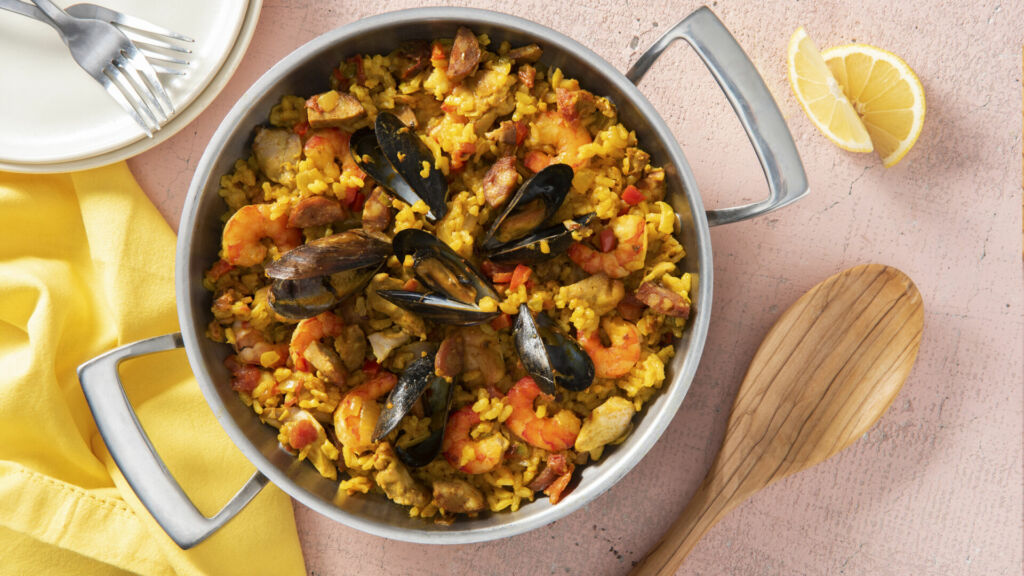 You are not a paella aficionado but you can't resist the temptation of seafood? Here at Carolina® Rice we are full of meal ideas for everyone! They all contain different varieties of Carolina® Rice Products, so you'll have the opportunity to try various options until you find your favorites.
Vegetarian Paella
After tasting paellas produced with both land and sea ingredients, get excited about our vegetarian options! The freshest and most flavorful ingredients available at this time of year are used in this Vegetarian Paella. You might also use our recipe as a general guide, but you are not required to use the same components; rather, you can select them based on the season and your preferences. You should use the Carolina® Parboiled Medium Grain Rice, not just any sort of rice, when you stir it in. Any vegetarian will be delighted by the Meatless Monday option of this paella.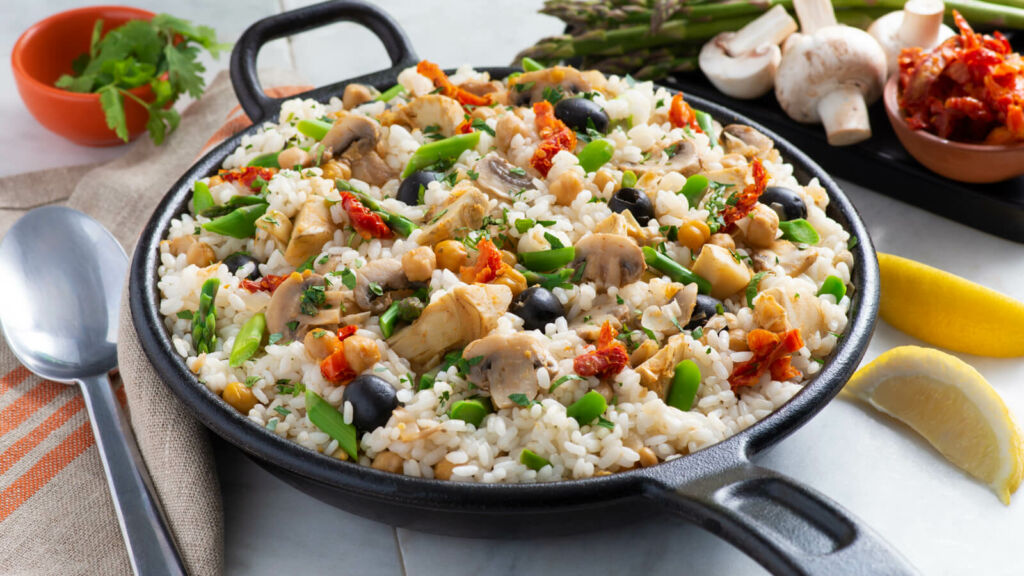 Chickpeas, mushrooms, olives, sun-dried tomatoes, and artichokes are all ingredients in this recipe. With a sprinkle of smoky paprika, its complexity makes it just as substantial as a real Spanish paella. Chorizo, what's that?
We recommend this enticing Roasted Harvest Veggie Paella if you want to introduce your invited guests to something different. Roast some brussels sprouts, butternut squash, carrots, and parsnips before combining them with a delectable broth, wine, saffron, onion, garlic, and smoky paprika combo. Sprinkle some parsley and lemon juice on top of the plating to add a finishing touch.
Now that you've learned something about paella, we hope that you'll become a real arrocero! For more tips on how to prepare dishes from diverse cultures, stay tuned to Carolina® Rice website.