Most families love grilling outdoors during the warm summer months, but the Fourth of July is one day of the year when the coals need to be hot. There is no better way to celebrate America's birthday than by firing up the grill, popping open a drink, and spending time with friends and family while listening to patriotic music. Whether you're planning a large neighborhood party or just remaining in your own backyard, Carolina® Rice is here to help keep those flames blazing! We have selected dozens of our greatest recipes to make this 4th a memorable one. Before we take a look at those recipes for beef and chicken, let's look at a few brief pointers.
Grilling Tips
Make sure you have all the required equipment, such as metal tongs, metal spatulas, a grill brush, and cooking spray before you fasten that special apron.
Make sure you have enough propane in your tank to get you through this busy day if your stove is gas.
Use a raw potato as a clever technique to prevent food from sticking on the grill! Slice it in half, prick the exposed potato end with a fork, and rub it over the grates. Through this procedure, the potato's starches are released, and a barrier is formed.
Make sure you understand the distinction between direct and indirect heat as well as how to cook effectively with both.
BBQ Recipes for Summer
For this important occasion, your guests will undoubtedly crave meat dishes (as well as rice, of course). Really, is there a better combination?
Recipes with Grilled Chicken
Place the chicken breast on your preheated grill and close the lid to prepare it. Cook each side for about six minutes. When your chicken is done try adding it to these Grilled Chicken Tacos with Rice Salsa. The salsa of sour brown rice and tomatoes makes these street-style chicken and rice tacos extra delicious. Serve them with avocado and cheese, if you can. Get their taste buds going by passing them around!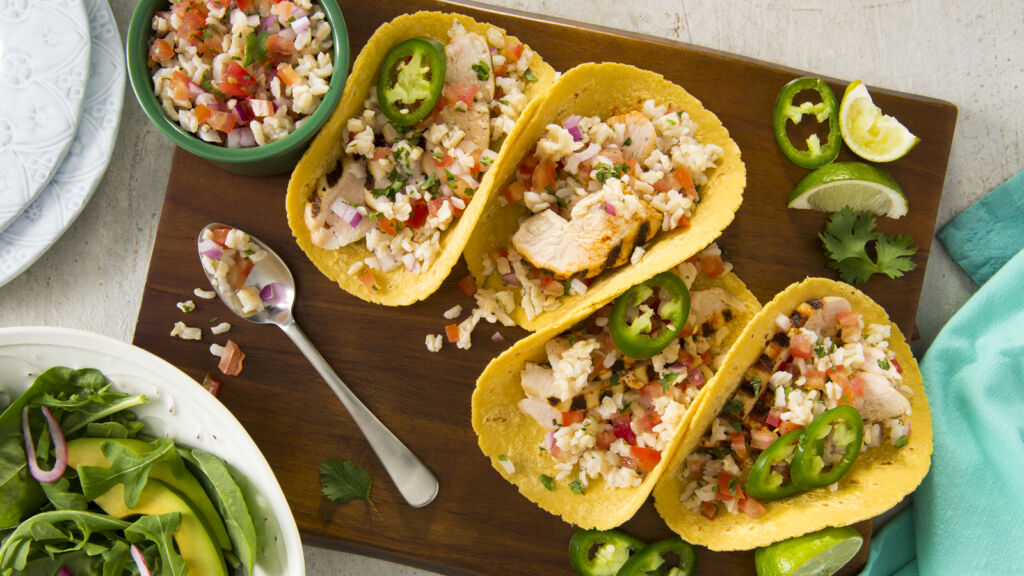 Another great recipe to utilize part of that chicken is this one: Rice Salad with Caribbean Chicken. #unfollowlareceta with Grilled Chicken Thighs with Arroz Verde. Abuela will be blown away by the abundance of fresh herbs and vegetables! If you like, you are welcome to substitute shrimp, tofu, or sirloin for the chicken.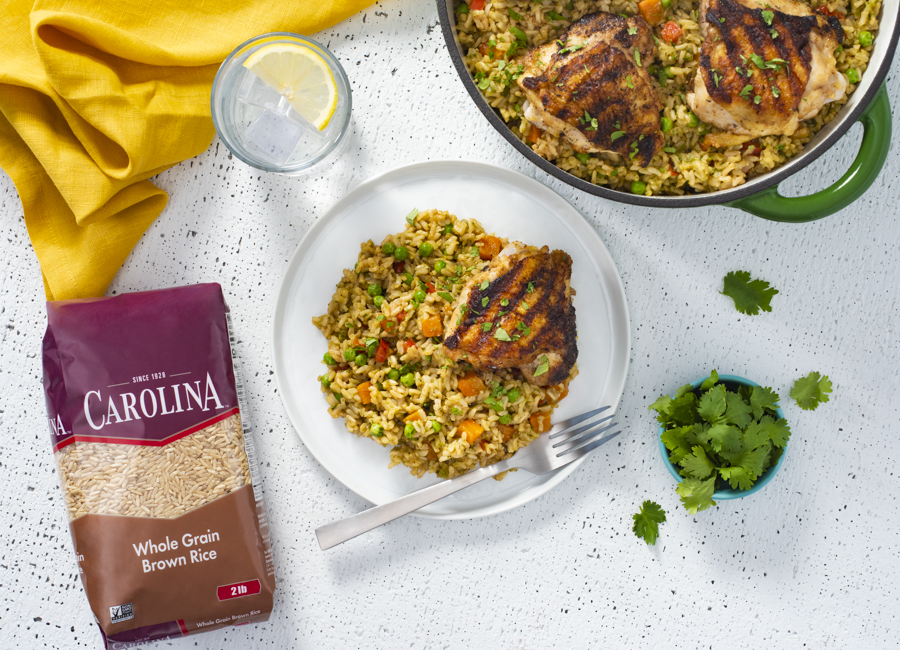 Kebabs
Why not toss some kebabs on the grill while it's already hot? Garlic Lemon Chicken Kebabs with Green Rice is sure to become your new BBQ go-to! The Fourth of July is the ideal occasion to try them out. While speaking with your relatives, don't forget to turn your kebabs, and then grill them for another 12 to 15 minutes, or until the chicken is cooked through.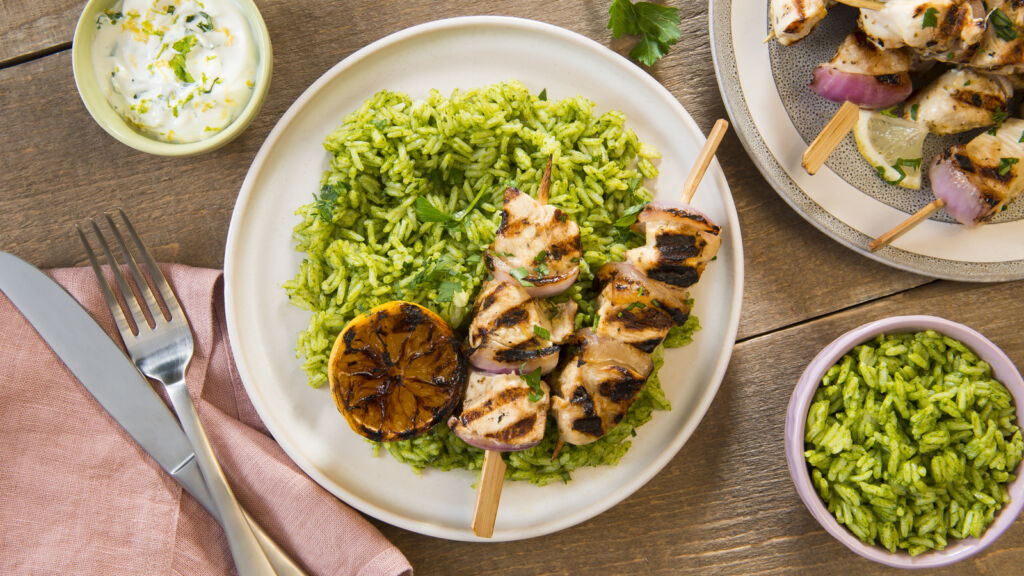 Arroz con Pollo
Enjoy this timeless classic with our Chicken with Arroz Verde or Easy Chipotle Chicken and Rice.
You will not be able to decide between the two and they are both made with our Jasmine Rice.
Some of your visitors will only eat meat, therefore chicken won't do. They need beef options instead. There are plenty of options from Carolina® Rice to keep them satisfied and those flags waving, so there's no need to worry.
Beef-tastic Dishes!
This Chimichurri Rice with Mixed Grill is the best choice for those guests that enjoy it all! This Mexican Beef Stir Fry is a great option if they have steaks on their minds. This beef flank steak has a juicy and delectable flavor from being cooked in seasonings like cumin, oregano, and garlic and is served over a bed of conventional white rice.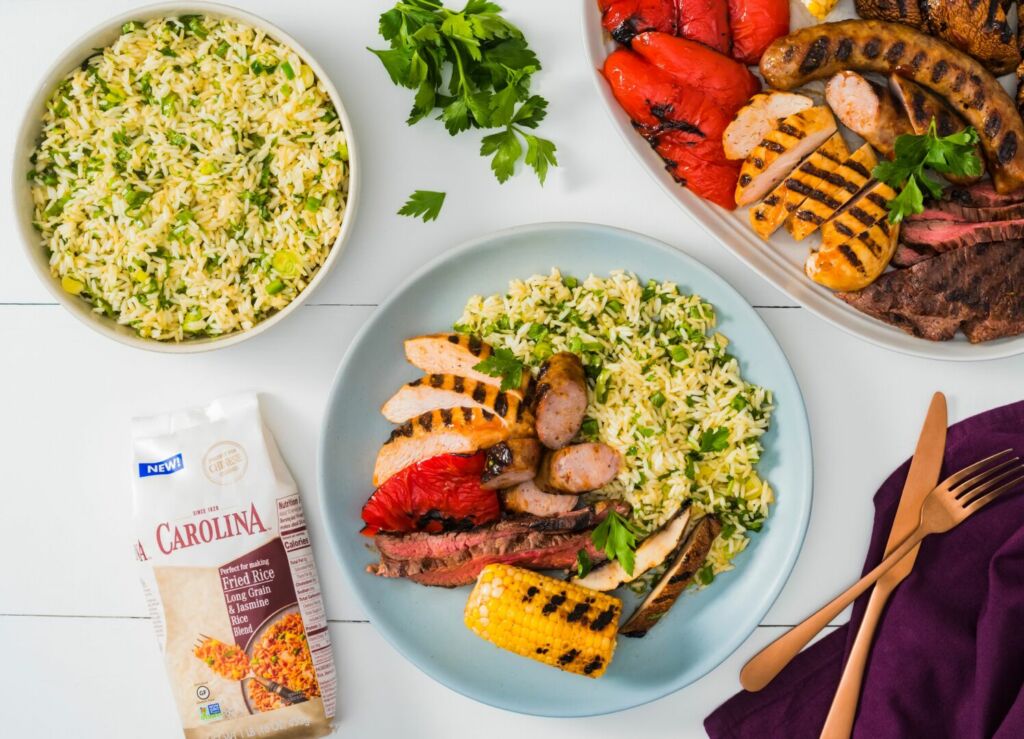 Wraps
Give your visitors a talking point as they wait for the fireworks to go off. Our Rice and Beef Lettuce Wraps should do the trick. These hearty Carolina® Whole Grain Brown Rice Beef and Rice Lettuce Wraps are bursting with spiciness and flavors from Korean cuisine. Or these Korean Beef Lettuce Wraps made with bold ingredients and they are sure to pack on some heat!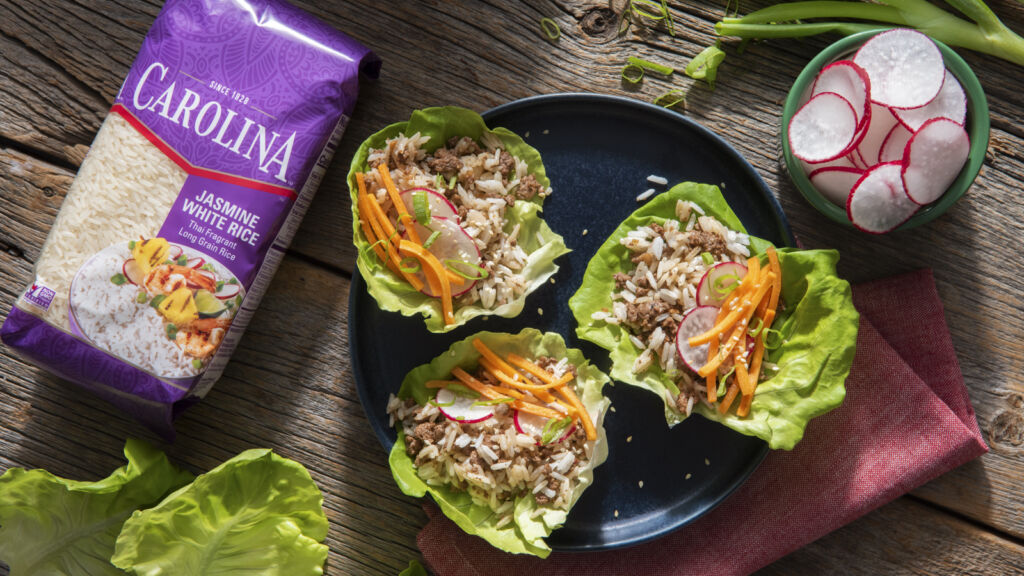 Rice Bowls
Rice bowls are yet another excellent approach to satisfy your visitors' cravings. The Beef Rice Bowl is packed with flavor or this Simple Tex Mex Rice Bowl. If you love Tex Mex, you have found a new love. Or if you are in the mood for a burger our Beef and Curry Rice Burger Bowls are a must! Make the patties and cook them for around 15 minutes-set aside as you assemble the rest of your bowl. With all of these recipes do not forget to try our Refreshing Summer Drinks Made with Rice.
If you have some friends and family at the party that are looking for meatless options-Carolina® Rice will not let you down.
Vegetarian Options
Abuela is inside preparing Stuffed Plantains with Rice and Beans  while your cousins man the grill. They are any vegetarian's ideal choice. Plantains are such a fun and yummy way to get that veg in. Discover more interesting ways to prepare and eat them. Veggie Rice Filled Fritters  are also a vegetarian's dream. These crispy, irresistible treats can also be topped with the dipping sauce of your choice.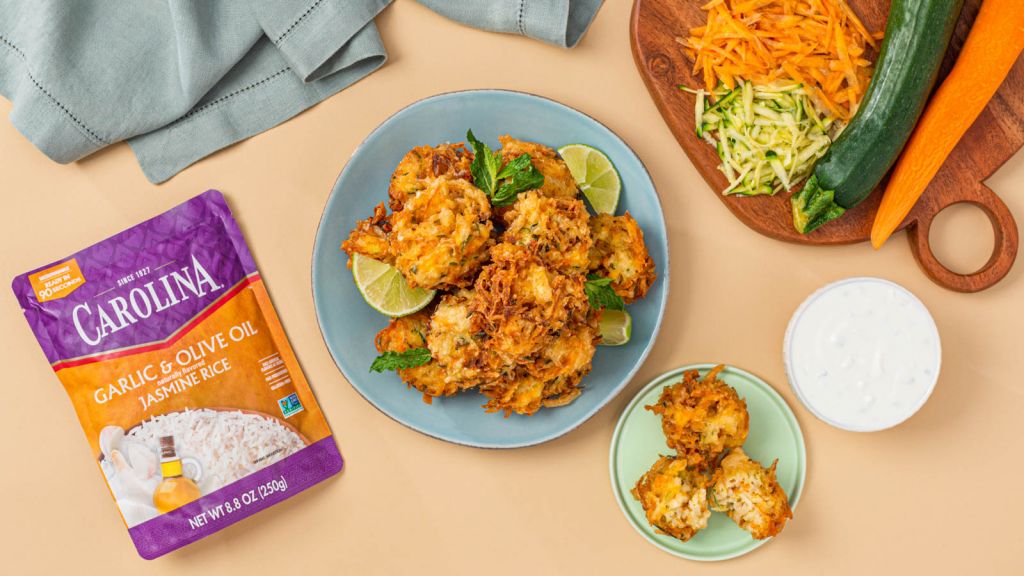 Fourth of July Desserts
You've spent the entire day waving the flag, listening to your favorite American music, cracking up at your cousin's jokes, and now the fireworks are ready to go off. As they light up the sky, everyone needs to have a dessert in their hands. Fortunately, Carolina® Rice offers a wide range of options.
If you are in the mood for pudding- this Coconut Rice Flavored Pudding cannot be any easier to make.
Or why not offer this Coconut and Almond Rice Tart that is sure to settle any sweet tooth cravings.
From Carolina® Rice – Happy Birthday America!