Often mistaken for large bananas, plantains may fit within the same fruit family, but are a whole different category in the culinary world. Used in all kinds of meals from breakfast to snacks and desserts, plantains are a staple in many Latin American, African, Southeast Asian and Caribbean dishes.
We're going to take a deep dive into how to choose and cook plantains with recipe inspiration using Carolina® Rice so you can cook them with confidence! Whether your family eats them regularly or you've never tried one before, by the end you'll be able to impress anyone with your new found skills and recipes.
What is a Plantain?
Plantains, often referred to by their Spanish name plátanos, are technically a type of fruit that looks like a big banana with a slightly firmer texture. However, they are most often cooked and utilized as vegetables much like squash or tomatoes.
They grow in tropical regions around the world and you can find them in most supermarkets nowadays in the produce section.
Are Plantains the Same as Bananas?
While they may be similar in appearance, plantains are sometimes considered to be a starchy cousin of bananas within the same family. That starchier consistency means they shouldn't be eaten raw like their sweeter banana counterpart.
Another similarity between these two fruits is that they change in color as they ripen. When they are green in color it signifies they are unripe, where yellow may appear a bit softer and more ripe and eventually they turn black! And, just like different preferences for bananas, there are certain benefits to enjoying a plantain in each of its ripened phases.
Note: While black plantains are great for adding a sweeter and tender touch, avoid overly shriveled and squishy, or moldy options!
How to Cook Plantains
We've got four different ways you can cook plantains in the varying phases of ripeness. Unripe green and yellow plantains tend to be firmer and therefore are perfect for boiling, stewing or frying. Plantains with a blacker color, that have not gone bad, contain a sweeter flavor as the starches have converted into sugar, perfect for desserts and sweet maduros side dishes.
Tostones (Fried Plantain Chips)
One of the most common ways to prepare plantains are tostones or fried plantain chips. Many countries serve them as a snack or side dish accompaniment.
Try making your own to serve alongside this recipe for Arroz con Coco. You'll need 1/2 cup vegetable oil for frying, 3 ripe plantains that have been peeled and cut into 1/4-inch thick slices and finally 1/2 tsp salt.
Heat the oil in a large high-sided skillet set over medium-high heat. In batches, fry the plantain slices for 2 to 3 minutes per side or until golden brown all over. The edges caramelize and become crispy. Transfer to a paper towel–lined tray and sprinkle salt on top!
How to Serve Them: Tostones pair perfectly with rice and beans in traditional dishes like Ropa Vieja or they can be used to dip in your favorite guacamole, hummus or a Spicy Beef Chimichurri Rice Dip.
Stewed Plantains
Our next suggestion is to use them in stews like a Dominican Sancocho Stew. This recipe requires three different firmer plantains. Chop two into chunks and the third grate into a pulp for a thickening agent.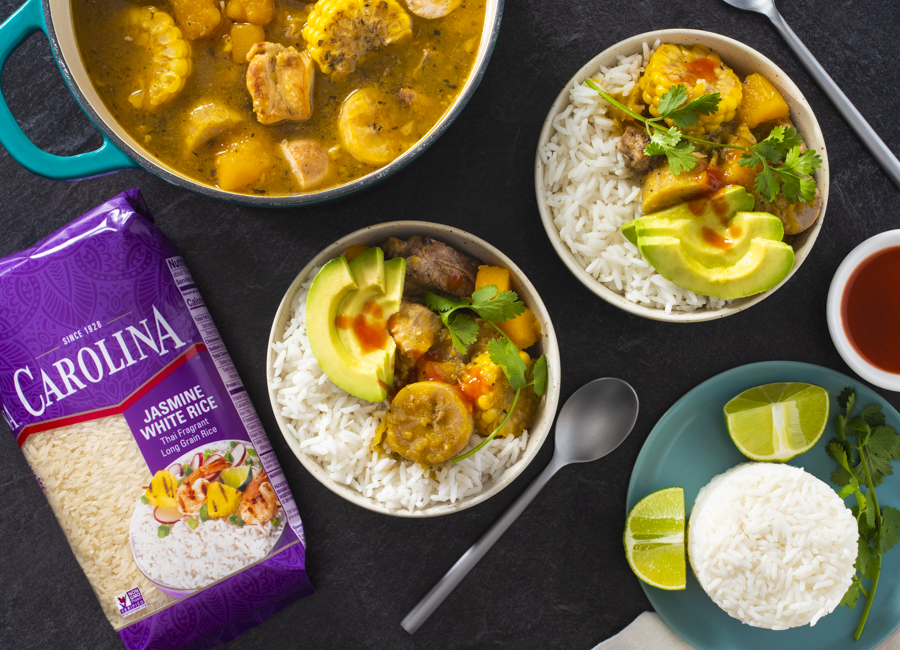 Maduros
When plantains are fully ripe and black in color, many people liken the flavor to a less sweet banana. That makes them perfect for cooking and adding sugar to recipes. Unlike tostones, maduros are tender in the middle with crispy edges and a caramelized outer texture.
They are perfect for accompanying all kinds of dishes like an African Jollof Rice. The sweet touch of the sweet fried plantains complements the spicy touch of the pepper and tomato-based rice dish.
Mashed Plantains
Darker plantains are also great for using in desserts like these Central American Plantain and Rice Rellenitos. The softened plantains are peeled and mashed in a food processor to add a substantial dough texture to fill with a sweetened bean paste mixed with aromatic Jasmine Rice. The rellenitos are fried and coated in cinnamon sugar for a festive treat.
For other great dessert ideas, like this recipe for Rice Pudding, check the cooking section. You'll also find tips on how to make perfect rice on stove to pair with your plantains!
Which of these cooking methods will you be trying first? Share it with us on social media by tagging @carolinariceusa or using #CarolinaRice.