It's understandable why rice is a staple in many Hispanic households. It is adaptable, inexpensive, and has infinite preparation options. In truth, rice has been a staple in Latin American cooking for many years, and each location has its own distinctive method for making and serving it. With its limitless possibilities, this modest grain will undoubtedly continue to inspire delectable meals for decades to come. This simple cuisine has brought families together.
The custom of las abuelas teaching their nietos/nietas how to prepare traditional rice meals has persisted for decades and will hopefully never change. Simply put, Carolina® Rice advises its followers to "#unfollowlareceta." Giving those traditional recipes a modern spin is the idea behind this notion. The younger, more autonomous generation wants to make a modern, fresh impression in the kitchen and still feel pride about where they come from. The goal of Carolina® is to provide inexperienced cooks the tools they need to create their own original concept of how to make rice. Let's have a look at some recipes that provide the cook with the freedom to #unfollowlareceta by putting their own spin on a classic dish.
Gandules and Habichuelas with Puerto Rican Rice Flavors
The rich and varied flavors of Puerto Rican rice make it a beloved staple dish. Their lively food is full of exotic tastes and combines Spanish, African, and native Taino elements.
One of the most popular Puerto Rican rice dishes is Arroz con Gandules, which is usually made with pigeon peas, aromatic sofrito, peppers, onions and more. With Carolina® we've included those things but much more. Why not #unfollowlareceta and make this recipe unique?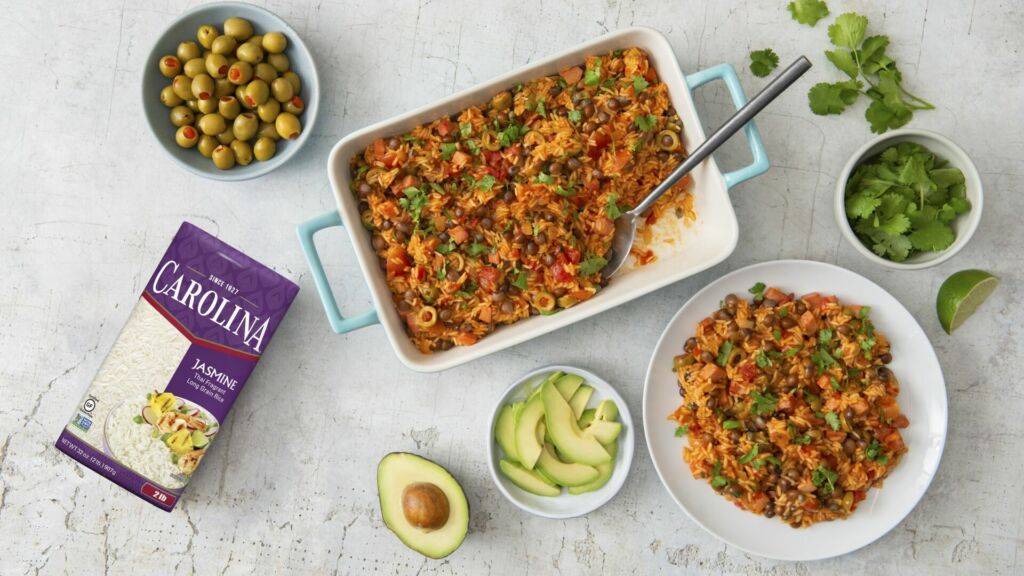 Method to Prepare:
For starters- prepare a sofrito with onion, garlic, and ham in olive oil.
Add your spices, such as sazon, achiote, adobo seasoning, oregano, coriander, and cayenne, once the vegetables are tender.
Give the rice time to boil in the spice and tomato mixture so it can absorb all of the flavors before letting it simmer in the broth and chopped tomatoes. Prior to letting it sit, add the pigeon peas and olives. With a fork, fluff it once it has finished cooking and absorb the liquid, then sprinkle it with cilantro and squeeze some lime juice over it before serving.
Rice and Beans Puerto Rican Style
Rice and Beans has always been a traditional favorite for generations and this Arroz con Habichuelas Guisadas is no exception to the rule. Arroz with habichuelas is a flexible recipe that may be enjoyed as a side or main course, whether you want black beans or red kidney beans, white rice or brown rice. We include much more than just rice, beans, tomato sauce, and olives in our recipe. We assure you that the wait will be worthwhile if you #unfollowlareceta and take your time.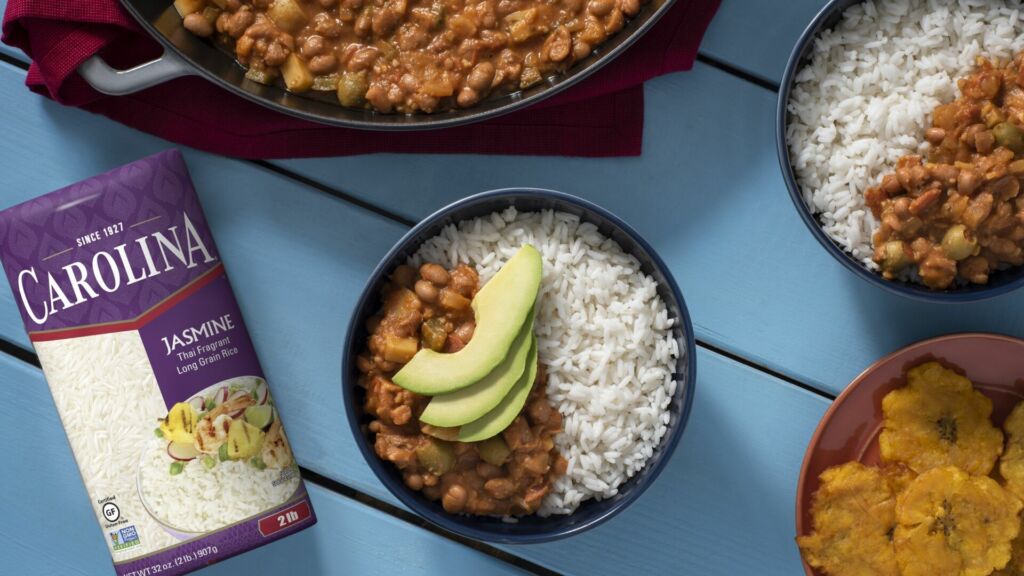 Another Puerto Rican favorite? Plantains! Explore all the incredible ways you can prepare them!
Rice Recipes Direct from Spain
Heading to Europe we arrive in Spain as we run with the bulls, enjoy listening to flamenco, drink fine wines and have the best Arroz con Pollo we have ever tasted. Both family gatherings and special occasions call for this filling and tasty dish. It often includes rice, veggies, and spices like cumin or saffron served with seasoned chicken pieces. By including extra ingredients like olives, peas, or tomatoes, the dish can be altered to suit diverse palates. No matter if you prefer mild or spicy flavors, arroz con pollo is sure to please everyone.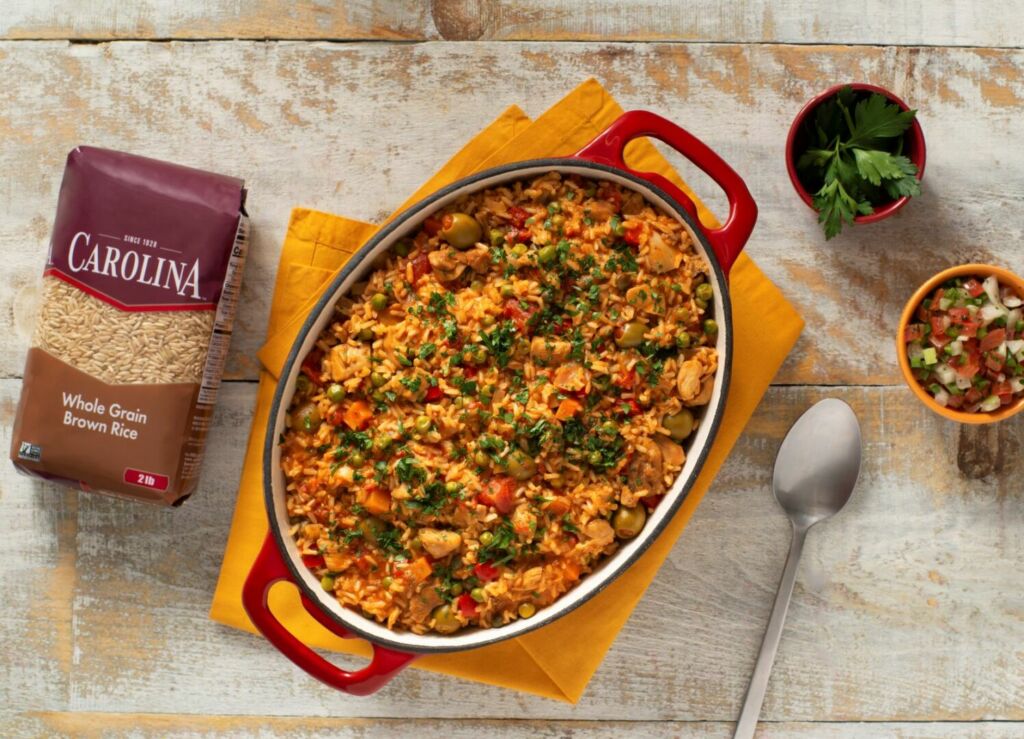 If you are looking for something to satisfy your sweet tooth, look no further! This Arroz con leche, or rice pudding, is a beloved dessert in many Latin American and Spanish cultures. Rice is cooked in milk, sugar, and cinnamon until it turns thick and pudding-like, then it is whipped into this creamy, sweet dessert. It's a traditional comfort food that may be eaten warm or cold and is frequently garnished with cinnamon. #unfollowlareceta and try making it in a Thermomix.
Rice and Cuban Cuisine
If you're a fan of Cuban cuisine, then you must have heard of Arroz Congri. For its distinctive combination of rice and beans, this classic dish is a favorite in Cuban homes. It's the ideal comfort food that you can eat by itself or with your preferred meat or fish as a side dish.
White rice and black beans are cooked with garlic, onions, and seasonings like cumin and oregano to create arroz congri. The end product is a tasty dish with a hint of smokiness from the beans. If you don't have any of the components for the dish, improvise and get inventive in the kitchen.
Arroz congri is unquestionably something you should add to your list, whether you're unfamiliar with Cuban cuisine or are just searching for a new recipe to try. So gather your supplies and start cooking!
Rice Dishes from Costa Rica
Are you looking for a delicious and hearty breakfast recipe? Look no further than the traditional Costa Rican dish, Gallo Pinto. Rice, beans, diced vegetables, and cilantro are used to season this traditional rice and bean dish. It's ideal as a side dish for any dinner or as a way to start your day off well. Additionally, it is simple to prepare and can be personalized to your tastes by adding other toppings like avocado, sour cream, or hot sauce. Even Worcestershire sauce is called for in our recipe.

Visit the Bayou for Cajun Jambalaya
This classic Crab and Sausage Jambalaya combines the rich flavors of spicy sausage, succulent crab meat, and aromatic vegetables like onions, peppers, and celery.
Your taste buds will be immediately transported to Louisiana. Shrimp or chicken can be used in this recipe, and it can be either hot or mild. This one-pot marvel is not only quick to put together but also flavorful. It's the ideal meal to serve at dinner parties or impress guests at family gatherings. (Abuela will love it!). So, grab your apron and #unfollowlareceta with our exciting recipes.