Discover air fryer rice recipes using Carolina® Rice. We've got you covered with simple instructions for cooking rice, recommendations for adding protein, and serving ideas. Learn about the mouthwatering tastes you may achieve with this efficient replacement for conventional fried rice.
There is a recipe for every member of the family, regardless of whether they enjoy spicy food, salmon, or arancini. Take your rice game to the next level with these easy-to-make but tasty air fryer dishes. Let's examine the air fryer in more detail before getting started on some recipes.
Cooking Rice in the Air Fryer Tips
It's not difficult to cook rice in an air fryer. You will consistently get perfect results if you follow these advice-filled suggestions from Carolina® Rice.
Take Advantage of Leftover Cold Rice: Cold rice is ideal for air fryers since it reduces sticking and offers a better texture.
Don't Overload the Air Fryer: Ample room must be left so the rice can crisp up. Overcrowding in the fryer may cause the rice to come out mushy.
Spread the Rice Evenly: Spread the rice in the air fryer basket or tray in a single layer to achieve equal cooking.
Stir Often: Give the rice a thorough stir every few minutes while it cooks. This promotes uniform browning and avoids any clumping.
Adjust Cooking Time: It's important to monitor the rice and modify the cooking time as necessary because different air fryer models have different cooking times.
Have Fun with Seasonings: Use your imagination while using seasonings. To improve the flavor of the rice, experiment by adding garlic powder, onion powder, or your favorite herbs and spices.
You're well on your way to making culinary wonders with the help of these useful ideas!
Delicious Fried Rice Air Fryer Recipes
Spicy
The good news is that there are numerous ways to serve air fryer fried rice.This savory dish can be combined with other side dishes to make a full meal and is good with a variety of main entrees.
Start off with our Spicy Rice. Try this easy rice air fryer dish on those busy weeknights. You may enjoy this delicious, fluffy rice type in only 20 minutes with our convenient Carolina® Ready to Serve Jasmine Rice.
#PlayWithYourFood and customize this dish to suit your tastes. For a different protein, swap the eggs for chicken or beef. For this recipe, you can also select a milder sauce if you don't want it to turn out too spicy.
Fish Option
Do you feel like some Fish Tacos? Our Air Fryer Baja Fish Rice Bowl is a delicious way to #playwithyourfood and reinvent the traditional fish taco recipe. Layers of Carolina® Brown Rice, crispy fish, and sliced veggies are combined in this dish, which is finished with a handmade lime cream. You should absolutely try this recipe if you like rice bowls. Everyone in the family will like it!
Arancini Selection
These Air Fryer Rice Balls with Arroz Rojo are the perfect quick dish to prepare for the kids or a delectable appetizer for your upcoming family get-together. A mixture of red rice, or arroz rojo, which is comparable to Mexican rice, has been added to the traditional Italian fried rice ball known as the arancini. They are cooked in wine, broth, and tomatoes with heated vegetables and spices. Fill them with ragu, ham and cheese, or mozzarella to #PlayWithYourFood.
Meatballs
Who knew that meatballs could be prepared in an air fryer? This dish of Tuna Chipotle Meatballs and Rice is cooked with canned tuna and chipotles in adobo, covered in marinara sauce, and placed on a bed of Carolina® Brown Rice, which is produced with filling grains. You most likely already have all of the cupboard essentials needed to make this delicious meal from scratch.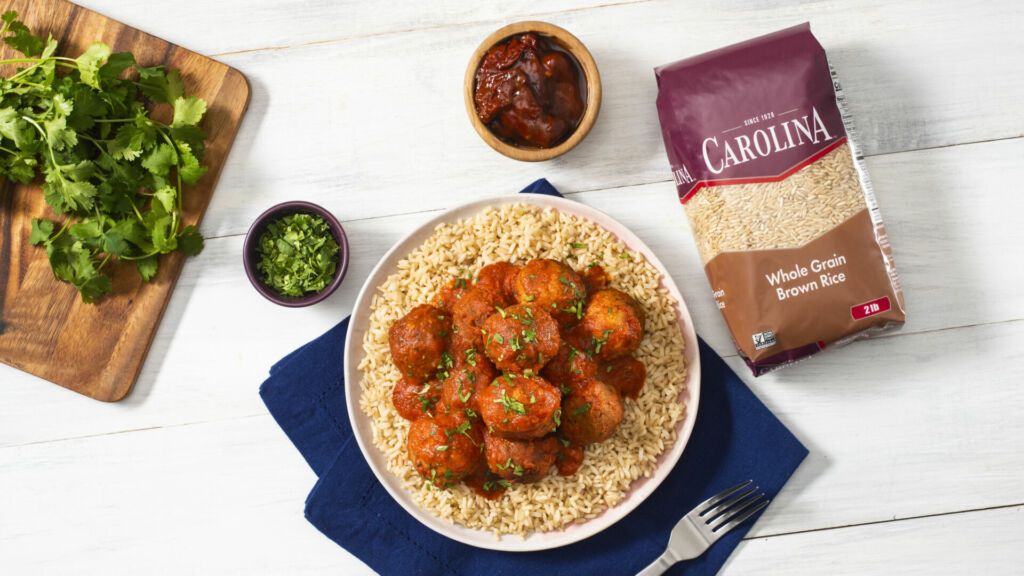 Adding Protein to Your Air Fryer Fried Rice
Carolina® Rice provides you with a variety of mouthwatering options if you're desiring additional protein for your meals:
Tofu: Before adding it to the rice, chop or dice the tofu and stir fry it. It enhances the texture and takes on the sauce's taste.
Chicken: Cook chicken until it is thoroughly browned. It can be combined with rice to create a tasty and protein-rich meal.
Turkey: Turkey is still another excellent option. For a lean and flavorful twist, brown it in a pan before adding it to the fried rice.
Your air fryer fried rice becomes a delicious dinner as a result of the diversity and depth these protein selections add to the dish. Try multiple combinations or one at a time to determine your favorite by #PlayingWithYourFood.
Side Dish Ideas for Air Fryer Fried Rice
Looking for the perfect accompaniment to your air fryer fried rice? These side dish ideas will take your meal to the next level:
Veggie Rolls: Serve your fried rice with homemade sushi rolls for the perfect addition.
Shrimp Fried Rice with Eggs and Pineapple:: Sautéed shrimp in a flavorful sauce adds a succulent seafood element to your rice dish.
Veggie Filled Rice Fritters: Create a colorful side by frying a medley of your favorite vegetables such as broccoli, carrots, bell peppers, and snap peas. Get creative with your dipping sauces.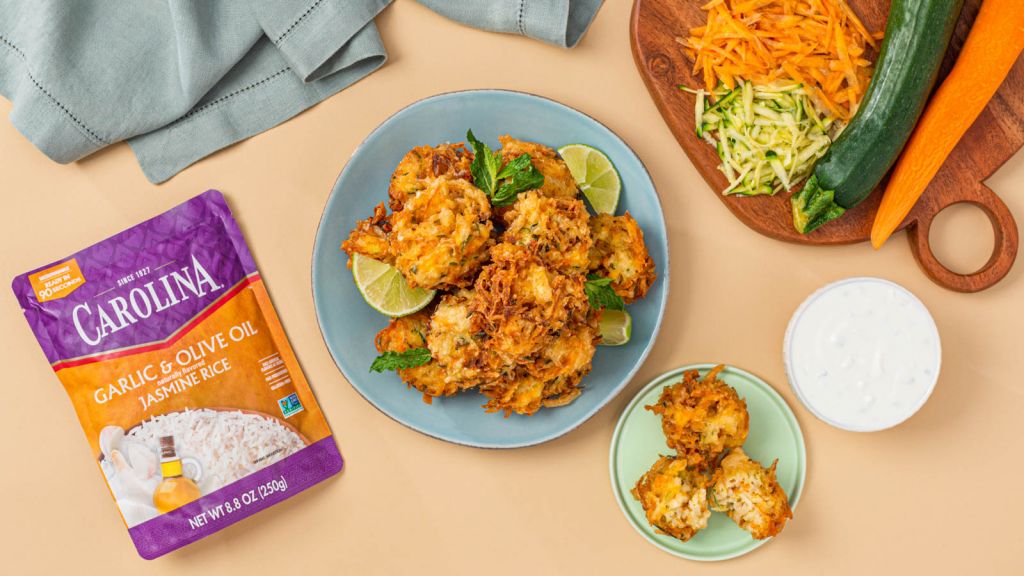 Try different combinations of these side dishes to find your favorite. They are the ideal accompaniment for your air fryer fried rice, whether you prefer something crunchy, light, or protein-rich.
Check out our recipe page for more incredible recipe ideas from Carolina® Rice.