It's understandable why Halloween is a beloved holiday for so many. This festival is a cult favorite for a variety of reasons, including trick-or-treating, choosing the ideal pumpkin to carve your Jack-O-Lantern, and dressing up as your favorite mythical character. For all those Halloween gatherings, don't forget the tasty treats with amusing themes.
Your guests will be begging for more at your Halloween party thanks to Carolina® Rice, we will help you have a spooky time! Setting the perfect ambiance is important whether you're having a small gathering or a full-blown haunted party. And what more delightful way to do so than with some festive dishes and spooky-tasty appetizers?
With a range of Halloween-themed meal suggestions, we've got you covered. Your visitors will be impressed and just a little bit afraid. So grab your cauldron and let's explore the world of delicious goodies that will make your Halloween party one to remember forever.
Deliciously Creepy Dips & Spreads
Spreads
Dips and spreads are essential for any party's success. These tasty and aesthetically pleasing items with a Halloween theme are ideal for establishing the mood at your themed party. Center the table with this Sweet Arancini Dessert Board. These rice pudding rolls are a popular street food in Italy and are creamy and sticky goodness.
Around it, scatter some other savory and sweet foods such as pretzels, popcorn, or berries. Add tiny chocolate eyes and an open chocolate mouth to banana slices to make miniature ghosts as you #PlayWithYourFood. By adding some melted white chocolate and a chocolate face with some melted chocolate or icing, you can turn your strawberries into tiny mini-mummies. Your children will adore helping you make beautiful works of art!
Dips
Every ghost and goblin at your party is sure to be satisfied by our sinfully delectable dips and spreads. We have all the tastes that will scream with joy on your taste receptors. Make a bread bowl in the shape of a ghost and fill it with the Creamy Spinach and Rice Dip. With our take on the traditional recipe, we add nutmeg, garlic, and our Carolina® White Rice for a heartier flavor to warm, melted sharp cheddar cheese, spinach, and cream cheese. You'll adore it, we're certain. Spread some on a cracker or bread dish and give it a try for yourself.
With just six staple ingredients, you can swiftly prepare this delicious meal. Once the rice, cream cheese, spinach, and cheddar with nutmeg and garlic spice are heated, you're done. To make life easier, use frozen spinach; but, if you have fresh spinach on hand, feel free to use that instead. Just remember to double-check the appropriate bag sizes and quantity when using fresh spinach. Why not add a handmade pepper spider to the top of your dip to make it extra festive?
Spider Making Tips
1) Simply spend a little more time choosing the right-shaped pepper at the store or farmers market so that it will naturally change into a spider's body.
2) Orange is obviously the best color for Halloween peppers, but green may also be eerily effective. You earn bonus points with your kids if you can find a dark purple-black pepper.
3) Cut slivers from black olives to make the spiders' eyes. Black olives in cans with tiny triangle slits should work.
Whatever the outcome of your spider, you must unquestionably dress up your pepper for Halloween in a cute little spider costume. Healthy and creepy entertainment!
Ideas for Creepy Appetizers
Sliders
Prepare some Saucy Meatball Sliders to start up your Halloween party! These small snacks will go great with your Halloween buffet. They are the perfect size for young hands to grab and go because they will undoubtedly be in a hurry. Sliders provide countless opportunities for creativity due to their tiny size and interchangeable toppings. Transform them into oozing eyes by eating our meatball sliders with quinoa and jasmine rice! Use tomato paste or sauce, melted mozzarella, and black olives to create the weirdest eyes your visitors have ever seen as you #PlayWithYourFood!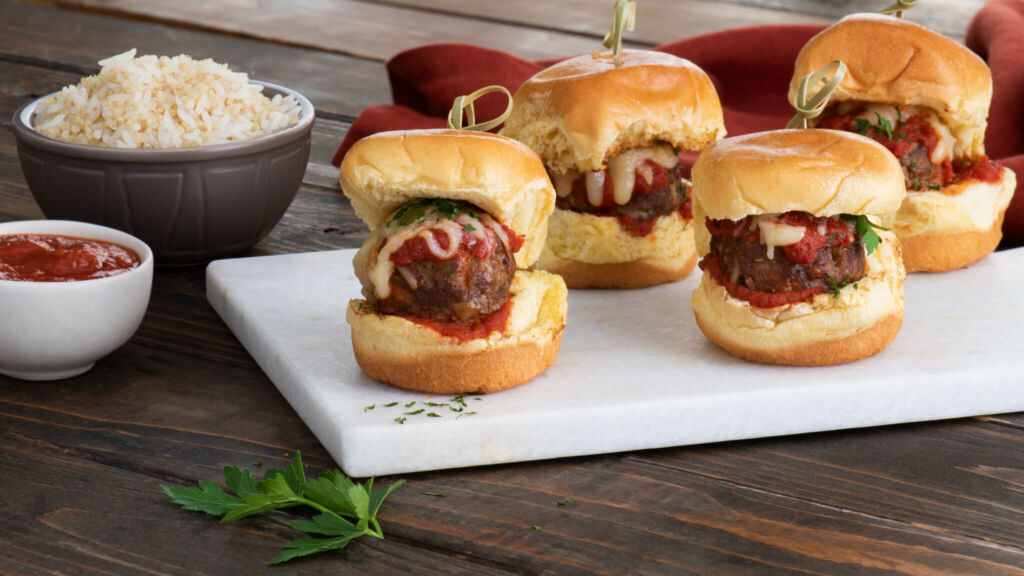 Cheese Balls
With a few easy modifications, cheese balls can be made to complement the Halloween theme. Imagine forming the cheese mixture into spooky eyeballs or pretzel sticks to resemble spider legs. There are countless options! By adding pretzel sticks to serve as spider legs and possibly coating your cheese ball in chia seeds to convert the color to that of a spider, you can transform our Bolitas de Arroz y Queso into spooky tarantulas.
Either way, your guests will love these fried and breaded cheese balls whether they are decorated or not! Our Crispy Veggie Rice Balls are another option for you to #PlayWithYourFood and get creative in your kitchen!
Stuffed Veggies
Create a colorful tiny Jack-O-Lantern face by using our Rice & Turkey Stuffed Peppers. The kids won't even be aware that they are eating something other than candy thanks to the amusing face! Ground turkey sautéed with garlic and onions, corn, tomato sauce, herbs, and Carolina® 100% whole grain brown rice are all included in this delectable pepper.
You can make these vegetarian by using black beans, quinoa, chickpeas, or your choice of vegetarian burger meat in place of the ground turkey. Simply leave out the cheese in your vegetarian recipe or top it with melted vegan cheese to make it vegan.
Wraps
Make your Cilantro Lime Rice and Turkey Burritos into little Frankensteins to #PlayWithYourFood! With some tortilla chips for bangs, black olives for eyes, and a slice of carrot for the mouth, arrange them flat. Don't forget to garnish with some toothpicks and marshmallows for the amusing ears!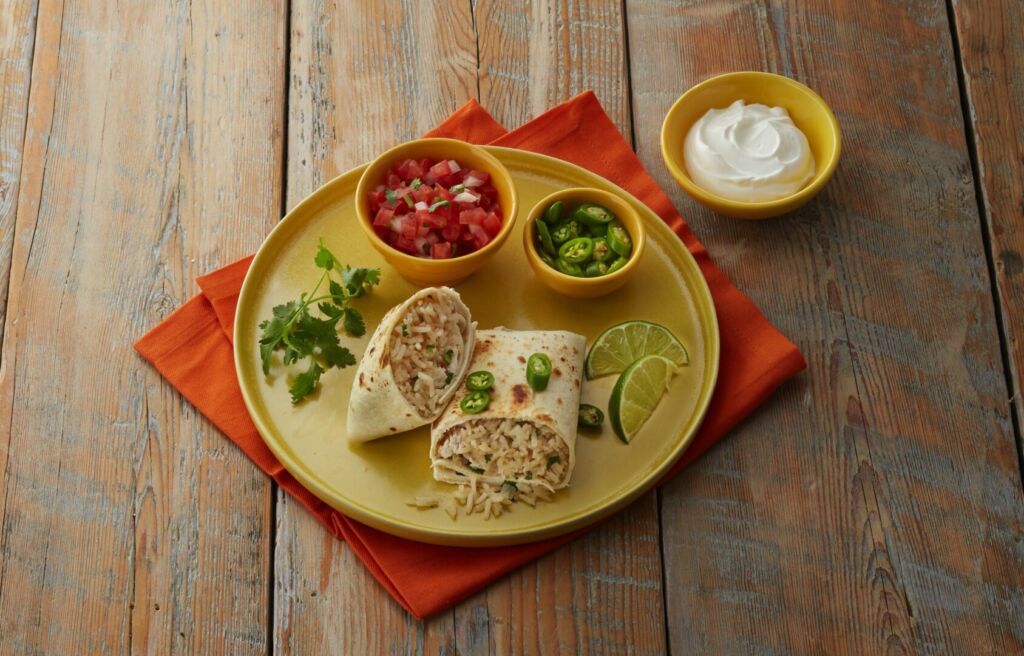 Devilish Desserts
You may make extraordinary Halloween treats that will enchant everyone. Turn this delectable Coconut Flavored Rice Pudding into a traditional dirt pudding by using the hashtag "#PlayWithCarolinaRice." All the kids will squeal with excitement when you add some Oreo cookie crumbles and some vibrant gummy worms!
There you have it, then! With these frightfully delicious snack suggestions, you're ready to throw an amazing Halloween party. These snacks will impress your visitors and keep them coming back for more.
Your guests will be raving about your Halloween party for years to come. Happy haunting! For more recipe ideas, don't forget to visit our website at our recipe page.