This fall, warm yourself with some delectable and hearty rice soups by grabbing a ladle. There's no better way to stay warm than with a bowl of warming Carolina® Rice soup as the seasons change and the temperatures drop.
We'll be learning about the delicious world of flavor-packed soups that will satisfy all of your appetites. These soups are not only delicious but also quite simple to prepare. We have you covered with varieties ranging from traditional chicken to hearty tomato. So get ready to enjoy these warming rice soups while embracing the cozy feelings of fall by grabbing your favorite blanket and some fuzzy socks.
Making the Ideal Rice Base for Your Soups: Some Tips
If you want to take your soup game to the next level, mastering the art of making the perfect rice base is a must. It not only gives your soups a hearty, gratifying element, but it also thickens and improves the flavor. So let's get started with some advice for making a rice base that will have everyone asking for seconds.
First off, choosing the right type of rice is crucial. While long-grain rice is great for meals like pilaf or stir-fries, medium or short-grain rice is the ideal choice for soups. A creamier and thicker texture will be the end result.
The important step of washing your rice before cooking is the next step, which should not be ignored. The act of rinsing grains helps to remove any excess starch from their surface and prevents them from sticking together when they are being cooked. Fill a fine-mesh sieve with the desired amount of rice, and then rinse the sieve under cold water until the water is clear.
Let's discuss ratios. The ideal ratio for making a rice base for soups is 1 cup of rice to 4 cups of liquid. You may be certain that the rice will be completely cooked without becoming mushy or dry by doing this. You can adjust this ratio to your liking if you prefer a thicker or thinner consistency.
When it comes to cooking techniques, producing rice bases for soups is typically advised to be done in a pot on the burner. Before adding your rinsed rice, bring your liquid (such as broth or stock) to a boil. Once all the liquid has been absorbed and the rice is soft, turn the heat down to low, cover the pot with a lid, and let it simmer gently for about 15 to 20 minutes.
Last but not least, remember to season your rice base. Even if the broth or stock you use already has some flavor, you may enhance the flavor even more by adding herbs, spices, or even a little soy sauce. Find the ideal seasonings to go with your soup by using the hashtag #PlayWithYourFood.
Classic Recipes for Chicken and Rice Soup
Chicken soup is a perennial favorite among tasty and soothing soups. What better way to give some substance and texture than to use rice? With this wonderful addition, your game of traditional chicken soup will be elevated. Every spoonful of these dishes is guaranteed to deliver comfort and happiness, and they'll quickly become household favorites. If you're feeling under the weather or just have a chill in your bones and are needing warmth, our Homemade Chicken and Rice Soup is the perfect solution.
#PlayWithYourFood and experiment with different ingredients to make this soup uniquely yours. Do you want to omit the parsley and replace the onions with shallots? No problem! Find spices like oregano, chives, or cilantro that you already have in your pantry. Our Chicken Enchilada Rice Soup is another choice for chicken soup. This recipe includes everything you love about enchiladas and is served in a warm soup bowl for comfort. The best part is that you can prepare this meal on the stove, in a crockpot, or in a slow cooker. To spice things up, #PlayWithCarolinaRice and add chipotle or sriracha sauce. Add some diced avocados, black beans, or whatever else comes to mind for toppings.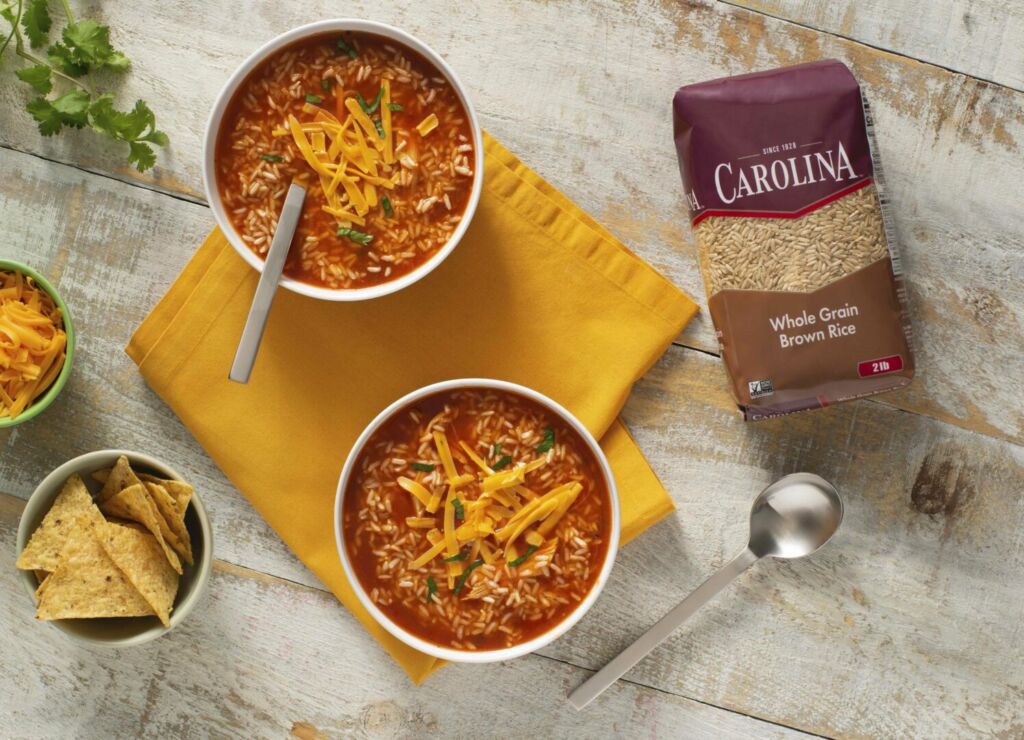 Recipes for Rice and Tomato Soup
Let's look at some delectable dishes that pair tomatoes' tartness with the goodness of rice. Rice makes a soup foundation that is tasty and surprising when paired with tomatoes. For a quick lunch for the kids, our Tomato & Rice Soup goes great with a hot sandwich or quesadilla. Why not #PlayWithYourFood and add some roasted nuts like almonds, hazelnuts, pistachios, or sunflower seeds to our Carolina® Jasmine Rice Naturally Flavored Garlic & Olive Oil, spinach, and carrots to make it all your own?

Another hearty tomato soup option is our Tomato Basil Chicken & Rice Soup. With tomatoes, celery, onions, and garlic in addition to whatever additional veggies you choose to include, such as kale or spinach, this soup satisfies all those vegetable requirements. Add some crunchy croutons and your chosen cheese to this dish to take it to the next level. Toast or grill a few pieces of rustic bread or fry leftover bread in brown butter to give it a toasted, nutty flavor before cubing.

#PlayWithYourFood to Take Your Rice Soups to the Next Level
A few extra ingredients can do wonders for your taste buds if you enjoy rice soups and want to take them to the next level. You can instantly transform your rice soups from average to exceptional by adding these extra ingredients.
Fresh Spices and Herbs:For a blast of freshness, try adding some chopped cilantro, basil, or parsley. Give our Creamy Mushroom and Rice Soup a try. To add nuance and richness, try experimenting with spices like cumin, turmeric, or paprika.
Ingredients Rich in Protein: For more texture and substance, think about including cooked chicken, shrimp, or tofu. For a savory variation, if you're feeling daring, consider adding some cooked bacon or sausage.
Vegetables:In addition to adding nourishment to your soup, adding bright vegetables like carrots, bell peppers, or spinach also gives it distinct flavors and textures.
Toppings: Before serving, top with some grated cheese, and for a creamy finish, add a dollop of sour cream or Greek yogurt. Rice soup can be elevated to new heights with the addition of crunchy croutons or toasted almonds.
The variety of rice soups is what makes them so lovely. By using your preferred vegetables, proteins, and seasonings, you may simply alter them. They are the ideal supper choice for any cool fall night.
Follow us at our recipe page for more recipe inspiration.