Diwali is a joyful celebration of the triumph of good over evil and light over darkness. The Hindu community places a high value on this colorful festival of lights since it is a time to get together with family and friends, exchange presents, and enjoy lavish feasts. 
What more delicious way to honor this wonderful event than with dishes made with aromatic Basmati rice from Carolina® Rice? Explore the universe of this long-grained rice to give your table a mellow taste fusion and a sense of tradition. Bring our recipes to life while enjoying the joy of cooking and spending time with your family. As you prepare and enjoy these delicacies for a delectable Diwali feast, make lifelong memories! 
#PlayWithYourFood: Embrace Tradition with a Twist
Despite the fact that Diwali has a long history and is steeped in tradition, it has developed and adapted to the modern world. Try adding your own special creative touch to your favorite dishes! You may #PlayWithYourFood in original ways while still honoring cultural traditions.
We welcome you to add your own special sauces, spices, seasonings, and more to these well-loved Carolina® Rice recipes to make them all your own. Utilize our enticing dishes as a blank slate to play around with a variety of tastes, textures, and scents. At this Festival of Lights, let your inner chef shine!
Celebrate Diwali with with Carolina® Rice Recipes
Each gourmet creation guarantees a harmony of flavors that will astound your loved ones and enrich your Diwali feast. From classic favorite main courses to zesty side dishes, basmati rice is the centerpiece of every dish!
Rice Dishes with Chicken
This Easy Chicken Tikka Masala with Basmati Rice recipe will fill your home with the enticing aromas of curry powder, garam masala, cumin, turmeric, cinnamon, and cayenne. Add a unique twist to the base of creamy coconut milk and #playwithyourfood to elevate this traditional dish. This opulent dish, which is served on top of fragrant Basmati rice, offers the ideal recipe for experimenting with different flavors and textures.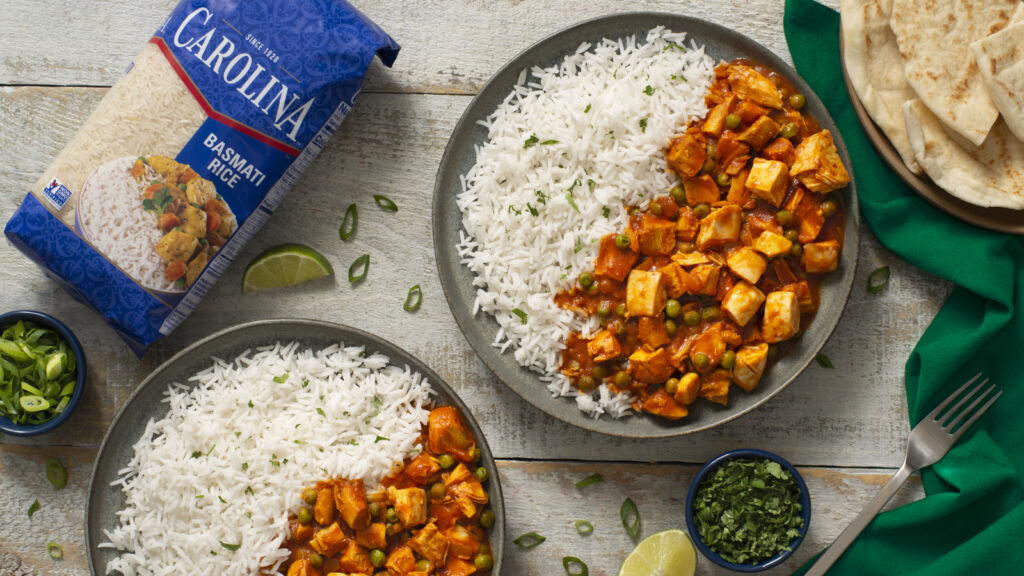 Our recipe for our Chicken Biryani, another timeless classic, is certain to impress you and your loved ones! This dish is thought to have originated in ancient Persia and subsequently traveled to India via the royal kitchens of the Mughals. Its reassuring aroma is a reflection of the love that was woven into each grain. By adding your favorite flavorful spices and herbs, this well-liked dish can be brought to new heights. Layer delicious chicken and Basmati rice, whichever you choose.
How to Make the Best Biryani: Tips and Suggestions
Prepare Meat Separately & Don't Overcook Rice– In order to keep your rice from becoming mushy, never overcook it. Additionally, marinating is essential; red meat, mutton, and lamb should marinate for at least 4-5 hours or overnight for succulent chunks.
Use Fried Onions– Using fried onions is the key to a perfect dish; it takes a lot of work, but it's worth it. Onions are cut into slices and cooked in oil in a non-stick skillet over medium heat. While frying them, make sure they are a deep golden brown; they don't need to be extremely crunchy. They will also provide genuine taste to the biryani in addition to giving it a pleasing hue.
Add Extra Moisture– After the rice has been placed atop the meat or vegetables, add more moisture. Kewda, milk, beef stock, rose water, butter or ghee can all be used in this recipe. Any of these ingredients will improve the flavor and gloss when used as moisture.
Use the Correct Pot– The best pots have thick bottoms and are flawlessly tinned, and they are made of copper or brass. Despite the fact that other metalware is permissible, make sure the utensil you choose has a solid base to avoid scorching at the base. Additionally, the pot needs to be large enough to include all of the ingredients inside with at least 30% extra space for the steam. To keep the biryani warm and fresh after cooking, transfer it to a stainless steel container or casserole.
Use Spiced Water to Cook Rice– If you're pressed for time, one way to make the best biryani is to cook the rice in seasoned water. Because the rice should be spice-flavored, you can boil it in a saucepan with whole spices, salt, and herbs. Stir all the spices into the boiling water until you see a change in color. The soaked rice should now be added to the boiling water and cooked for an additional 70% of the time.
Recipe Tip:
In order to give a little more flair, we advise adding a cup of frozen peas in the last few minutes of cooking. Add a mosaic of sliced almonds, pistachios, dried apricots, shallots and jalapeño peppers that have been cooked.
Next, serve Moroccan Style Basmati Rice with Chicken to complement the other interesting and robust flavors on your table. Allspice, ginger, and other rich spices are used to provide delicious smells and scents to your home. This meal is bursting with a special blend of spices that honors the Diwali spirit. Consider adding your favorite savory spices to this dish to create a taste profile that is especially yours. Saffron would be a wonderful addition.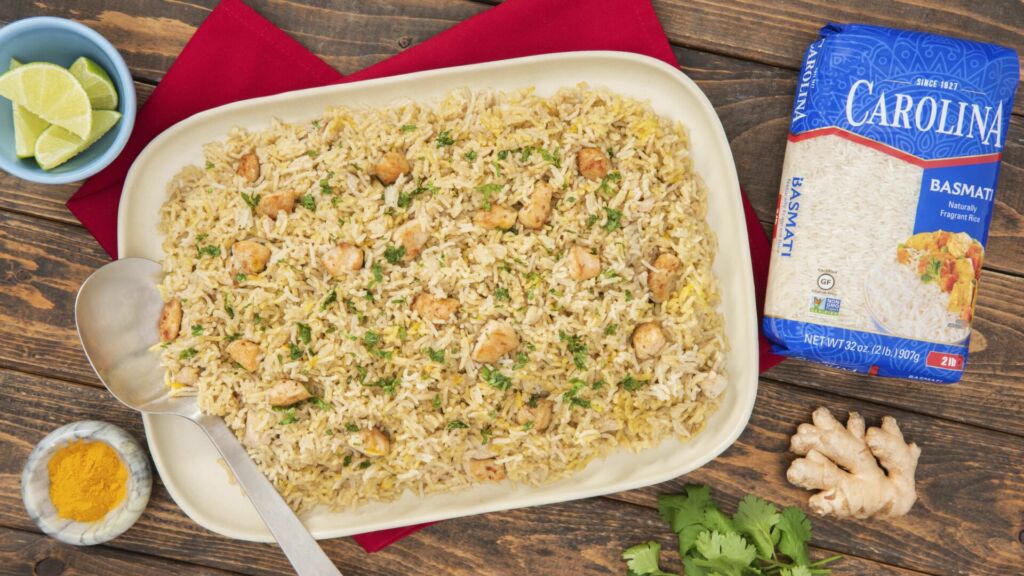 Basmati Recipe Options
Try our Turmeric Yellow Rice with Butternut Squash and Kale to showcase seasonal flavors. You can celebrate the earthy aromas of fall with this bold, colorful dish. Experiment with other seasonal veggies, such as pumpkin, a favorite in the fall, to add your unique touch.
With this Cilantro Lime and Saffron Basmati Rice, your Diwali feast will have a burst of brilliant citrus flavor. This tangy side dish pairs perfectly with any entrée! To add your personal touch, you can easily experiment with other citrus fruits and herbs.
Create Lasting Memories in the Kitchen
Let Carolina® Basmati Rice be the highlight of your festive dishes this Diwali. Each dish's tantalizing flavors and alluring fragrances will enhance your celebration. To add a personal touch and create cherished memories, involve your family in the preparation of these dishes by having them help with tasks like slicing vegetables or just stirring ingredients. When the special ingredient of love is used to create a recipe, it is even better!
Enjoy every minute spent in the kitchen taking your time and making these delights. These Basmati rice recipes offer a variety of tastes and textures to your table, from warming chicken biryani to zesty lime saffron rice. During this year's Festival of Lights, celebrate community.
Relish in the joy of cooking with Carolina® Rice. Find more recipes for any and all occasions on our website.