There are plenty of different ways that pumpkins can be used in cooking. From preparing Thanksgiving dinners to sweet desserts, there are so many options. Another advantage of using pumpkin in your cooking is that there is very little waste as almost the whole fruit is edible.
As we're such huge pumpkin fans, we thought that we'd share some of our favorite recipes that can be made using Carolina® Rice.
But before we begin, let's take a look at how to actually prepare our pumpkins before cooking them.
Best Pumpkins to Cook With
Although you can cook with whichever variety of pumpkin you want, we find that sugar pumpkins are the best to cook with due to their flavor and shape. Whichever pumpkin you decide to use, be sure to check it first for any soft spots or bruises.
Storing Your Pumpkin
You'll want to keep your pumpkins in a cool, dry place. After you've cut your pumpkin it will last in the fridge for around 5 days.
Cutting Your Pumpkin
Cutting a pumpkin is not always easy, fortunately we have some different methods to help you.
With a sharp knife, lay the pumpkin on a chopping board and cut into the pumpkin close to the stem. Slowly rotate the knife while cutting downwards until the pumpkin is split into two halves.
Emptying Your Pumpkin
Cut out the crown of your pumpkin with a knife and with a spoon scoop out the seeds and other innards.
Peeling Your Pumpkin
Before you actually start peeling your pumpkin, you'll want to cut it into smaller chunks to make it more manageable. You can also roast your pumpkin so that the skin can easily be peeled off by hand.
Dicing a Pumpkin
You'll want to peel your pumpkin first and cut them into strips so that they are easier to dice up.
Pumpkin and Rice Recipes
There is no shortage of ways you can prepare pumpkin with Carolina® Rice, here are some of our favorite dishes.
Recipes With Baked Pumpkin
Impress your dinner guests the next time you are entertaining with this amazingly presented, baked Shrimp Stuffed Pumpkin which is served inside an actual pumpkin.
Alternatively, if you are more in the mood for a casserole, take a look at this Southwest Chicken and Rice Casserole made with Carolina® Brown Rice which can be customized very easily. This recipe is actually supposed to be made with zucchini but this can be easily swapped out for pumpkin instead.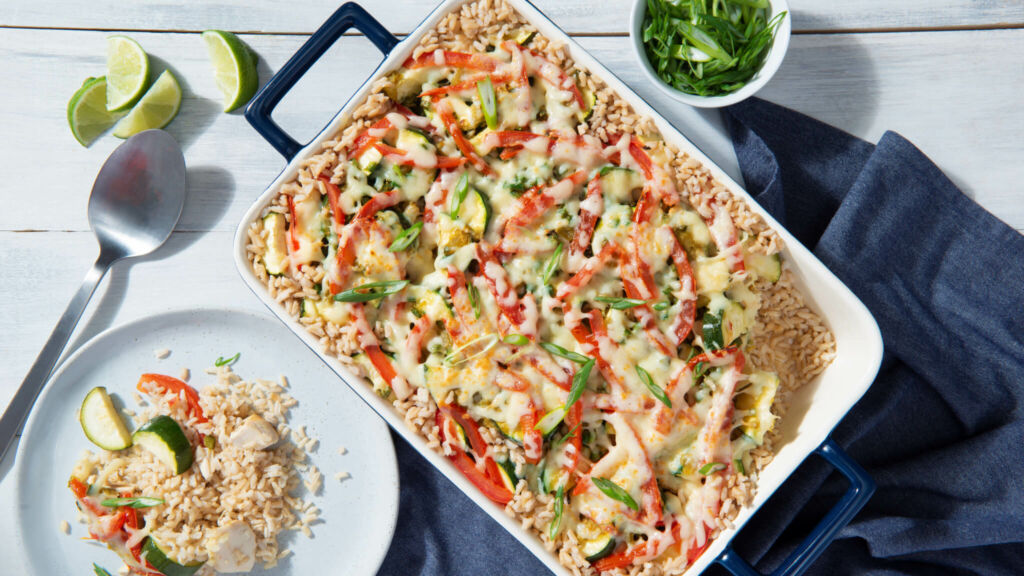 Pumpkin Rice Bowls
If you're in the mood for a fall-flavored rice bowl, learn how to make this Yellow Rice With Corn and Pumpkin. This comforting rice bowl uses Carolina® Rice. This dish is easily customizable, feel free to add in other ingredients like butternut squash and carrots. Add in a dash of cayenne pepper to add a slight kick to things. If you are following a vegetarian diet, you can also replace the chicken broth for vegetable broth.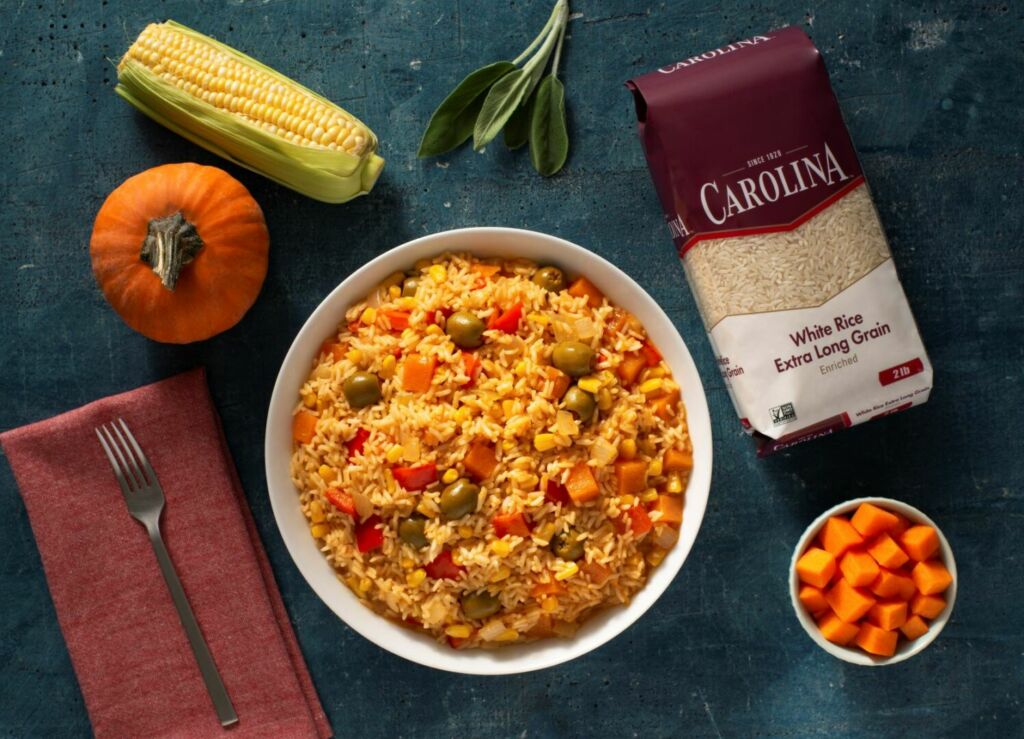 Pumpkin & Rice Soups
If you are a fan of comforting creamy soups, check out this Pumpkin Coconut Rice Soup with Carolina® Jasmine Rice. This rice bowl is made with chicken broth, however you can swap it out with vegetable broth if you want to follow a vegetarian diet.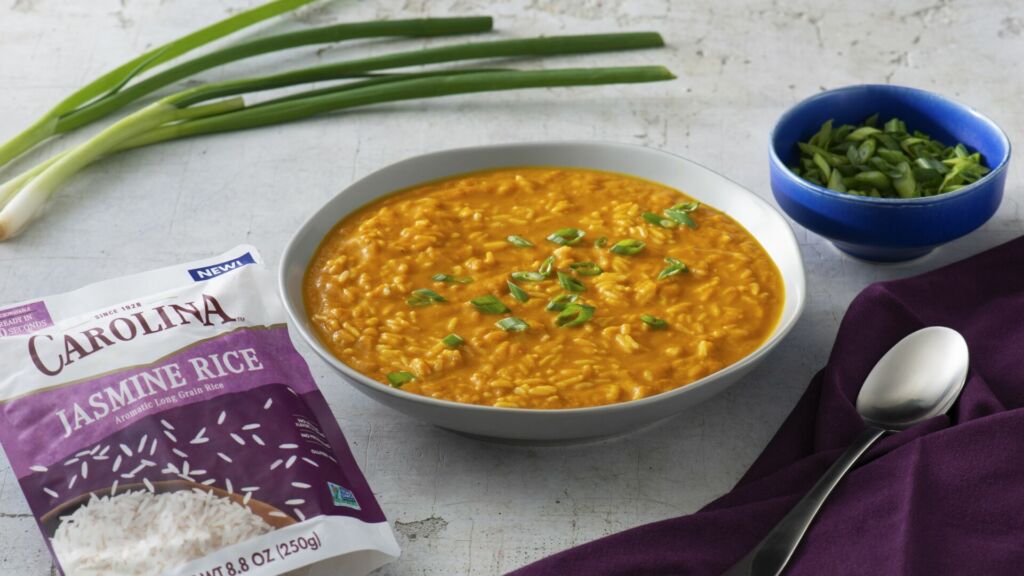 Pumpkin Curries
Pumpkin makes a great addition to this Thai-inspired One-Pot Green Curry Chicken With Rice made with Carolina® Jasmine Rice. For a vegetarian alternative to chicken, try using tofu or another plant-based alternative instead.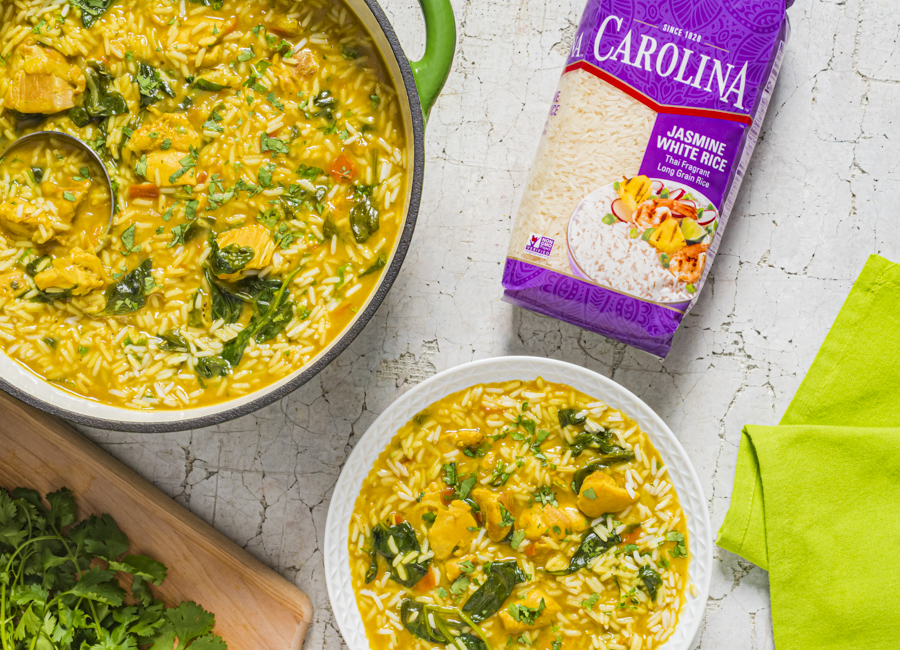 Roasted Pumpkin Seeds
Roasted Pumpkin seeds make an excellent on-the-go snack, simply roast your seeds with a bit of oil and salt. You can also add pumpkin seeds to other recipes like this Stuffed Butternut Squash With Pork, Jasmine Rice and Apple. Feel free to to add in some meat like bacon to add some more protein.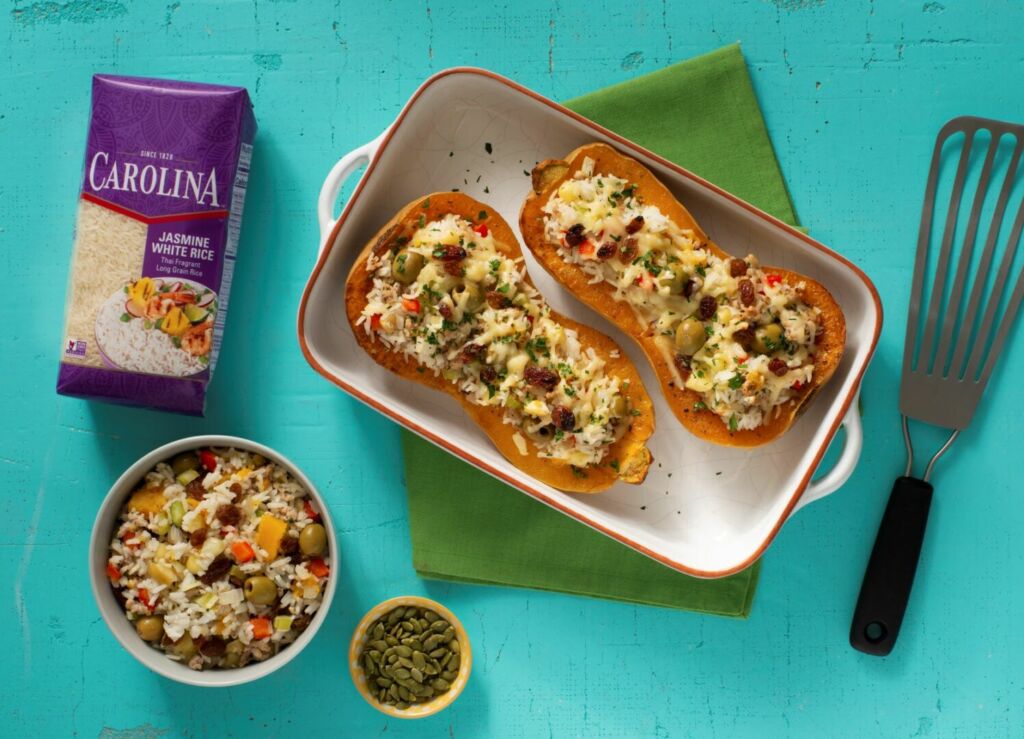 Desserts With Pumpkin
Desserts are an excellent way to use up any pumpkin paste you might have leftover in recipes like this Rice Creme Caramel With Ginger. This dessert is also made with pumpkin seeds, though feel free to use pecans instead if you prefer.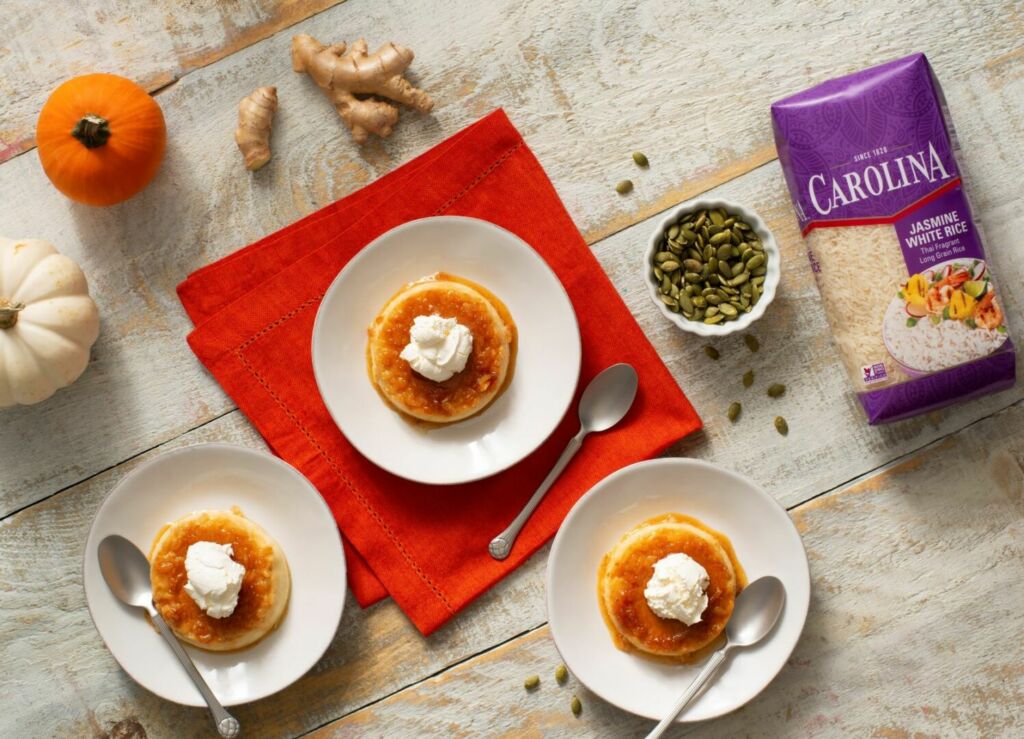 This Pumpkin Spice Latte Rice Pudding is another fall-flavored treat made with Carolina® White Rice, vanilla extract, coffee and whipped cream.
With Carolina® Rice you can make plenty of recipes for every season.