If you're somebody who regularly craves Asian takeout food, you'll be delighted to know that you can easily recreate the real thing at home.
Asian food pulls from many different cuisines and cultures meaning that there's plenty to learn. With Carolina® Rice you can make anything, from Indian curries to Korean rice recipes. 
Most Popular Asian Cuisines
Here are some of the most typical types of Asian cuisines which we'll be taking a look at in this guide. 
South Asian Dishes:
South Asian cuisines commonly refers to dishes from places like Sri Lanka and India. 
Typical Ingredients:
Cardamom
Garam Masala,
Curry Powder
Cumin
Turmeric
Ghee Carolina®
Recommended Carolina® Rice Varieties
Jasmine and Basmati Rice normally pair very well with South Asian cuisines.
Southeast Asian Dishes
Southeast Asian cuisines refers to recipes from places like Indonesia and Thailand.
Typical Ingredients:
Soy Sauce
Curry Powder
Coconut Milk
Curry Paste
Recommended Carolina® Rice Varieties
Southeast Asian recipes normally taste best when prepared with aromatic varieties of rice like Basmati or Jasmine Rice.
East Asian Recipes
East Asia is home to famous cuisines like Korean, Japanese and Chinese.
Typical Ingredients:
Korean Red Chili Paste
Rice Wine Vinegar
Sesame Seeds
Tofu
Sesame Oil
Fish Sauce
Soy Sauce
Recommended Carolina® Rice Varieties
For East Asian cuisines, we recommend Jasmine Rice.
Asian Recipes
Now that we know a bit more about Asian cuisines and what ingredients we will need, let's get started on some recipes!
South Asian Recipes
To kick off our journey round Asia, let's learn how to make this Sri Lankan Style Rice using Carolina® Jasmine Rice and flavored with cardamom and turmeric. For even more flavor, you can try adding in some bay or curry leaves.
Our next destination is India with this Classic Chicken Biryani Recipe which you can very easily personalize by adding in additional ingredients like curry leaves and your favorite vegetables. If this biryani recipe looks a bit too challenging for you, you can try making this simpler Chicken BIryani With Jasmine Rice and Greek Yogurt which can be enjoyed with either chutney or raisins depending on your tastes.
You can also try these Beef Curry Burger Bowls which are made with Carolina® Jasmine Rice and coconut milk. If you prefer a thicker sauce, try adding in some more vegetable broth at the end.
Southeast Asian Recipes
Now that we're in Southeast Asia let's learn how to make a spicy Indonesian Nasi Goreng Rice recipe with Carolina® Basmati Rice.
For a Thai classic, learn how to make this One Pot Green Curry Chicken With Rice with Carolina® Jasmine Rice. This one is great for experimentation, try chucking in your favorite veggies and herbs to really make this dish your own. You can replace the chicken with tofu or another plant-based alternative if you are following a vegetarian diet.
East Asian Recipes
We can't talk about East Asian cuisine without mentioning fried rice dishes, like one of these Carolina® Jasmine Rice Asian Rice Bowls With Tofu flavored with soy sauce. Try customizing this rice bowl with whatever else you have lying about the kitchen.
For something with more of a coconut flavor, try this Coconut Flavored Shrimp Fried Rice made with Carolina® Jasmine Rice.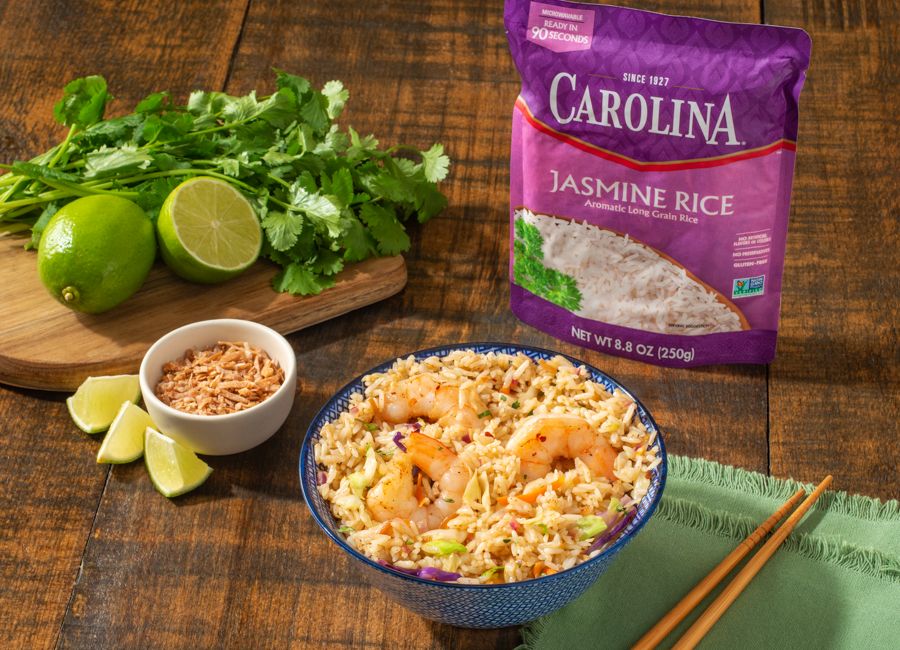 This Spicy Rice recipe made with Carolina® Jasmine Rice can be made using an air fryer if you've got one at home. Although this recipe calls for a fried egg to be served on top, you can serve it with a meat like chicken, beef or pork instead for something more filling. If you're not such a fan of spice, you can remove the chili flakes and add in some cucumber instead to balance the flavor out. This dish is ideal for batch cooking, if you are into meal prepping.
Salads
For a sweet yet salty Asian-style salad, check out this veggie-packed Asian Chicken and Jasmine Rice Salad recipe. The oranges in this salad, give it a nice citrus punch.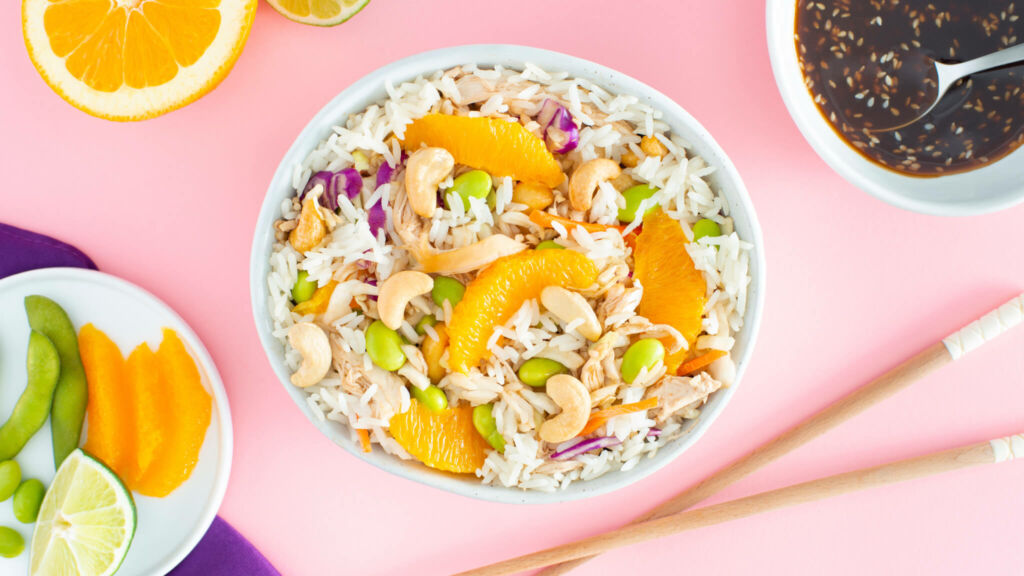 This Asian Chicken With Rice Salad With Spicy Peanut Sauce is an East Asian salad that can be made in very little time with Carolina® Whole Grain Brown Rice. 
For a seafood and salad combination, check out this Sesame Orange Shrimp With Asian Brown Rice Salad. Mixing together fruits like Asian pears and mangoes along with veggies like avocados and peppers, this dish creates a delicious mixture. You can also marinate the shrimp in spicy sauce if you like a bit of a kick.
Desserts
This Mango Sticky Rice recipe made with Carolina® Jasmine Rice and coconut milk is a classic Thai dessert. You can add in some sesame seeds and cashews for some added crunch.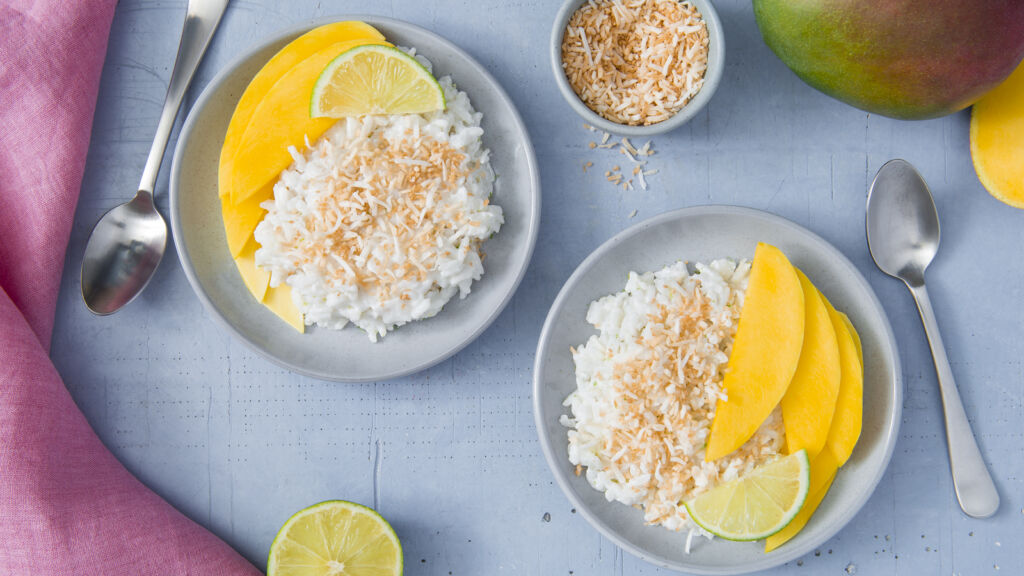 Tip: Try soaking your rice in coconut milk before cooking.
For more recipes from all over the world, stay tuned to Carolina® Rice.