After a nice holiday feast like Christmas or Thanksgiving dinner, there's nothing better than enjoying an indulgent dessert. If you are hosting, you'll undoubtedly be interested in some of our favorite dessert recipe ideas that can be made using Carolina® Rice.
Dessert Recipes for the Holidays
Impress your friends and family this holiday season with some of these sweet treats.
Comforting Recipe Ideas
When it's cold outside and you're feeling hungry, there are few things better than a comforting dessert to warm you up. These Sweet Rice Tamales are a different take on a Latin American classic; if you want to finish things off with something decadent, these dessert tamales are perfect for serving at your next Thanksgiving meal.
How to Make Tamales
Making tamales is actually a lot simpler than it looks. Follow these foolproof instructions:
Step 1: Soak corn husks in cold water until they are soft.
Step 2: Mix the ingredients together in a food processor until they are a smooth paste.
Step 3: Spread the paste over the corn husks.
Step 4: Wrap tamales by folding the husk sides inward, then use kitchen twine to tie both ends.
Step 5: Serve and enjoy!
If you are after a dessert packed full of fall flavors like pecans and walnuts, make this Ginger Pumpkin Rice Creme Caramel recipe. This treat can easily be served in individual ramekins, making it easier to divide it up amongst your guests. If you've accidentally bought too much pumpkin, why not use leftovers for one of these pumpkin recipe ideas?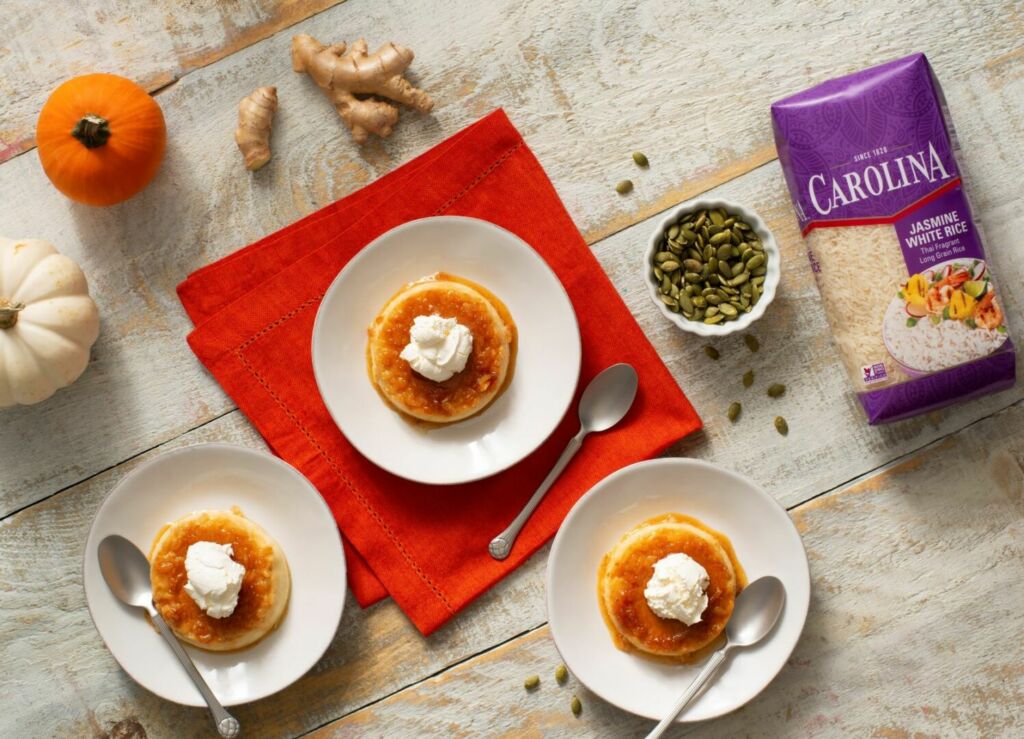 For a delicious sweet that also doubles as an indulgent breakfast, check out these Brown Rice Chocolate Hot Cakes. Serve these hotcakes with your favorite sweet toppings like chocolate sauce, whipped cream, dulce de leche and fruit.
This Sweet Arancini Dessert Board made with Carolina® Arborio Rice is perfect for when you are serving guests; in fact, it can serve as both a dessert board and an appetizer depending on what you feature. When serving this platter during the holiday season, you'll want to make sure that you include plenty of fall and winter ingredients like pumpkin and pecans.
Chilled Dessert Ideas
If you are more of a fan of cool desserts, you'll love this creamy and sweet Cuban-Style Natilla Custard With Rice recipe  made with Carolina® Jasmine Rice. Serve it up in ramekins at your next dinner party for perfectly portioned desserts for your friends. If you want to turn up the sweetness, dulce de Leche makes a great addition to this recipe.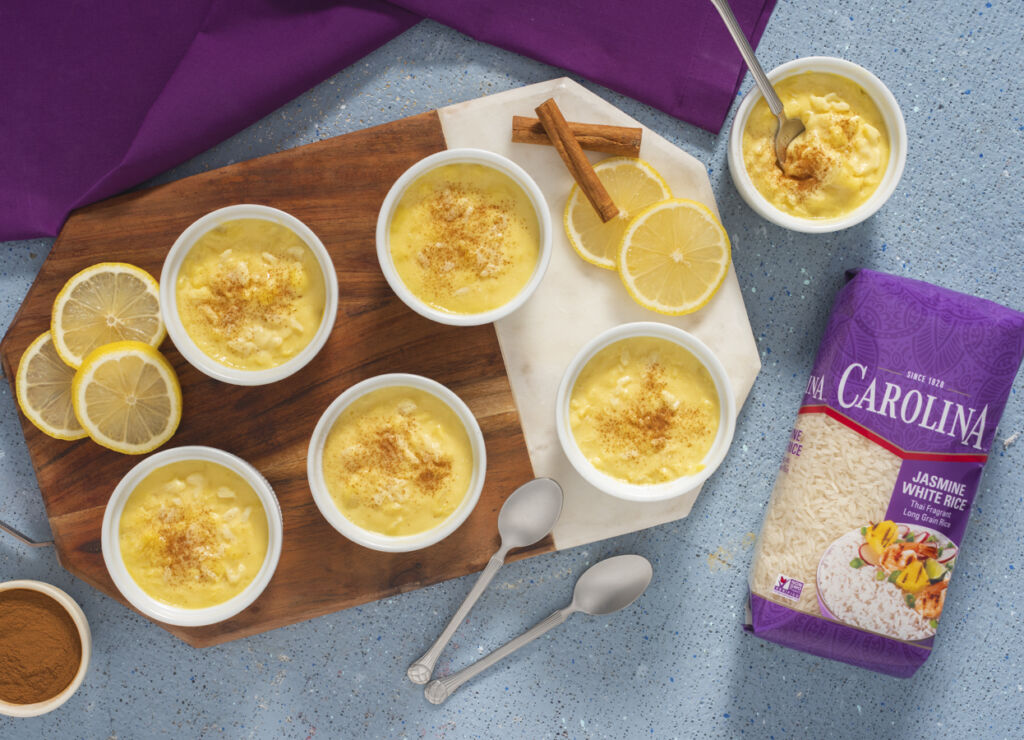 Staying on the creamy theme, try serving this Horchata Ice Cream – sprinkle on some cinnamon for a dash of fall flavor. This recipe also tastes great when topped with some hot fudge.
For something with more of a tropical flavor, try topping this Easy Coconut Rice Pudding with some fall-inspired ingredients like cinnamon – the Carolina® White Rice recipe will absorb every drop of flavor! 
Craving something nutty? This Almond Milk Rice Pudding made with Carolina® Jasmine Rice is a fall-flavored treat made with cinnamon and maple syrup.It's still decadent, even if you opt for sugar free maple syrup.
Christmas Dessert Ideas
If you are hosting a Christmas meal, you'll want to check out some of these extra-festive dessert ideas. For a Christmas recipe made with sweet rum syrup, check out these Christmas Cake Rice Fritters.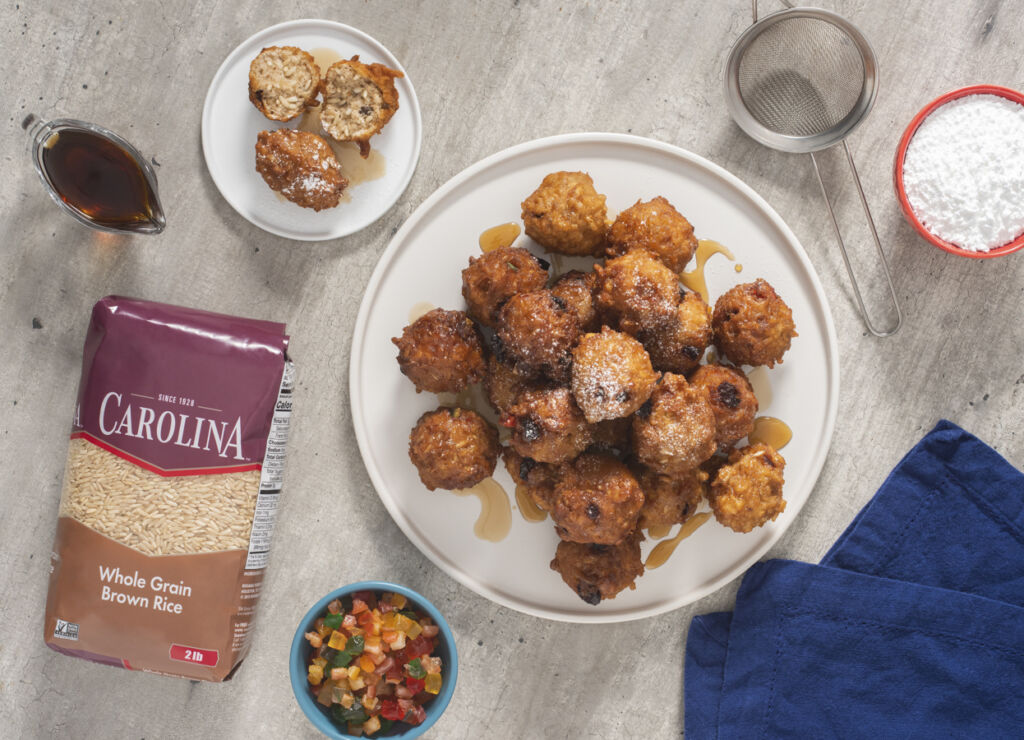 Topping Tip: Add a dollop of whipped cream on top of these fritters.
A holiday season essential, this velvety Rompope Rice Pudding is a twist based on the classic drink served on Christmas and New Years..
Dessert Ideas for Two
If it's just you and your significant other spending Christmas together, serve up a romantic Strawberry Churro and Chocolate Rice Pudding with chocolate chips and Carolina® Jasmine Rice. Believe it or not, in parts of the world such as in Spain, churros are a Christmas staple. During the holiday season, it may be easier to serve churros alongside strawberry conserve instead with actual strawberries.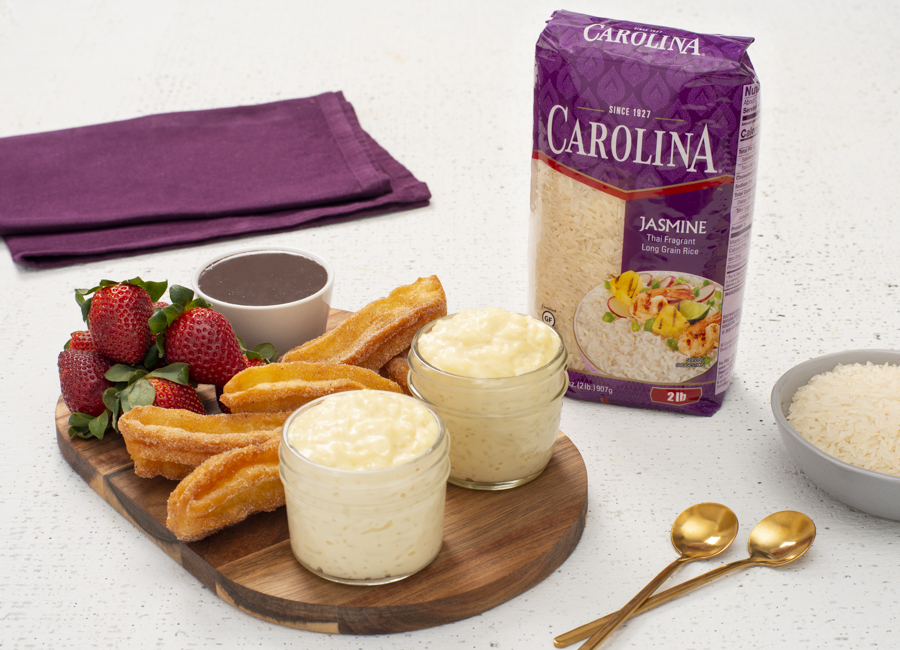 For more sweet rice recipes you can serve year-round, stay tuned to Carolina® Rice.