Many people start making plans for their Thanksgiving vacation as soon as the calendar flips to November. It's a time to gather with close friends and family, hear embarrassing family tales from your abuela, eat delicious food, and express gratitude for all the blessings you've been given throughout the years. You can maximize your day with the aid of Carolina® Rice. We encourage you to #PlayWithYourFood and put your own unique twist on the classics. Before we get started with the menu, Carolina® Rice offers some advice to help you organize your day.
Tips for Organizing Thanksgiving
Have a Game Plan: The main part of your plan should be to delegate a specific dish to someone so there will be no confusion as to who shows up with what.
Create a Menu: List the things that each person is bringing as well as the things you need to prepare. Plan your shopping trip and your meal preparation.
Stick to the Basics: Although Carolina® Rice encourages you to respect Thanksgiving customs, we think it's healthy to #playwithyourfood and personalize holiday favorites.
Check your Appliances: Are they all ready to go for the big day?
Take Inventory: Make sure you have enough chairs, tablecloths and dishes.
Plan Decor: Think of festive décor and fall-themed colors.
Assemble a Timeline: To be extra organized, make sure to plan out your day by creating a timeline.
Recycle Leftovers: Why not get some disposable containers so your family may take some leftovers home instead of having a lot of food left over? Everyone benefits!
Making the Ideal Menu for Thanksgiving Day
Making delicious food is one of the most crucial steps in planning a memorable Thanksgiving event. With Carolina® Rice, you'll be more than ready and self-assured to make the best meals for your family.
Start the Show with Some Appetizers
It's best to have a variety of appetizers on hand as your family starts to arrive and mingle. They can start out with our delicious Crispy Veggie Rice Balls. They are a wonderful way to get any holiday gathering started. #Playwithyourfood by changing the filling. Try a variety of fillings, including meat, cheese, and any others you and your guests may like.
Our Crispy Rice Canapés with Seared Tuna are always a crowd favorite. As soon as you start passing them around the room, they'll be gone almost immediately!
Your guests will be eager to get to the good stuff once they've had a few drinks and nibbles. For you, Carolina® Rice has prepared the perfect menu.
Excellent Thanksgiving Main Dishes
The main dish, the centerpiece of your feast, should be flavorful and filling. Even though a traditional roasted turkey is frequently selected, think about providing additional main dish options to accommodate various dietary needs. A delicious change of pace can be provided by dishes like tender roasted chicken or flavorful glazed pork. A vegetarian and vegan menu is always a good idea.
Side Dishes
We'll teach you how to give these time-honored favorites a new spin, from enhancing mashed potatoes to introducing inventive green bean and butternut squash recipes.
Mashed Potatoes: Elevating the Classic Side Dish
Thanksgiving isn't Thanksgiving without mashed potatoes, but that doesn't mean they have to be boring and routine. You can improve your mashed potato game with the aid of Carolina® Rice. Prepare to raise your mashed potatoes to a new level! Try our Middle Eastern Wild Rice Salad with Roasted Sweet Potato and Cauliflower for a whole new twist on a classic mashed potato dish. Use Carolina® Jasmine Rice with Red & Wild Rice then blend with cumin, paprika, garlic, honey, and mustard-seasoned roasted sweet potatoes and cauliflower. It tastes great with pomegranate seeds and toasted almonds on top. Your visitors will enjoy every bite and it's quite simple to prepare.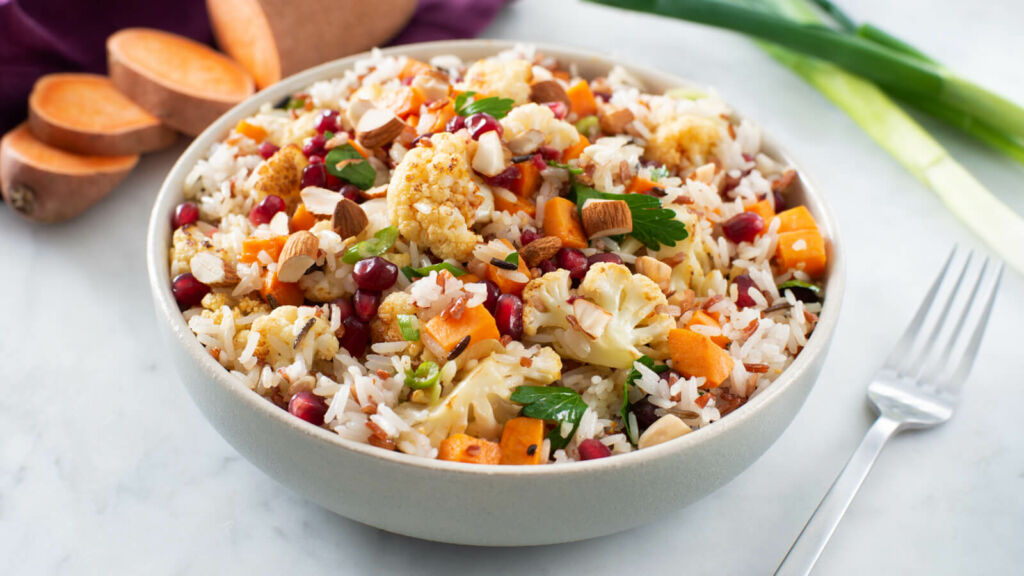 Green Beans: Creative Concepts for a Traditional Vegetable
Thanksgiving menus frequently feature green beans, although they are sometimes forgotten about. #Playwithyourfood to make those green beans stand out! We'll give you ideas on how to rethink this traditional vegetable and make it a star dish on your holiday buffet. Try experimenting with cooking methods like roasting or sautéing and adding surprising ingredients like almonds or lemon zest. Our Green Bean Rice Casserole is the ideal illustration of how to update a traditional dish. For a delightful addition you'll be sure to make year after year, add some Mexican-style cheese and fluffy parboiled grains to this holiday staple.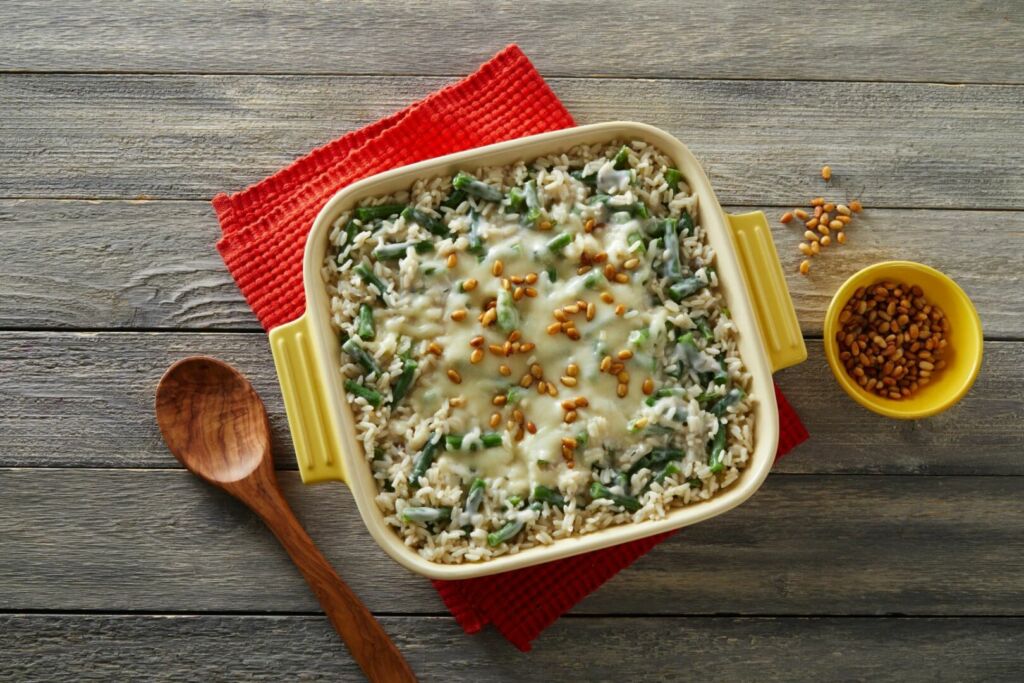 Butternut Squash: Recipes for a Sweet and Savory Dish that are Original
Thanksgiving dinner is enhanced by the delicious sweetness and savory tastes that butternut squash gives. These recipes highlight this autumnal favorite's adaptability. Each dish, from Risotto to Stuffed Butternut Squash, will give your Thanksgiving meal a special twist.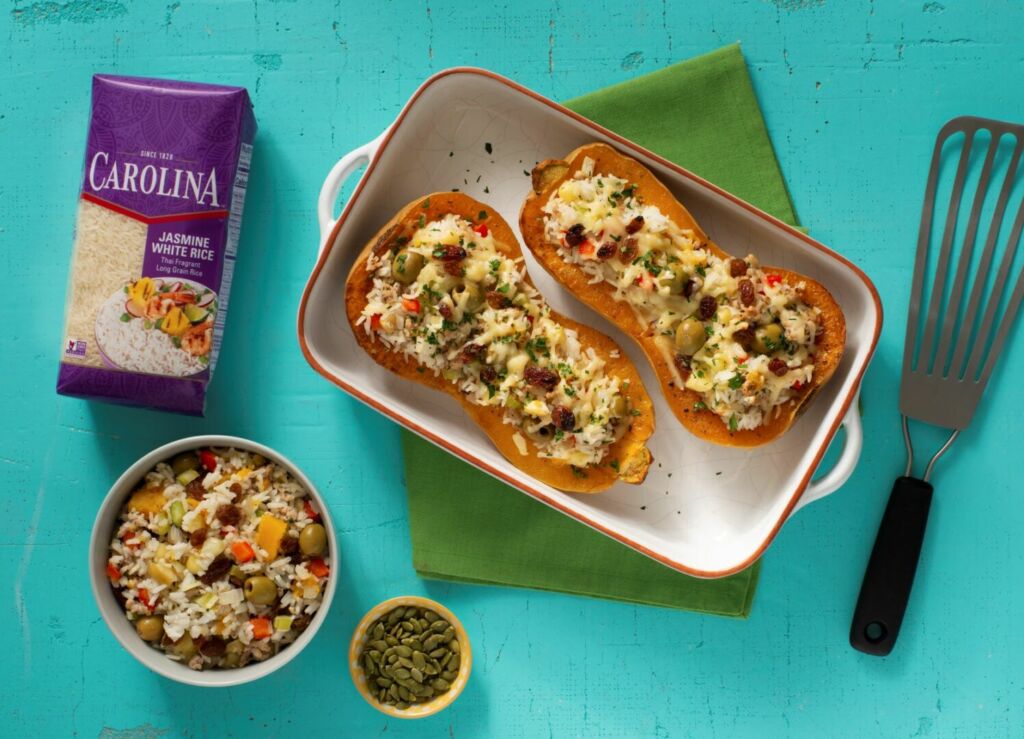 Amazing Desserts
Without some delicious desserts, Thanksgiving wouldn't be complete. Traditional options like pecan pie, apple pie, or pumpkin pie are always popular. Consider incorporating distinctive desserts like our Sweet Rice & Raisin Mini Pies or our Ginger Pumpkin Rice Créme Caramel for a contemporary spin. It will be the ideal way to end the ideal day.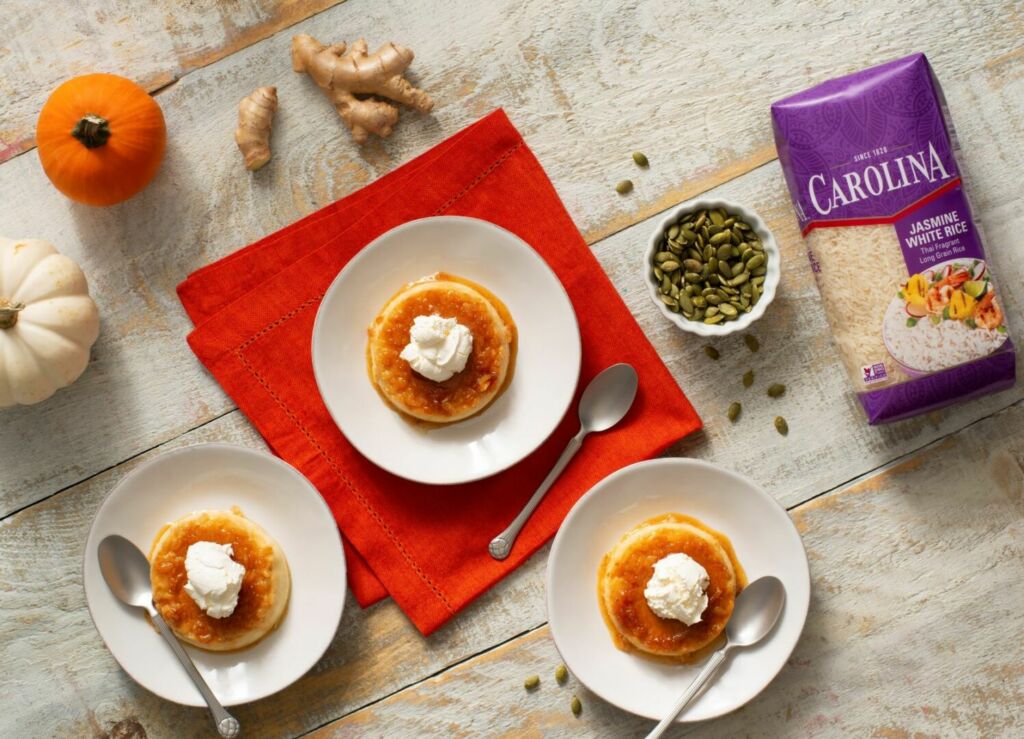 This Thanksgiving, embrace the spirit of exploration and be open to trying new flavors and ingredients. Your feast will surprise and excite your guests by introducing distinctive ingredients into your recipes, leaving them wanting more. To get more creative suggestions, visit our Recipe Page.