If there were one treat that had the power to bring back childhood memories, it would be puffed rice! There is just something special about each crispy crackly bite that is almost nostalgic.
And, while it might be simple to buy off the shelf at the supermarket, you might not realize how easily it can also be made at home! Learn how you can create new memories with your family members by preparing puffed rice with Carolina® Rice. We'll show you how it's done with a few recipe ideas to go along with it. Have a fun evening in the kitchen and prepare your own homemade puffed rice with the best company.
Tip: this can also be a great activity to do in the kitchen with little ones in the family.
What is Puffed Rice?
Puffed rice is simply rice that has expanded into a light and crunchy bite when exposed to heat!
Today it's become a popularly consumed food around the world that can be enjoyed as part of rice cakes, chocolate bars or as crunchy breakfast cereal. The best part is that this airy treat can be made using any variety of rice.
What rice can I use to make puffed rice?
As we mentioned, puffed rice can be made out of any type of rice allowing for a variety of tastes and textures depending on your rice of choice. Lucky for you, Carolina® Rice offers plants of options.
Recipe for Puffed Rice
Once you've chosen your preferred variety of rice, it's time to get to work making your homemade puffed rice, also referred to as popped rice, starting with this incredibly helpful recipe video.
Video recipe
In just three steps you'll have a fabulous and flavorful ingredient.
Step 1
Start by preheating your oven to 250°F. Meanwhile, cook your rice of choice according to package directions and then transfer it to a parchment paper-lined baking sheet. Bake it for 2 to 2 1/2 hours or until dry to the touch and all the moisture has evaporated. Let cool completely (the rice should be dry and hard before frying).

Step 2
Pour enough oil into a large saucepan to come 2 inches up the side; heat over medium-high heat until the instant-read thermometer reaches 425°F. Add a few grains of cooked rice; if the oil is hot enough it will start to puff up instantly.

Step 3
Working in batches, carefully add 1/2 cup rice to hot oil; fry for 3 to 6 seconds or until puffed. Using a small metal wire sieve, carefully transfer rice to a paper towel-lined baking sheet. Let cool completely and enjoy!
Prepare it as a snack for a relaxed evening with friends, as part of a delightful dessert to impress your family, as an innovative complement to a savory dinner.
How to Use Puffed Rice
There's nothing better than exploring the possibilities of an ingredient. Puffed rice can be enjoyed in a wide variety of ways.
Cereal
It's hard to deny a delicious bowl of cereal, any time of day! Our first suggestion for how to use your homemade puffed rice is to make your own cereal. Try it out in this recipe for Churros Puffed Rice Cereal.
You can even use it to top your favorite yogurt or ice cream. If you're going with a sweet treat, we also suggest drizzling on chocolate and caramel sauce with all kinds of fresh fruit and whipped cream.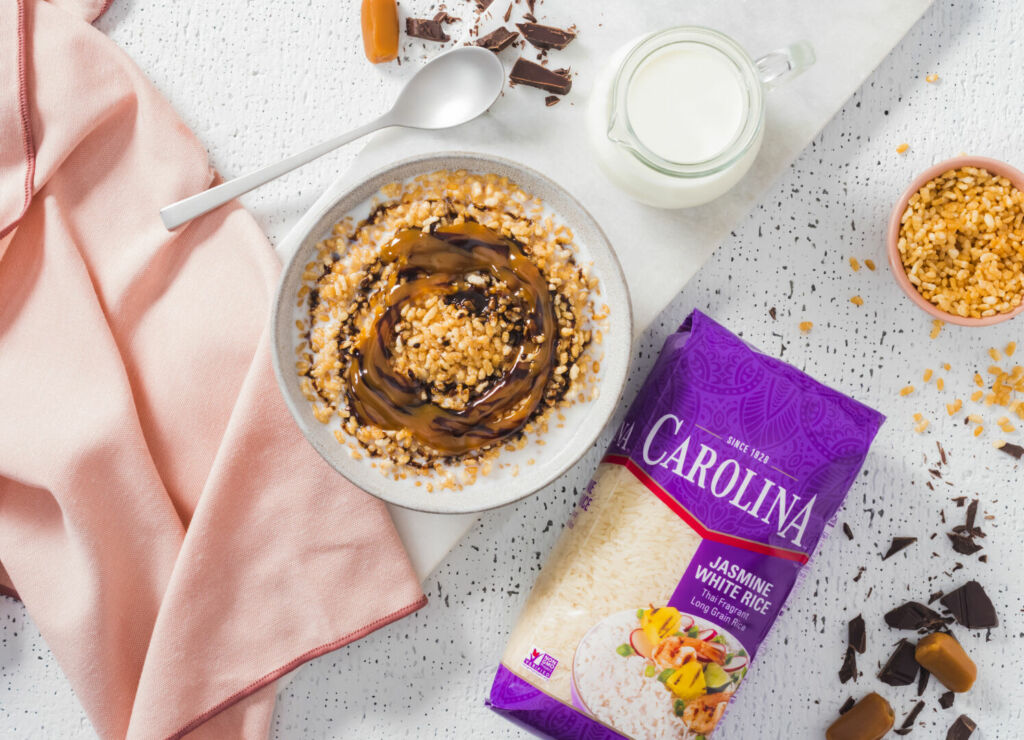 Chocolate Bars
Next on our list is a homemade Puffed Rice Chocolate Bar. That's right, you can even prepare your own large chocolate bar and cut it up into bites to share with friends or family!
Toppings
Finally, this amazing treat can be used as a topping for countless other recipes both sweet and savory.
Learn how to prepare all kinds of dishes both sweet and savory with the help of Carolina® Rice. Find more tips and tricks in our Cooking section!