Each season brings with it fresh fruits, vegetables and herbs. Spring is one of the most colorful and aromatic times of year offering great flavors through different ingredients for recipes.
One of the best parts about spring is not only produce but herbs that add an incredible fresh touch to meals. We'll show you the ins and outs of using herbs in your meals and give you a few delicious ideas alongside Carolina® Rice varieties. While they may be undervalued, we'll show you how it's done, so keep reading to find out more.
What Herbs Bloom in Spring?
Enjoying herbs that bloom in springtime means that you can enjoy them when their taste, texture, and all their qualities are at their best. Although nowadays, they are sold and can be consumed throughout the whole year, they are at their peak in spring.
These include: Cilantro, Mint, Dill, Basil, Lemongrass, Tarragon, Parsley, Rosemary, Lime Leaf and Oregano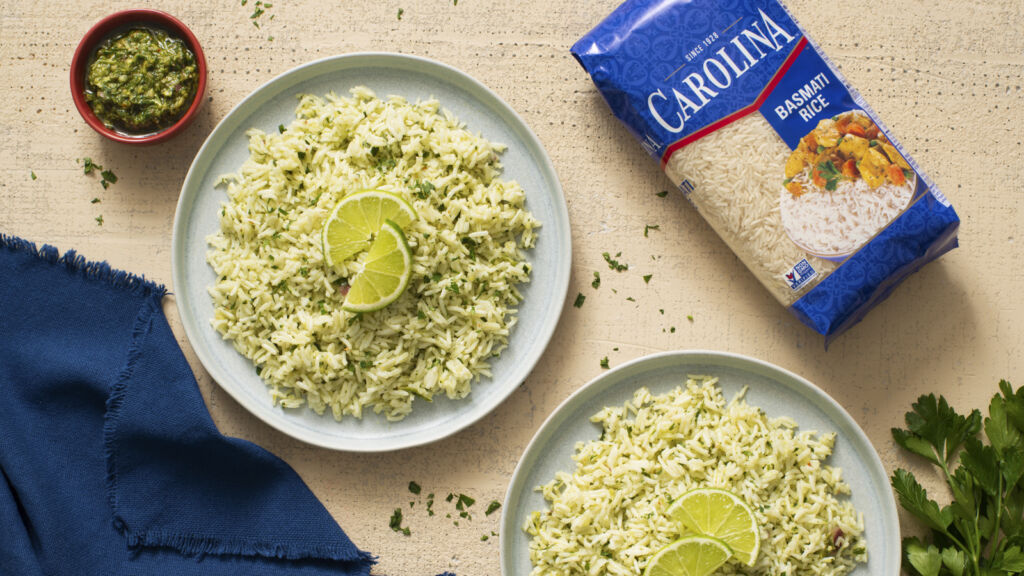 Grow Your Own Herbs
There is nothing more satisfying than being able to add herbs to your meals grown in your own backyard, or in a flowerpot on your own balcony, to your meals. An easy way to start a herb garden is with egg cartons. Add the seeds in each hollow in the cotton and water gently. Then place this in the sun. It is not only a gratifying activity to enjoy by yourself, but kids also love and learn. In a few months, you'll have top quality home grown herbs to cook with!
When to Wash and Cut Fresh Herbs
For best results, we suggest washing your herbs only right before you plan on using them. This helps to keep them as fresh and bright as possible without wilting. Also, for the most flavor, cut them finely before mixing into dishes!
Herb-Based Sauces
Arroz Verde, or Green Rice
One world famous rice dish that is ideal for using fresh herbs, originated in Spanish-speaking countries called arroz verde, or green rice! While we do have a guide on how to prepare your own at home, we'll offer up a few options here too.
There are many different varieties, but one of our favorites uses oregano, cilantro and jalapeño with whole grain brown rice in this Grilled Chicken Thighs with Arroz Verde.
Chimichurri
For a South American classic, chimichurri made with parsley, cilantro, olive oil, vinegar, lemon juice, oregano, cumin, salt and red pepper hits the spot. Try it in this recipe for Classic Chimichurri Rice made with basmati rice.
Green Goddess Dressing
Made with all kinds of herbs ranging from parsley, dill, mint, chives, tarragon and cilantro with Greek yogurt or mayo,green goddess dressing is perfect to drizzle over a rice bowl or a rice salad!
Fresh Spring Meals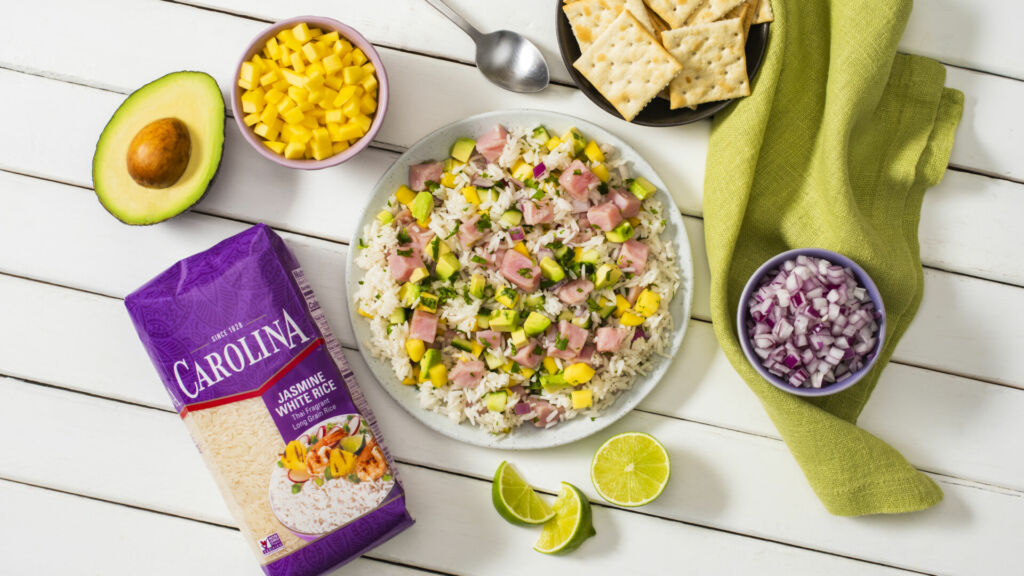 When the temperature starts to heat up, there is something special about fresher meals. Herbs can offer, precisely, that required freshness.
Start with a zesty Tuna Ceviche with Mango and Avocado, and discover how fresh cilantro can really bring out the flavors of avocado and mango.
Essential for added flavor, green onions, cilantro and basil are great in this Zucchini Rice recipe.
For a delicious yet light starter or side, this Layered Caprese Rice Salad is beautifully accompanied by fresh basil for a taste of Italian cuisine.
Innovative and Creative Recipes
Spring is the season of a fresh start and innovation, so it is the perfect time to add new ideas to your recipe list. Here are some unique ideas you can find using rice and herbs:
Italian Sushi with Arborio Rice: wrapped in thin prosciutto, fresh basil leaves and sweet roasted red peppers, these dainty nibbles pack flavor in every bite.
Tacu Tacu: the perfect mix of rice and beans, this recipe is a great way to use up leftovers and is perfectly complemented with cilantro leaves.
Herbs truly can be used in many different ways in dishes whether it be as part of a sauce, as the main ingredient or just as a final touch to a dish. And in spring, use them in fresh, light and flavorful seasonal meals with Carolina® Rice.