The flavors, textures, and cooking methods used in Middle Eastern food are varied, rich, and plentiful. With our selection of mouthwatering meal suggestions, you may enjoy the flavor and aroma of these foods in the comfort of your own home. We have recipes that are ideal for any occasion, whether you want to prepare a classic dish or something new. With Carolina® Rice, discover the vibrancy of Middle Eastern cuisine!
Common Spices Used in Mediterranean Cooking
Middle Eastern cuisine utilizes many delicious and robust spices. Before we dive into different types of recipe ideas, we want to familiarize you with some of the most common spices used in typical recipes.
Caraway: A common spice in Moroccan cuisine, Caraway seeds are a potent and highly aromatic spice that gives flavors of licorice, citrus, and pepper. Be careful not to use too much, as the flavor can easily overpower a dish!
Cardamom: A spice that gives Turkish coffee and Masala Chai its distinct taste. Cardamom has a strong, sweet flavor and citrusy aroma making it the perfect spice to add to dessert or dinner. 
Turmeric: If you have never tasted it, you have probably seen the unique bright orange spice in the store or added in a latte. Turmeric is slightly bitter, adding a level of depth to compliment other flavors used in a spice blend.
Make Your Own Middle Eastern Spice Blend
There are many more spices that you will find in Middle Eastern dishes. You can find pre-mixed blends such as Bahārāt, or Ras el Hanout in your local grocery store. However, if you happen to have all the spices on hand, mix together cumin, ginger, turmeric, cinnamon, salt, black pepper, coriander, cayenne, allspice, nutmeg, and cloves, for a delicious blend.
Keep reading to see what recipes you can use these delicious and distinct spices in!
Middle Eastern Recipe Ideas
Chicken
As you are surely aware, every cuisine has attempted to reinvent the way that chicken is prepared. Moroccans gave it a shot, seasoning plain white meat with exotic ingredients like saffron threads, ginger root, and a variety of other spices. Tonight, take your family on an adventure without ever leaving the kitchen by bringing the robust flavors of the Middle East to your dinner table.
By adding ginger root, garlic, allspice, and saffron or turmeric, you can create your own spice blend with Moroccan influences. Add freshly cut cilantro and lime juice to your food as a garnish. Add raisins or chopped dates to the rice along with the lime juice for an extra Moroccan flavor.
Indulge in the flavors of this Moroccan Style Basmati Rice with Chicken. This dish goes much beyond the traditional one-pan meal. It tastes even more genuinely Moroccan thanks to the addition of fresh lime juice and cilantro, which also adds a zesty and lemony touch. To give the dish even more of a Moroccan character, try adding some raisins.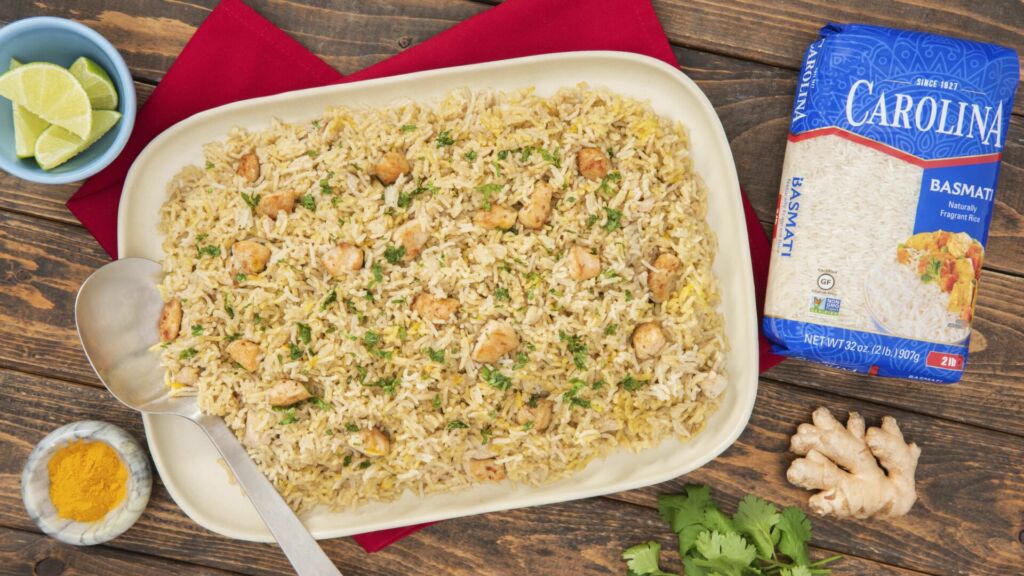 Another delicious chicken option is the Moroccan Rice and Chicken Salad. You may spice up your mealtime routine with spicy harissa, sweet saffron, colorful herbs, and fragrant Basmati rice. Saffron has a distinctive scent and a sweet, delicate floral flavor. This spice, often known as red gold, is expensive not just because it has an unparalleled level of flavor complexity but also because the stigma and styles are hand-picked from delicate blooms. A meal can definitely benefit from this interesting spice.
Take a look at our Tasty Chicken and Rice Meals for more fun and interesting ways to prepare any chicken dinner.
If you're hosting vegetarian visitors, Carolina® offers a variety of mouthwatering Middle Eastern dishes that are vegetarian-friendly.
Vegetarian Variety
In addition to spices, this cuisine also features an abundance of interesting and colorful vegetables. That's what you'll find in this Middle Eastern Wild Rice Salad with Roasted Sweet Potato and Cauliflower. This wild and jasmine rice dish is packed with roasted vegetables and flavorful spices like cumin, paprika, and fresh parsley. Additionally, it contains a ton of other interesting components that will win you over as a fan of rice salad for life.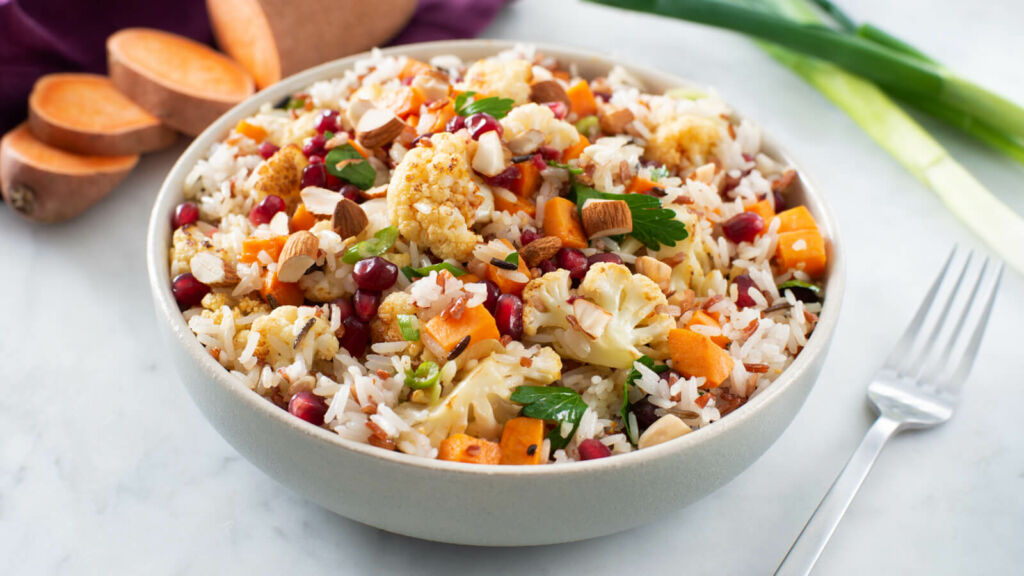 Beginning with our Carolina® Jasmine Rice with Red & Wild Rice, which adds new and fascinating textures to every bite while also giving the meal a nice nutty flavor. In order to provide an extra burst of flavor and sweetness, this recipe also calls for roasting sweet potatoes and toasting chopped almonds.
In addition to its main components, this recipe's dressing will wow you. This wild rice salad has dijon mustard, honey, lemon juice, and a little fresh lemon zest. For an added kick, garnish it with finely chopped fresh parsley and thinly sliced green onions.
The nicest part of this colorful plate is that all you have to do to prepare it is roast it in the oven until it's done after mixing the vegetables and seasonings together.
Or try this Moroccan Salad with Wild Rice. Packed with flavor and topped with a homemade dressing, your vegetarian friends and family will be asking you for the recipe.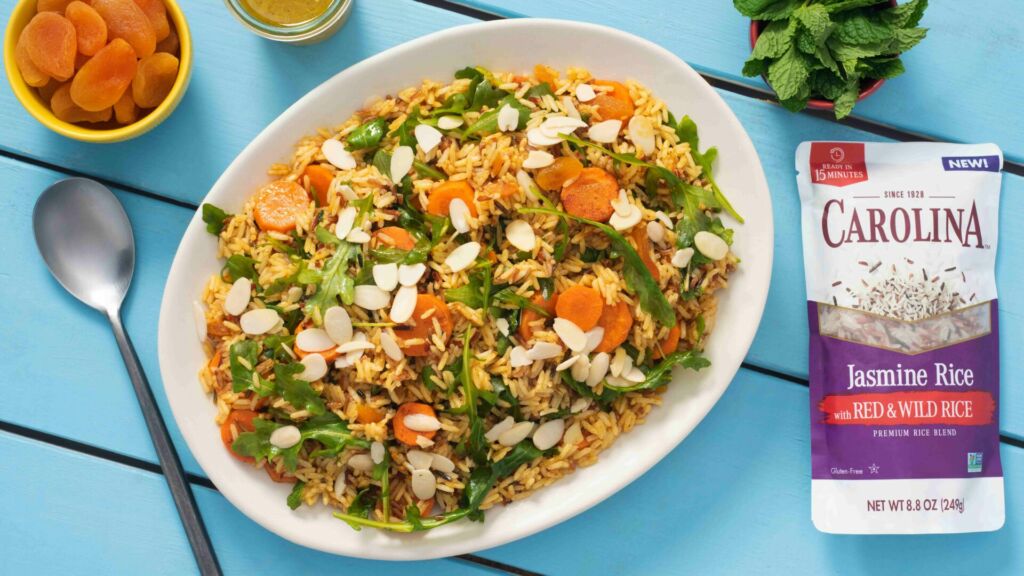 Find more fun and exciting vegetarian recipe options here.
Lentils
A staple in Middle Eastern cuisine, lentils are a type of legume that come in various colors such as green, brown, red and yellow. If you are a lentil fan we suggest you try the Tabbouleh with Jasmine Rice and Quinoa. The traditional salad, which is often cooked with bulgur or couscous, gets a nutty taste boost from our Carolina® Jasmine Rice with Quinoa in this recipe. The traditional concoction of olive oil, lemon juice, salt, and pepper is given an intriguing twist in the dressing with the addition of a pinch of cayenne and ground cumin. We complete the meal by including lentils, which transform it into a fantastic vegetarian lunch choice.

This tabbouleh is a vibrant and vivacious dish thanks to the inclusion of ground coriander, fragrant fresh garlic, and lemon zest. Along with the flavorful spices, it also has refreshing ingredients like cucumber slices, grape tomatoes, and mint leaves.
Given that, we would suggest that this rice salad can be a meal on its own while being on the lighter side. Not persuaded? No issue! For a little extra protein strength, add some seared chicken.
Try some of our homemade vinaigrettes to dress up your salads.
Whether you're organizing a close friends gathering at home for the holiday, or throwing a party for a crowd, Carolina® Rice is here to lend a hand!