Carolina® Rice has got your back when it comes to dips and finger foods! Say goodbye to the stress of deciding what to bring for your weekend picnic. We offer a wide range of creative suggestions, so you can steer clear of relying on pre-packaged items from the grocery store. With our recipes, you'll effortlessly whip up delectable dishes that everyone will love!
Get ready to embrace the picnic season! Dust off those picnic baskets and blankets, and let's celebrate summer with flair.
Picnic season is a wonderful opportunity to unleash your culinary creativity. If you find yourself running low on fresh ideas, worry not. Our extensive collection of recipes caters to every occasion, offering innovative culinary formulas to keep you in tune with the ever-evolving world of cooking. Consider our delectable rice as a prime ingredient for crafting delightful picnic plates, as it requires minimal effort to prepare.
We all know the struggle of deciding what food to bring to a gathering. That's why we're here to present some unique and enticing picnic food suggestions, showcasing the best options for you to explore.
What Should I Bring in my Picnic Basket?
Put down the frisbee and the kite to try some of our delicious dip options!
Dips
Indulge in the delight of a tasty rice dish paired with a delectable savory dipping sauce. With the four irresistible options below, rest assured that your flavorful dip will be the highlight of your next picnic lunch.
Beef Options
You absolutely can't miss out on our Hearty Enchilada Dip! It's a sensational blend of Mexican-style cheese and hot sauce, creating the perfect combination of flavors. This recipe features lean ground beef, onions, and a delightful red enchilada sauce, which can be effortlessly paired with sour cream or guacamole for an extra touch of deliciousness.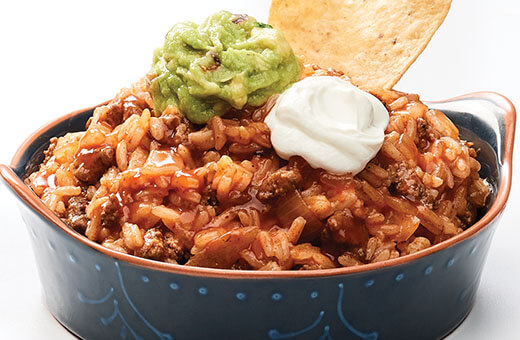 Pork Options
Who can resist the timeless appeal of a classic BLT? Think outside the sandwich and dive into our sensational BLT Unwich Dip. We've taken it a step further by making it incredibly convenient to bring along to your beloved picnic spots. This delectable dish features sour cream, mayonnaise, and chips, bringing you all the beloved flavors in one bite. Or, if you're craving more pork options, give our Barbecue Pulled Pork Rice Dip a whirl. Prepare to leave sauce aficionados utterly speechless with this remarkable creation.

Vegetarian Options
Rest assured that even your vegetarian guests will leave the picnic happy. Our Creamy Spinach and Rice Dip is bound to satisfy everyone's taste buds. In this rendition of the dish, we bring together melted sharp cheddar cheese, spinach, and cream cheese, infused with nutmeg, garlic, and our Carolina® White Rice for an added heartiness. We guarantee you'll fall in love with it! Simply spread it on a cracker and experience the blissful explosion of flavors.

Salads to Share
During the scorching heat of the sun, the last thing on your mind is a heavy or hot meal. Opting for a refreshing salad is the perfect solution. Salads make an excellent choice for your upcoming picnic adventure, and your friends will undoubtedly agree. If a game of catch has drained all your energy, it's time to regain your strength.
Carolina® Tip: When it comes to preparing salads, Whole Grain Brown Rice is the ultimate ingredient to rely on. What sets it apart is its delightful nutty flavor and satisfyingly chewy texture all packed into its 100% whole grains.
Fruit Salad
This delightful and refreshing Mango, Pecan & Brown Rice Salad is an excellent option for the summer season as it can be effortlessly customized and prepared using the freshest ingredients available. Select the fruits and nuts that perfectly complement your taste preferences!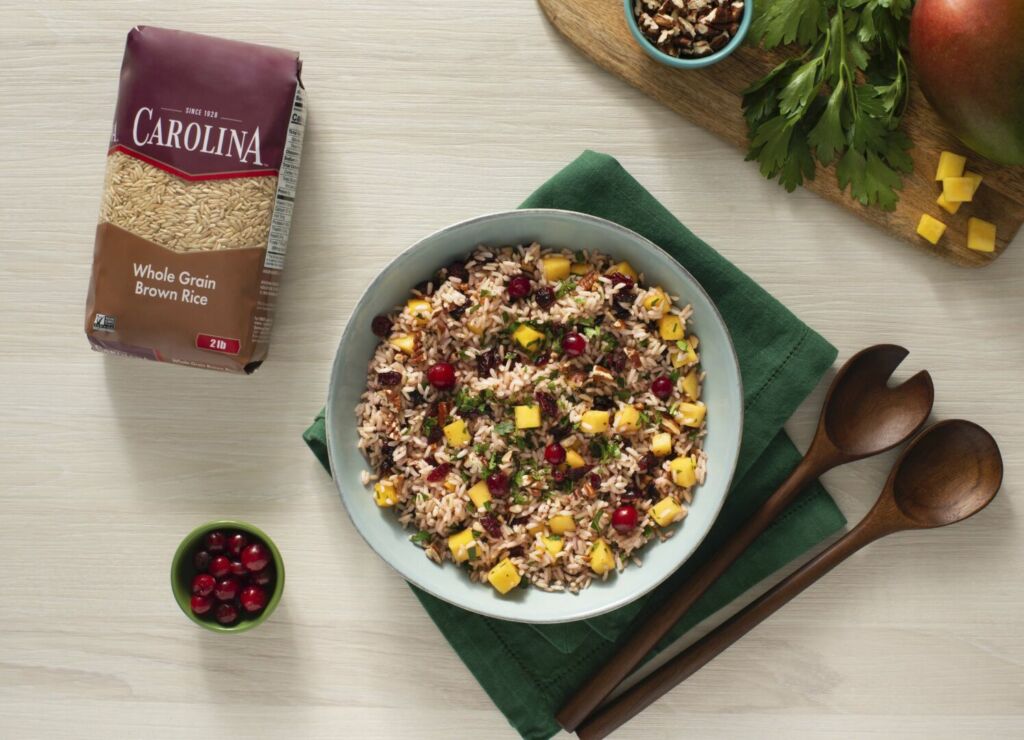 Chicken Salad
Indulge in the perfect balance of sweet and savory flavors with our Mango Chicken Rice Salad. Prepared with a delightful combination of quinoa and brown rice, this recipe is truly a treat for the taste buds. The vibrant mango adds a visually appealing element, making this dish a standout. When it comes to choosing a fruit for this enjoyable picnic favorite, the exotic mango is the perfect pick!
Mediterranean Salad
Experience the Veggie-Packed Mediterranean Rice Bowl Salad – a must-try for those who enjoy the art of combining diverse ingredients. Embrace the medley of whole grain rice, mushrooms, crips chives, zesty Italian dressing, tangy green onions, juicy tomatoes, diced red bell peppers, tantalizing Provolone (or cheddar) cheese, and the vibrant burst of green peas, all harmoniously layered to create a sensational and visually stunning salad.
Finger Foods
For a relaxing and enjoyable picnic experience filled with delightful moments shared among friends, consider treating yourself to our delectable assortment of finger foods. Witness the sheer joy on your friends' faces as they savor each mouth-watering creation you've carefully prepared.
Below, you will find a selection of simple yet delicious ideas for your next picnic:
Quinoa
If you're a fan of quinoa, give our Vegetarian Quinoa Cakes. These delightful muffins feature a medley of sautéed veggies and a combination of rice and quinoa. Alternatively, if your sweet tooth is calling, opt for our Coconut, Hazelnut & Dark Chocolate Quinoa Energy Bites. These delectable treats, infused with luscious chocolate and creamy hazelnut, will re-energize you.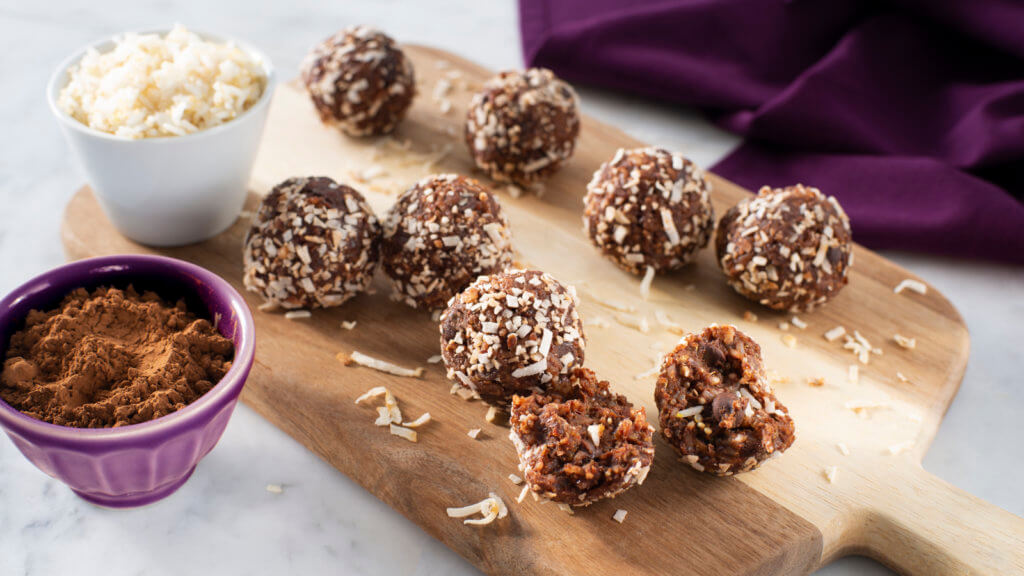 Croquettes
Are you familiar with the culinary wonders of Spain? If so, you're likely well-acquainted with the beloved croquetas, one of the country's signature dishes. Our Spicy Rice Croquettes with Avocado Cream & Chorizo pays homage to this Spanish tradition. These delectable morsels boast a crispy exterior and a soft, flavorful interior. Enhance the taste by incorporating ingredients like chorizo, minced onion, jalapeño peppers, chipotle, and coriander. Serve them alongside an avocado cream for a truly memorable experience.
Quesadillas
Who says quesadillas are only reserved for birthday parties and family gatherings? They can be the perfect companion for your next picnic! Bring along our Cheesy BBQ Chicken and Rice Quesadillas and discover the making of wrapping them in a delicious whole wheat tortilla. To add that perfect touch, fill your quesadillas with our Ready to Heat White Jasmine Rice and enjoy these mouthwatering quesadillas.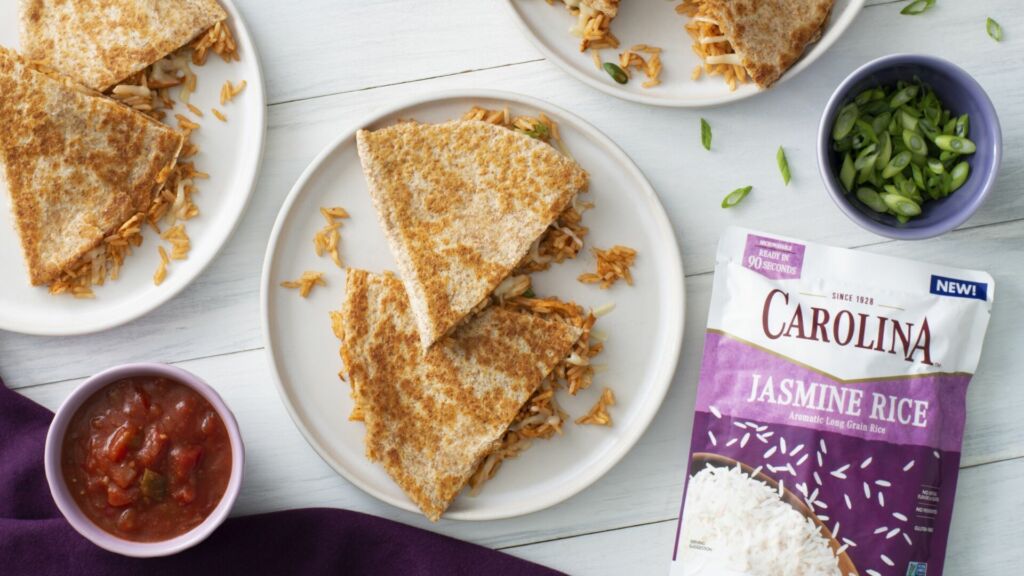 Sweet Treats
End your leisurely afternoon with a delightful touch by ensuring your picnic companions depart with a satisfying selection of sweet treats!
Prepare our luscious Coconut and Almond Rice Tart the night before your picnic, and watch as it becomes the centerpiece of admiration among your guests. Take advantage of seasonally sweet strawberries and garnish the tart to add an extra special touch.
Or treat yourself to the tantalizing Key Lime Rice Pudding. The harmonious combination of tangy key lime, creamy Carolina® White Rice, a savory pie crust, and a silky meringue topping will leave you wondering why you hadn't discovered this extraordinary delight sooner.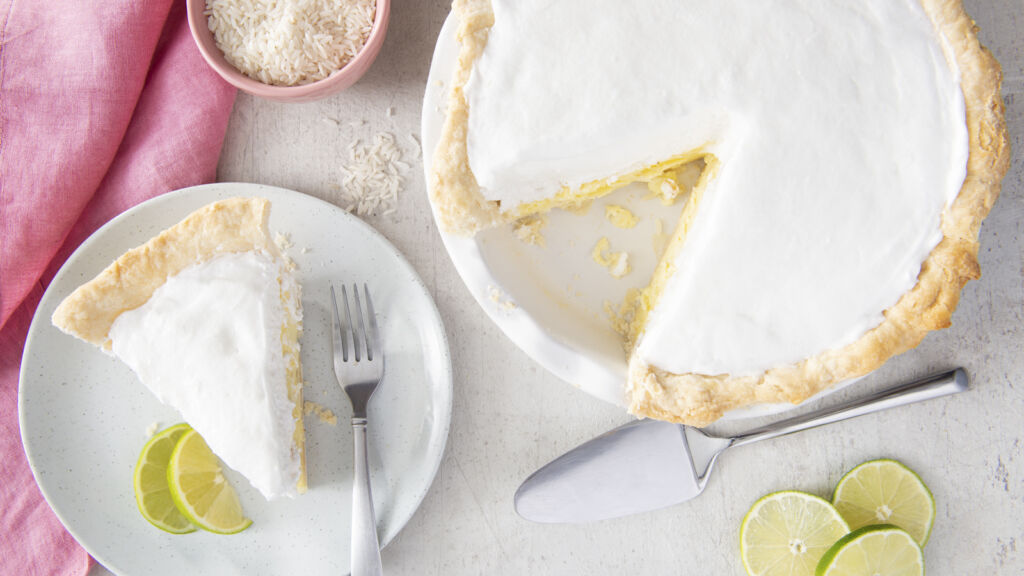 With these delightful recipes, you now have an abundance of ideas for an unforgettable summer picnic! For additional meal tips and inspiration, stay tuned to Carolina® Rice.