Originating in China, the technique of stir fry has spread across the world. Many cultures have adapted this technique to their ingredients and preferences, allowing all of us to enjoy it even in a take-out box.
The stir-frying cooking technique can be done with any mix of your favorite vegetables, proteins, and sauces. By using the right ingredients and following a few simple guidelines, you can quickly learn how to make a delicious meal. Though the methods are simple, taking time to understand the technique will allow you to master it.
Whether you're feeding the whole family or just trying to get rid of leftovers, stir fry recipes offer a great option that will keep you satisfied. Relatively inexpensive and easy to make, these recipes will quickly become a staple on your home menu.
Read through to discover where to start, gain inspiration, and get tips on how to elevate your stir fry to restaurant quality.
The Basics of Stir Fry
Ingredients
The versatility of stir fry recipes is one of their many advantages, as you can easily use ingredients you have on hand. Below is a list of ingredients that you can consider using in your dishes:
Oil- Choosing the oil that you will fry all of the ingredients in is important, as it will change the flavor profile of your dish. The most common oils to use are Peanut and Canola Oil because they are both light and relatively flavorless. This will allow the other ingredients to shine and not be overpowered. Other options include Grapeseed oil and refined Sunflower oil.
Vegetables– In a hurry? Simplify your meal by using a bag of frozen stir-fried vegetables instead of wasting time chopping and preparing fresh. If you aren't in a rush, other veggie options are bell peppers, carrots, broccoli, zucchini, yellow or green onions, cabbage, bok choy, mushrooms and more! Make sure you include ginger and garlic in your dish for aromatics and flavor.
Proteins- Many proteins fry up nicely in these recipes. Choose from shrimp, scallops, chicken breast, pork, steak, or lamb. Vegetarian? No problem. Simply skip the protein or replace it with tofu or your favorite meat alternative.
Stir Fry Sauce– There are plenty of pre-made sauces ready to use in the supermarket, however making your own can allow you to customize ratios and flavors to your taste.
Nuts- Adding nuts can give your stir fry even more depth of flavor. Throw in some peanuts, cashew, almonds, or walnuts.
Preparation
It is super important to have your ingredients prepped before you even turn on the heat. To make the best stir-fry, slice and dice your proteins and vegetables, have your sauces ready to go and your nuts chopped. For best organization, place ingredients into individual bowls to have them measured out and ready to go!
Cooking Process
Prepare your Wok or large frying pan, coat with oil and set to medium-high heat.
Throw in your diced garlic, ginger, lemongrass, and onions- or any combination of these ingredients that you chose.
Toss in the vegetables and stir continuously until they are crisp and tender, then remove them from the pan.
Add your meat or protein of choice to the Wok and cook until fully done to your tastes.
Move the cooked meat to the edges of the wok and pour the sauce in the center. Cook and stir until it starts to bubble.
Put the vegetables back in, add your nuts and mix everything together. Add a garnish.
Must Try Stir Fry Recipes
Once you have the steps down and understand the process, it's time to get creative with Carolina® Rice stir fry recipes! Discover a variety of delicious dishes that will help you gain confidence in the kitchen.
Stir Fry with Beef
Savory and filling, beef stir fry is the perfect dish for dinner and is simple to customize to your tastes. Use the veggies, sauces and garnishes you have on hand to create a meal unique to you that will use up those leftovers in your fridge. Make this Mexican Beef Stir Fry, made with steak, bell peppers, and our delicious, fluffy Carolina® White Rice. Top with fresh avocado, and make a warm cup of Homemade Creamy Horchata while you're at it. Try this Beef Rice Bowl made with a delicious honey garlic sauce for another recipe option.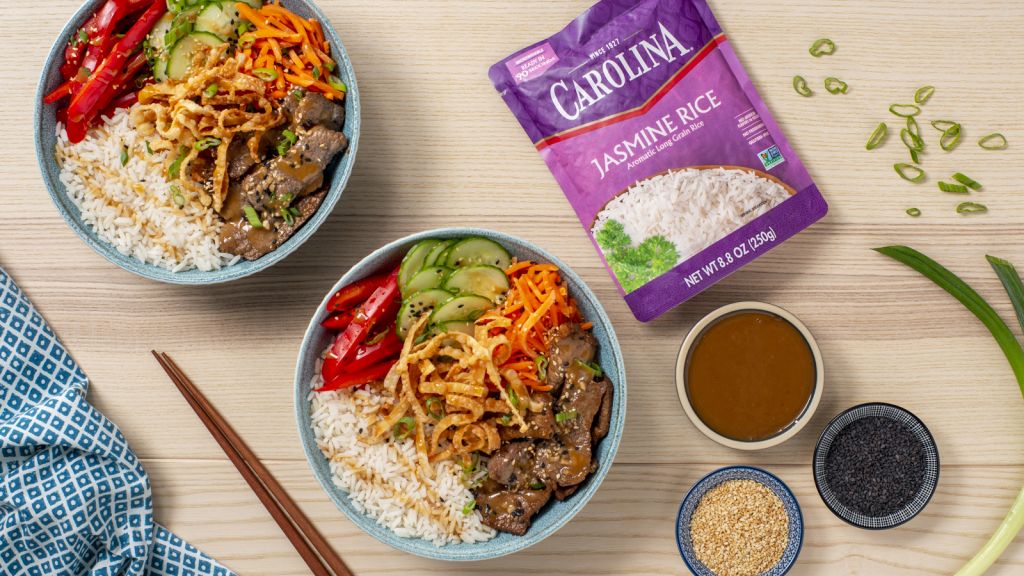 Recipe Tip: Try adding in a small amount of Sesame oil for some extra flavor, but be careful to not use too much as it can overpower the dish and burn.
Chicken Stir Fry
Very commonly found in stir-fries, chicken is probably the most popular protein addition around the world. Easy, versatile and loved by many, Chicken is the perfect option to create a balanced dinner in just under 30 minutes. Made with our Carolina® Jasmine Rice with Quinoa, this Stir Fried Chicken & Jasmine with Quinoa is an easy and delicious option, filled with flavorful veggies. 

Shrimp Stir Fry
Swap out the meat for seafood, with this quick and simple Shrimp Rice Medley. Complete with the spicy kick from ancho chilies, contrasted by our fluffy and zesty Carolina® Cilantro Limón Jasmine Rice, you can't go wrong with this dish. Shrimp overcooks very easily, so make sure you don't leave it frying for too long, as it can become rubbery and firm.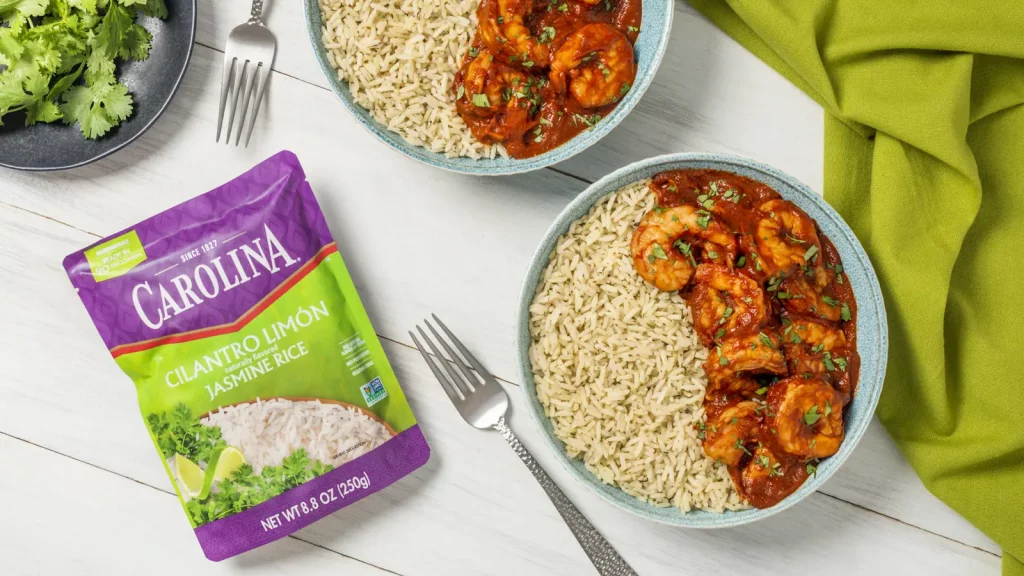 Veggie Stir Fry
Whether you are vegetarian, are trying to use up those leftover veggies in the fridge or are trying to cut back on your meat intake, then Nasi Goreng Rice is for you! This Southeast Asian dish is a perfect option for a veggie-packed dinner that won't sacrifice flavor for a meat-free option. Try adding tofu if you want extra protein. For more, check out this blog on Asian Rice Dishes to get inspired.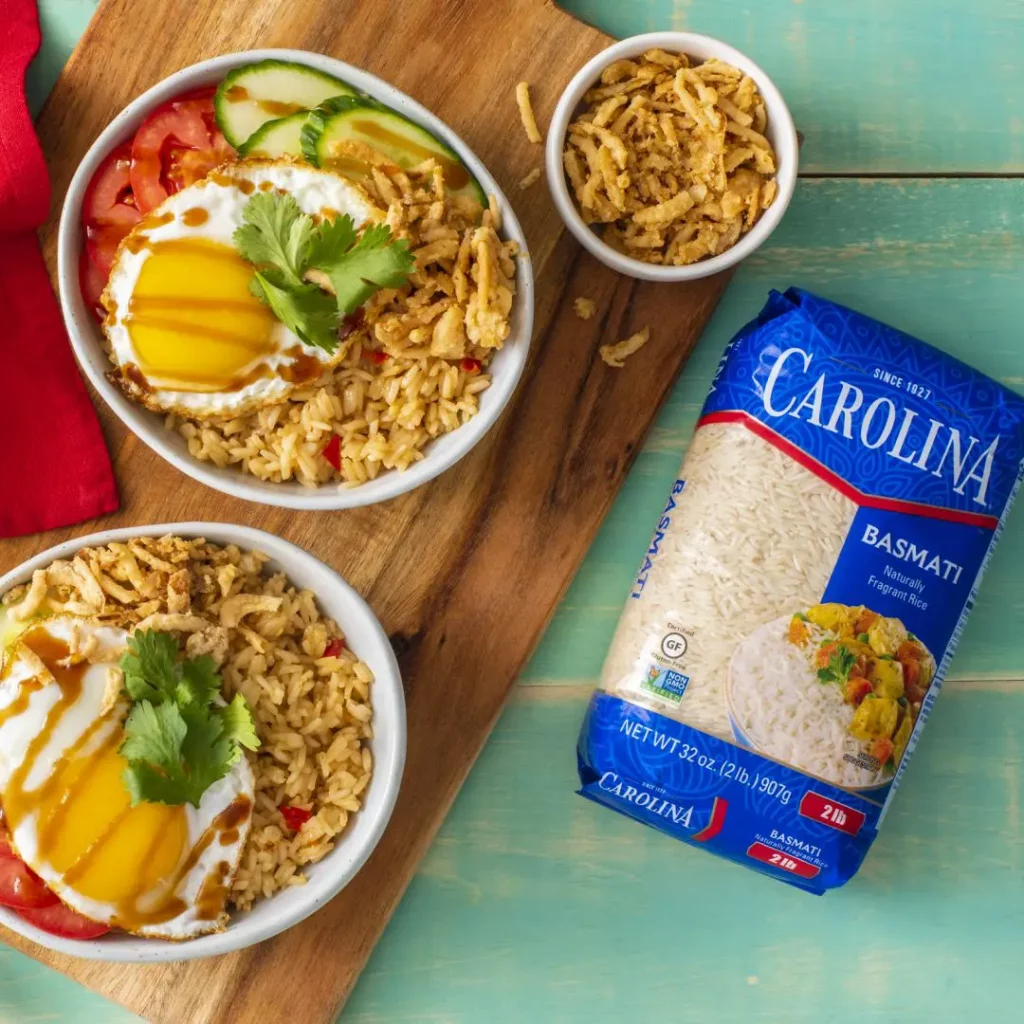 Discover more tips, tricks, and meal inspiration on our website.