Finding the time to cook a proper meal for the entire family is difficult for most people these days. If you find yourself feeling this way you are not alone. Luckily, Carolina® Rice can help you make yummy meals in just ten minutes or less, allowing you to have more time to do the things you enjoy.
Before we take a look at those recipes, let's take it even a step further by getting some insight on how to save some time in the kitchen.
Reducing Cook Time
Cut down on your cooking time by following these easy tips that will make cooking a breeze.
Weekly Meal Planning
By planning your meals ahead, it will not only keep your stress level down, but it will also save you money at the supermarket. If you have your meals planned you will not be piling random things into the cart, but only things that you need for the specific recipes you have chosen. You should also be able to pick up all the groceries you will need for your weekly prep in just one trip.
Clean Produce Before Storing
You can save yourself a lot of time in the kitchen by cleaning your fruits and vegetables before you put them away. This will be one less step for you to have to do later when you start to prepare a meal.
Keep Your Ingredients Organized
Knowing where you have everything stored in your fridge and pantry will save you a lot of time. Organize your spice rack however you see fit. Using clear containers in your pantry will make it much easier and faster to find what you are looking for.
Cook in Bulk
You can never go wrong by cooking 'too much.' This is always a good idea because this way you can enjoy fresh, home cooked meals during the entire week. Having to only reheat something instead of making something new by scratch will obviously save you a lot of time during your busy weekly schedule. If you do not want to eat the same things every day it is easy to switch up your meals by adding some meat, veggies, or cheese depending on what the recipe is.
Now that you will have tons of extra time to spare, let's look at some of Carolina® Rice´s easy and fast recipes!
10 Minute Meals
If you are craving a delicious homemade soup then this Pumpkin Coconut Rice Soup made with microwaveable Carolina® Jasmine Rice is an ideal choice. It will hit the spot for a quick lunch or a light dinner. If you do not want to use chicken broth with the soup, feel free to swap it with vegetable broth.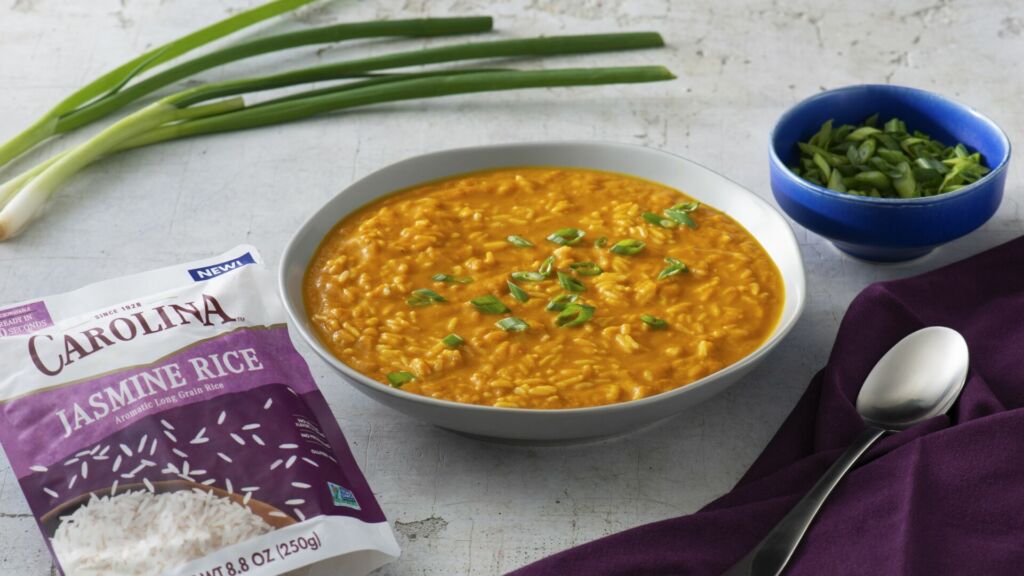 Recipe Tip: Did you know that pumpkin seeds are delicious? Save them for a tasty snack!
Seafood Options
If you are craving shrimp then you are in luck. Recipes like this Coconut Flavored Shrimp Fried Rice made with Carolina® Jasmine Rice are finished with a nutty toasted coconut flavor and will be on the table in 10 minutes or less.
Salmon Fried Rice with Kimchi is made with garlic and salmon and can even include roasted seaweed if you're feeling brave enough. And, our Coconut Flavored Shrimp Fried Rice has a nutty coconut taste that any shrimp lover will enjoy.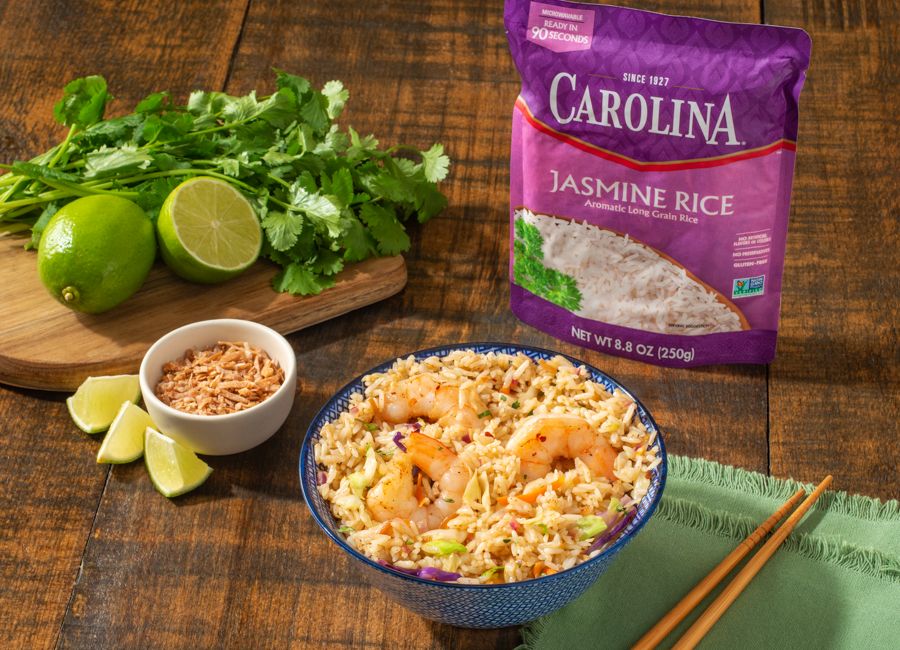 Meals That Can be Made in 5 Minutes
Changing gears from ten minutes to five, it is still possible to have a delicious meal! Try this Savory Coconut Fried Rice made with Carolina® Jasmine Rice, coconut flakes, sesame seeds and much more. If you enjoy coconut flavor and want to add some plantains into the mix, then try this Arroz Con Coco and Fried Plantains recipe. It is a meal that will satisfy both your sweet and savory cravings. In fact, it's an ideal opportunity to unfollow the recipe.
Another easy simple five minute meal is our Nacho Rice that is served with Carolina® Ready to Heat Rice. You can switch it up and use the meat of your choice if you don't have any chicken, or if you are searching for vegetarian options, kidney beans are a great alternative.
Continuing with the Tex-Mex theme try our Chicken Burrito Rice Bowl. This bowl is loaded with shredded chicken, lettuce, cheddar cheese, cherry tomatoes and ranch dressing. It can be prepared in no time and the whole family will surely be asking for seconds.
In only two minutes you can enjoy Carolina® White Rice with these Rice and Cheese Stuffed Jalapeños. They are perfect if you need an appetizer for a party or if you are hungry for a snack. Once you see how easy they are to make they will soon become your go-to recipe!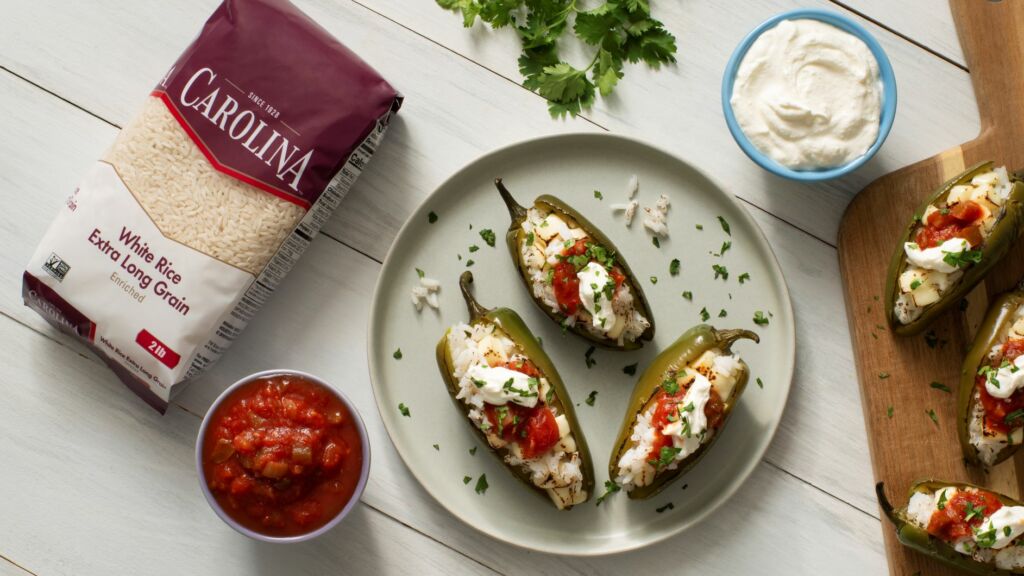 Easy Rice Drinks
Sometimes you feel like making an exciting drink, but don't have extra time to spare in the kitchen. Carolina® has got you covered! Try our Horchata. Made with only 5 ingredients, this tasty drink is the perfect companion for any Mexican meal. Whether you're hosting a Taco Tuesday at your place or you just want to make dinner time more fun with the family, making a batch is simple and quick.
If you liked this classic horchata try a different variation with our Banana Horchata Smoothie: It is made with leftover Carolina® White Rice, milk, bananas, vanilla ice cream and cinnamon.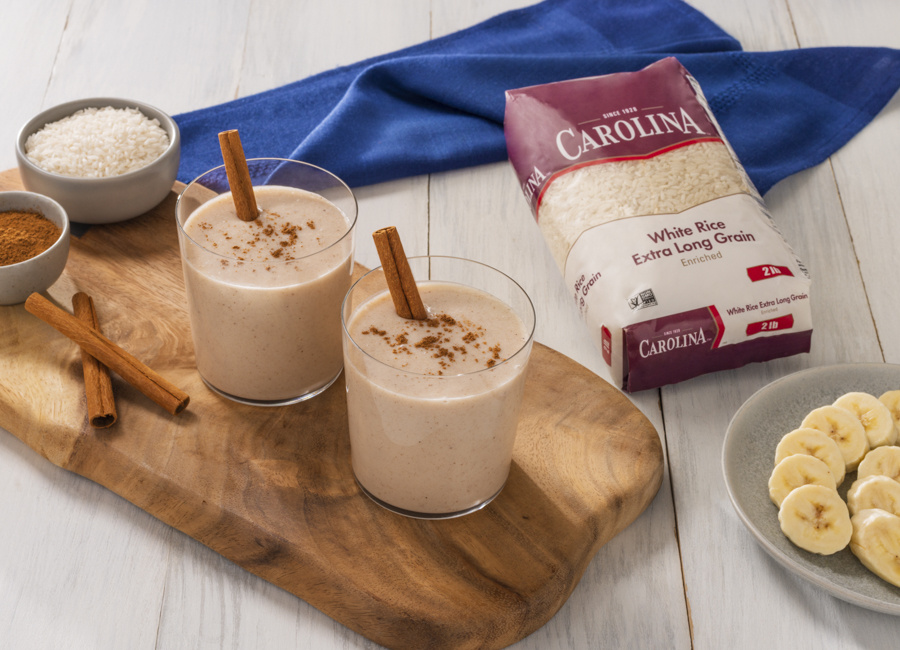 Carolina® Rice offers an array of delicious recipes which can be found on our website.