If you're looking for something simple to make, check out one of these quick and easy recipes you can make with Carolina® Rice.
You don't need to be a Michelin star chef to rustle up something tasty in the kitchen. Luckily with Carolina® Rice there's no shortage of easy, great-tasting recipes you can make in no time. Whether it's Thai or Indian food you're craving, we've got you covered with quick and easy ways to prepare traditional meals.
But before we dive into these recipes, let's learn a little bit more about some of the different rice varieties that Carolina® Rice has to offer.
Different Types of Carolina® Rice
With the amount of rice varieties available, selecting the right rice for your meal can sometimes feel overwhelming. To help you make up your mind, we've made a handy guide with some of our most popular rice varieties:
Carolina® White Rice – An extra long grain rice with a fluffy texture. The grains stay separated but they soak up all the flavors of your dish. This variety goes with pretty much anything!
Carolina® Jasmine Rice – This aromatic white rice variety has a soft and fluffy texture once it has been cooked, making it perfect for Asian dishes. As this rice variety is Gluten Free, it's perfect for vegetarian or vegan recipes. 
Carolina® Basmati Rice – This fluffy rice variety has a nutty flavor and, like white rice,  is non-sticky. Basmati rice can be used in a wide variety of different international dishes.
Now that we are more familiar with these Carolina® Rice varieties, let's take a look at some recipes!
Quick and Simple Rice Recipes
With Carolina® Rice it's never been easier to make simple yet satisfying dishes from all over the world:
Asian Style Dishes
For a simple Asian seafood family meal, try making this one-pan Salmon Fried Rice With Gochujang and Kimchi recipe.For those unfamiliar with using Korean cuisine, kimchi is a traditional spicy side made with fermented vegetables and can be served with a wide variety of different meals. Gochujang, on the other hand, is a thick, sweet and spicy Korean fermented pepper paste that packs a punch so use it sparingly!
Mediterranean Style Recipes
With this Authentic Spanish Paella With Seafood recipe, you don't need to travel all the way to Europe for great tasting Mediterranean food. This recipe combines monkfish, calamari rings and prawns for a delicious seafood and rice classic dish.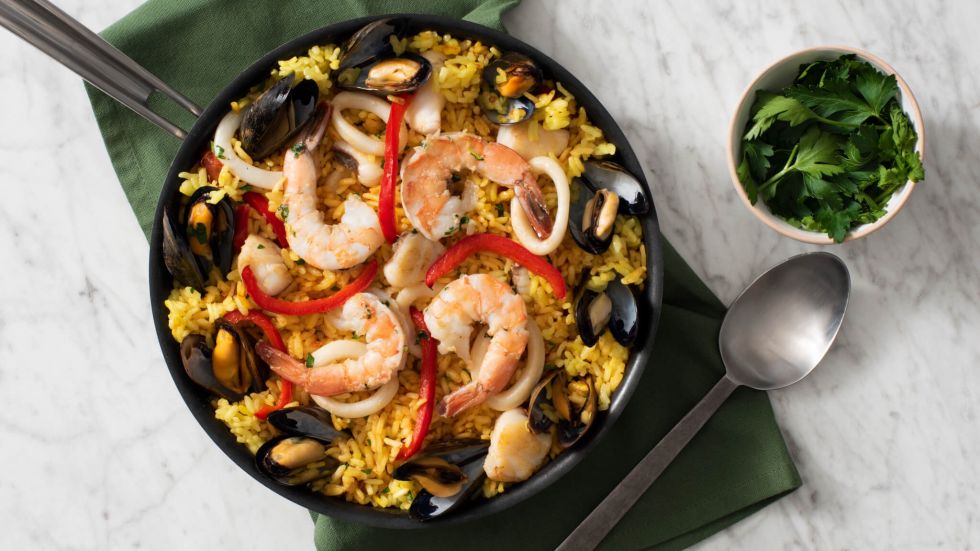 If you're looking for a fun family meal, look no further than these Saucy Meatball Sliders With Jasmine Rice and Quinoa –which are loaded with onions, carrots and ground beef, and all topped with a tasty marinara sauce.
Latin American Style Dishes
For a great-tasting meat-based dish the whole family will love, try this Chicken With Arroz Verde recipe made with Carolina® Jasmine Rice along with onions, chicken drumsticks and peppers.
If you're following a vegetarian diet, why not try out these Stuffed Plantains With Rice and Beans which you can prepare using cheese, saltcheese salt, beans and tomatoes.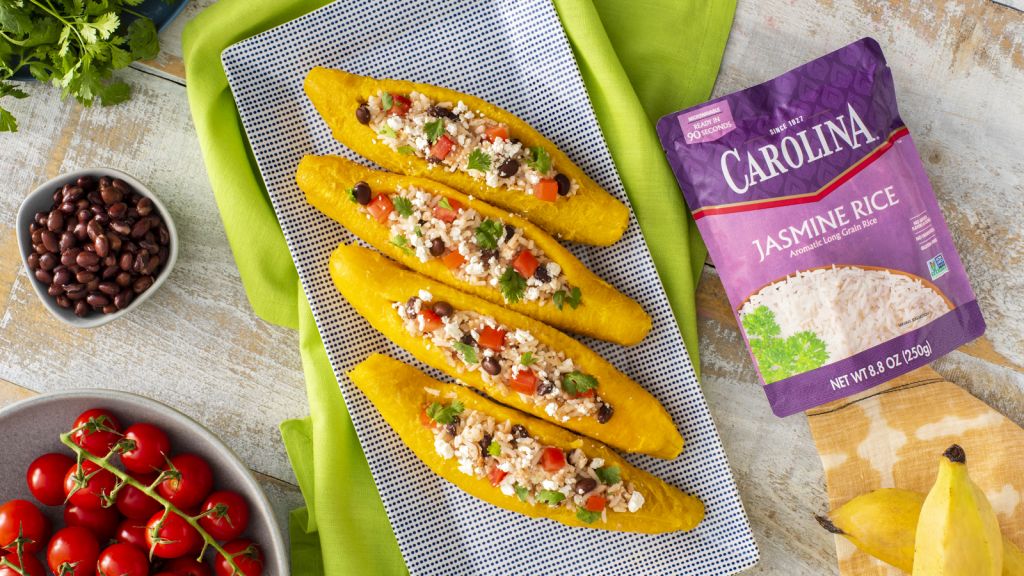 What are Plantains? Although strikingly similar to bananas in appearance they are quite different. Perhaps the main difference between the two is that plantains cannot be eaten raw; however, they can be prepared during any stage of their ripeness. Plantains are versatile and can be cooked in a variety of different ways– and used in plenty of dishes from appetizers to mains, even to desserts!
Hope you've got room for dessert, because we've also got tons of sweet treats you can make with Carolina® Rice!
Desserts
If you're in the mood for coconut, whip up this simple Coconut Flavored Rice Pudding with coconut milk, coconut oil and vanilla extract. Sprinkle in some cinnamon for a dash of flavor. If you want to experiment with this recipe further, toss in some fruit like banana, pineapple or mango.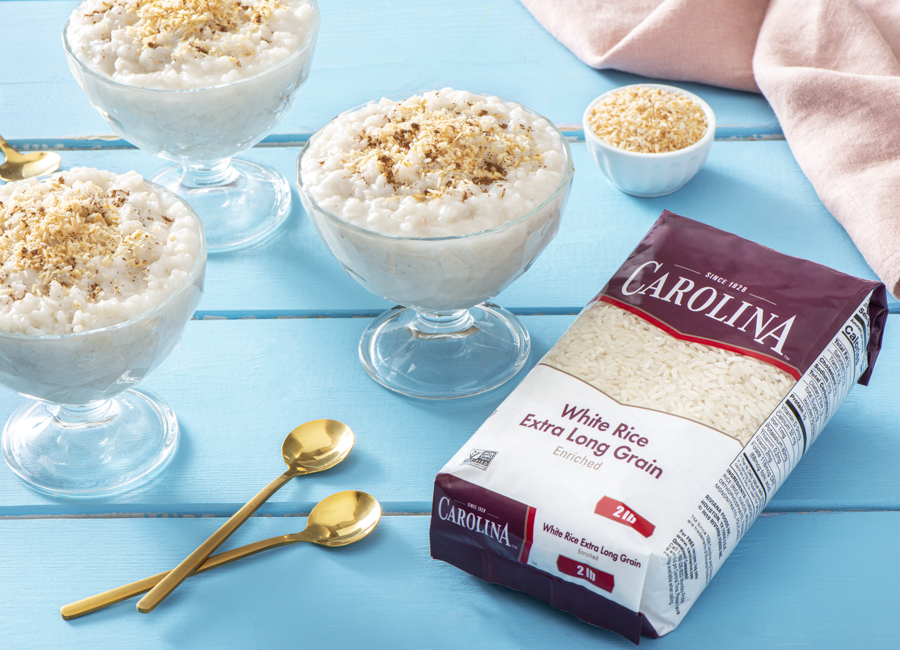 You can leave this Slow Cooked Rice Pudding made from butter, whole milk and sugar on a low cooking setting while you are out and about so it's ready when you get home.
So there you have it! There's plenty of quick and easy recipes that can be made with Carolina® Rice! Keep your favorite variety stocked in your pantry so you're ready when hunger strikes!