If you love to cook and experiment in the kitchen, but you're looking for a bit of inspiration to spice things up, then fusion cooking may just be for you. We'll take you through the process of combining different flavors together from all over the globe to create incredible meal options all with the help of Carolina® Rice.
But before we start, we need to answer the question: what is fusion cuisine?
What is Fusion Cuisine?
Fusion cooking is when we combine elements from two or more different traditional cuisines to make something totally different yet still delicious. You can really expand your cooking skills by cooking some of these unique meals which pull from different influences around the world. Not to mention, many of these recipes will include different techniques and methods that you can incorporate into your day to day cooking as well.
Fusion Inspired Recipe Ideas
Appetizer Ideas
If you are looking for a fusion style appetizer the next time you are entertaining guests, then check out these Crispy Rice With Shrimp Ceviche cakes. A Peruvian delicacy, making ceviche involves marinating raw fish in citrus dressing and seasoning. A perfect blend of Peruvian and Japanese traditional cuisines, this recipe is served with Carolina® Sushi Rice and shrimp.
For an appetizer recipe that combines Israeli, Italian and German cuisines, check out these Israeli Fusion Rice Balls. These rice balls are a unique take on traditional Italian Arancini rice balls combined with sauerkraut. If you are wondering what this recipe has to do with Israeli cuisine, the answer is that the combination of corned beef and sauerkraut originates with traditional Jewish cooking. Depending on your tastes, you can make this dish with either chicken broth or vegetable broth.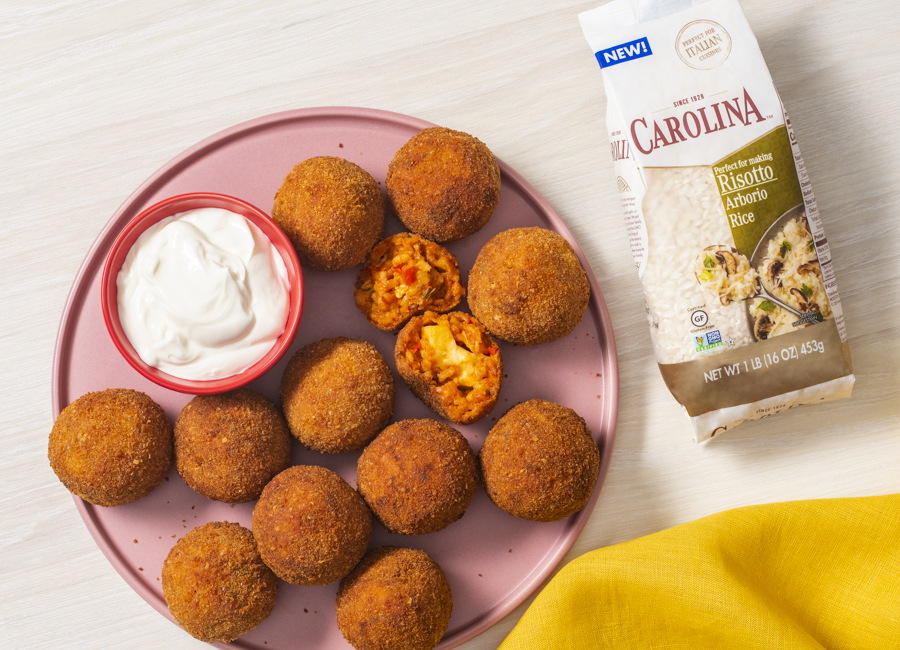 These Air Fryer Rice Balls With Arroz Rojo made with Carolina® Arborio Rice are a combination of Latin American and Italian cooking techniques. You can fill these Mexican style rice balls with whatever you want, from ham to mozzarella! If you don't have an air fryer in your kitchen, don't worry! You can also make this dish on a stove top.
Another example of a fusion style appetizer is this Italian Sushi With Arborio Rice made by wrapping cheese and basil in a prosciutto sushi roll.
This Spanish Inspired Shrimp Onigiri Recipe is also a fusion inspired starter which works very well. In this recipe, you'll be making traditional Japanese onigiri but with added Spanish flavors like saffron and paprika.
Main Course Ideas
This Fusion Sushi Crab Burrito made with Carolina® Sushi Short Grain Rice combines Japanese and Mexican cuisines. With the convenience of a burrito but with the flavor or Japanese sushi, this recipe gives you the best of both worlds. If you want to add some additional Mexican flavor to this dish, try adding in some red or green salsa.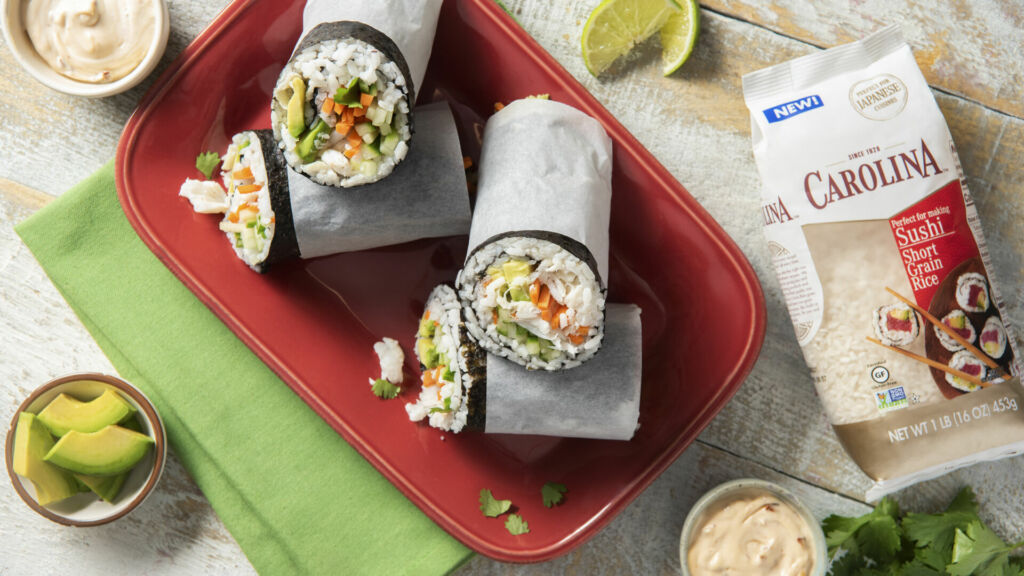 For a recipe which mixes Italian mozzarella with Korean gochujang sauce and kimchi, look no further than this Cheesy Volcano Rice made with Carolina® Jasmine Rice. Try adding in some chicken, beef or shrimp if you are looking for some additional protein.
This Peruvian-Style Christmas Arab Rice recipe is perfect if you are looking for a seasonal fusion meal. This dish is made with vermicelli noodles, raisins, almonds and soy sauce, though you can also add in some saffron for more of an exotic flavor if you wish.
For the perfect dish which mixes North and South American ingredients to serve next thanksgiving, make this Brazilian Shrimp Stuffed Pumpkin. This dish is traditionally served in Brazil with Moranga, a winter type of squash, though this recipe calls for North American pumpkin. One other great thing about this dish is that you can roast the pumpkin seeds for a tasty snack later.
If you're looking for a Latin American/Spanish fusion dish, then take a look at this Mexican-Style Seafood Paella recipe. Made with Carolina® Parboiled Rice, this paella mixes traditional Mediterranean seafood elements like mussels and shrimp along with tex-mex ingredients like red peppers, jalapeños, chipotle, cilantro, and lime. If you are still craving a paella fusion dish, then check out this Jerk Chicken Paella recipe.
Dessert Ideas
You can make your own unique fusion style dish by mixing this Sweet Arancini Dessert Board made with Carolina® Arborio Rice with Latin American dulce de leche. This dish also works perfectly well as an appetizer if you are looking for something else to serve your guests before the main course.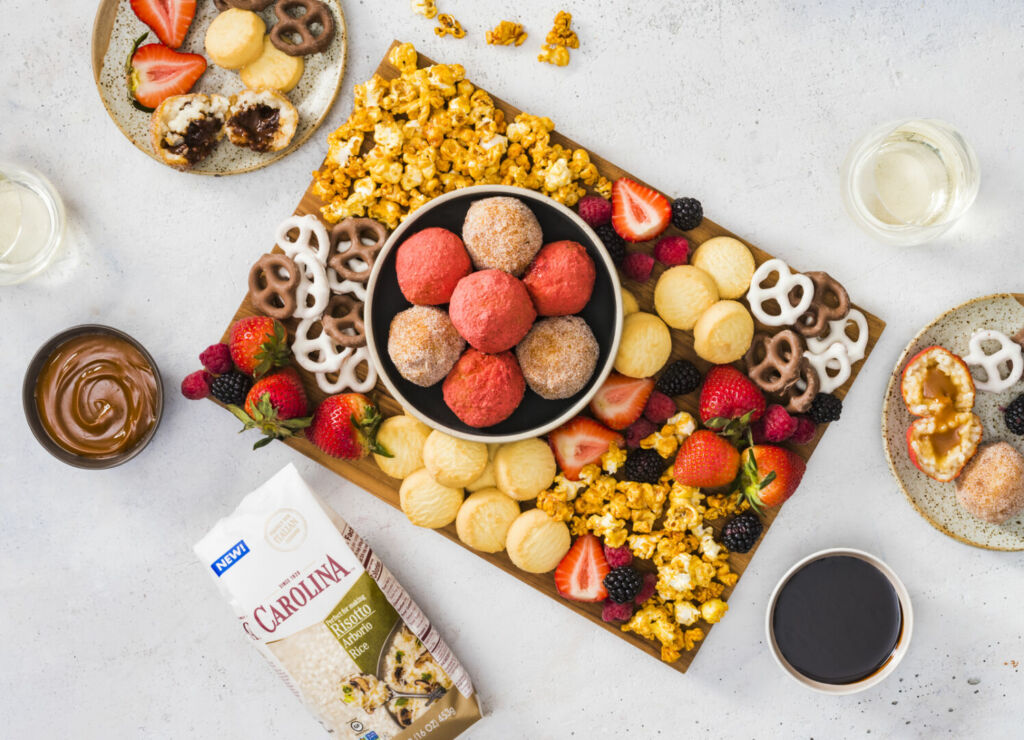 You can also make this Fruit Sushi Rice for a fun and sweet fusion recipe. Feel free to switch up the fruit depending on whatever is in season, or even serve it with chocolate if you really want to treat yourself.
For more international recipes, stay up to date with Carolina® Rice