When thinking of coconut, most people might imagine shredded coconut or a tall glass of piña colada. But, this tasty fruit is actually quite versatile and can be found in the form of coconut oil, coconut milk, coconut water and more!
At Carolina® Rice, we've found this is also a wonderful way to incorporate a bit more flavor into meals! We'll explore some of the delicious ways you can level up your traditional meals using coconut and all kinds of rice varieties from brown rice to aromatic jasmine and basmati.
Using Coconut Milk to Add Flavor to Your Rice
If you've ever wondered how to add a creamy texture to your rice without making it too sweet or adding in lots of milk or cream, coconut milk is exactly what you need. By simply combining water and coconut milk in place of only cooking water, you can add a luscious taste and texture to your rice for any meal both savory and sweet.
Follow these simple steps to make delicious fluffy Coconut Rice in less than 30 minutes. For this recipe we will be using Carolina® Jasmine Rice, water, coconut milk and salt.
Step 1 – Rinse the rice so any excess starch is removed.
Step 2 – Leave the rice to soak for around 20 minutes, giving it a chance to absorb some of the water before we start cooking it.
Step 3 – Pour in the water and coconut milk.
Step 4 – Bring the mixture to the boil and stir.
Step 5 – Lower the heat and wait for the rice to absorb all the liquid.
Tips for cooking coconut rice
If you have a rice cooker simply pour the mixture in and omit steps 3,4 and 5 as the rice cooker will do all the work from here.
While boiling the rice and coconut milk mixture, you may find a paste begins forming at the bottom of the pan. Keep stirring and scraping until a golden brown color appears on this paste and you will have delicious freshly caramelized coconut which works great when sprinkled over a rice dish.
Try to use coconut milk without any stabilizers like crystalline cellulose or xantham gum as these may cause the milk not to separate when boiling.
For a more neutral taste try using Carolina® White Rice for your base instead of jasmine rice, or alternatively if you want your rice to be fluffier with more of a spiced flavor use Carolina® Basmati Rice.
The great thing about coconut rice is that it goes with pretty much anything, from breakfast dishes all the way to desserts. Now we know how to prepare coconut rice, let's look at some recipes.
Coconut Rice Recipes
This flavor-packed Shrimp With Coconut Rice takes no time at all to prepare. Made with red curry paste, ginger and rum, this recipe mixes Thai and Caribbean influences using coconut water to create an incredible tasting dish.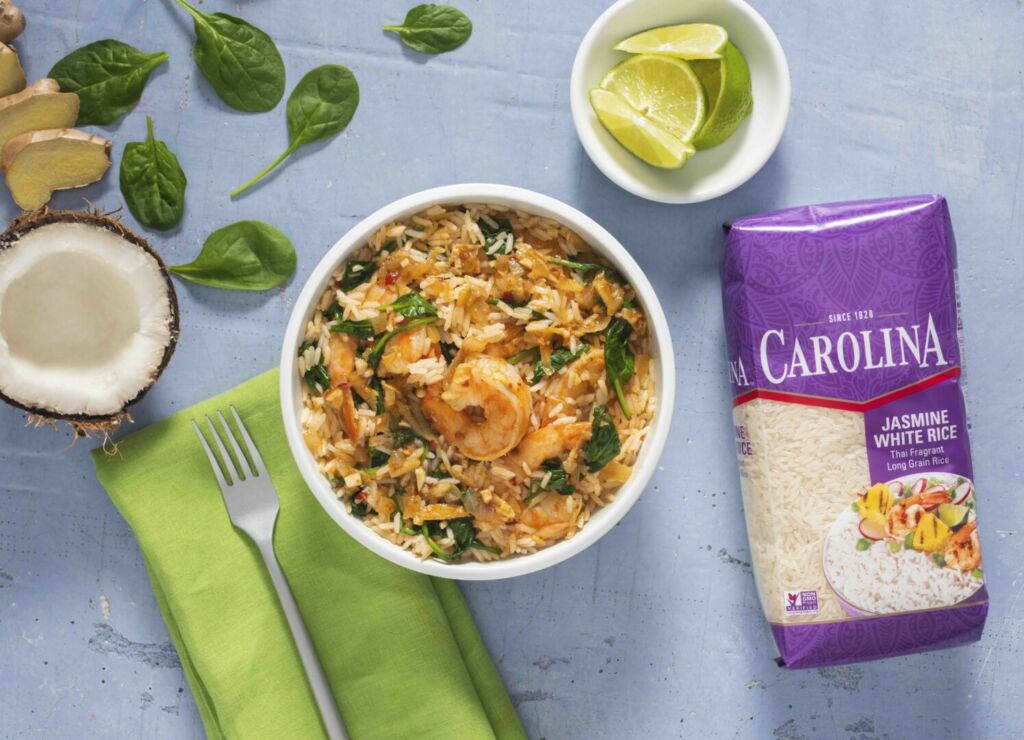 By simply adding some ingredients like plantains and avocado to your coconut rice, you can make this classic Latin American Vegetarian Arroz con Coco and Fried Plantains recipe using coconut milk.
Tip: If you aren't planning on cooking your plantains right away, keep them in a bowl of salted water to keep them from discoloring!
In addition to creating great tasting dishes with coconut rice as a base, there are also plenty of coconut recipes which use traditional rice types.
Other Rice Recipes With Coconut
To start with, this Savory Fried Rice dish made with coconut flakes takes no time at all to prepare and is packed with protein. If you want to enhance the coconut taste, try swapping in coconut oil or sprinkling over some additional coconut flakes. If you want something a bit sweeter add in some blueberries or strawberries for a dash of fruitiness.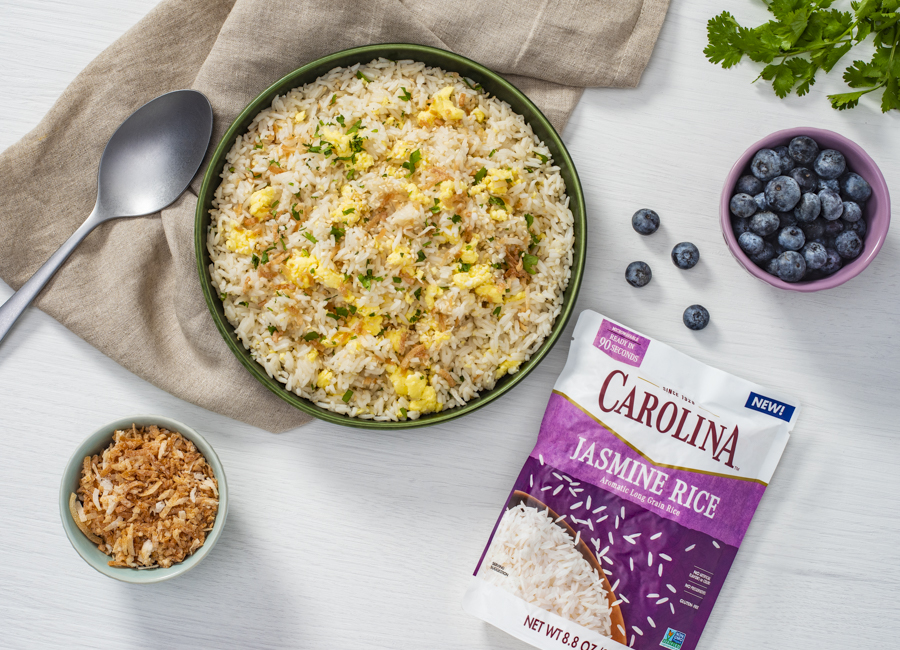 Coconut milk gives this Thai-influenced Pumpkin Rice Soup its velvety texture. This flavorful soup makes the perfect comfort food when temperatures start to fall. If you want to turn the heat up even more, add some turmeric, ginger or replace the curry powder with red curry paste.
Fans of Indian curry will love this Easy Chicken Tikka Masala With Basmati Rice recipe. Made with coconut milk, this recipe takes no time at all to prepare and can be served for lunch or dinner. This dish is perfect for those who like a bit of spice, however don't want to get overwhelmed. For a vegetarian alternative, try substituting the chicken for tofu or chickpeas.
Dairy-Free Sweet Treats
Not only can we use coconut for savory dishes, but it also makes a great base for countless desserts and treats. For example this Gluten Free Coconut and Almond Rice Tart made with Carolina® White Rice. This creamy and rich dessert goes great when served with strawberries.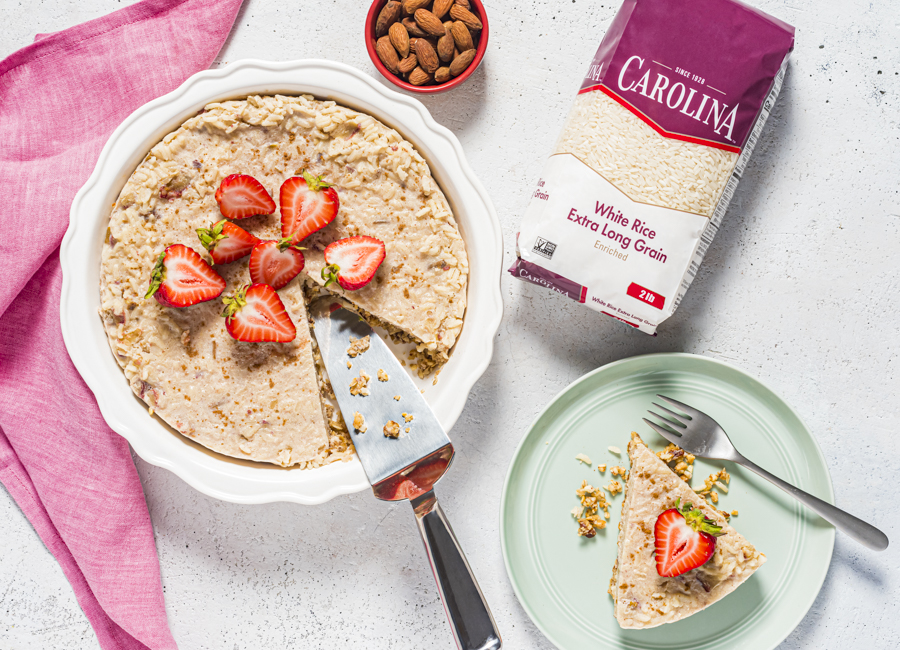 This Coconut Rice Pudding Milkshake is perfect for people who love sweet creamy drinks. Made with coconut milk, banana, vanilla, cinnamon along with Carolina® Jasmine Rice, this shake only takes 5 minutes to prepare. You can mix this recipe up by adding in more fruits and vegetables if you are looking to add more natural ingredients to your diet. Alternatively, if you want to make this milkshake into an on-the-go iced coffee, simply add in a couple of shots of espresso.
Coconut Rice also makes a great addition to fruity desserts like this light and refreshing Mango Sticky Rice. Try garnishing this dessert with toasted sesame seeds or cashews to add a bit more flavor.
For new recipes and cooking tips, be sure to stay up to date with Carolina® Rice.