It's possible that you won't always have enough time to plan and prepare your meals when life gets busy. With all of the back-to-school activities, more hours of homework, and resuming a routine, September may be extremely stressful. Fortunately, Carolina® Rice offers Ready to Heat goods that are prepared in just 90 seconds for you and your family! Never before has getting back into the routine been so simple!
If you're pressed for time or are on the road, we provide you with quick and practical solutions. Sorry, abuela, no stories tonight! There are a variety of options for every member of the family, from delicious rice meals with garlic and olive oil to savory jasmine delicacies. Let's look at some options to get you started as well as take a look at how simple it is to make this type of rice.
Preparing Ready to Heat Rice
The total cooking time for this specific rice is merely 90 seconds in the microwave or a few minutes on the stovetop since it is already cooked.
Microwave: Rice may be quickly prepared in the microwave by heating it on HIGH for 90 seconds without adding any water. Heat for 2 1/2 minutes to simultaneously heat 2 bags. There may be variations in microwave timing. When handling and opening the hot pouch, use caution. You can store any leftover rice in the fridge.
Stove: Gently squeeze the pouch's sides to separate the rice, then pour the contents onto a skillet. Heat while adding 2 tbsp of water. Serve the rice right away after heating it completely with intermittent stirring. With these rice variations, you may quickly make a variety of delicious recipes.
Here are the varieties of rice that Carolina® offers that you can prepare immediately:
Rice Varieties to use for 15 Minute Meals
It's crucial to pick the correct Ready to Heat rice variety when it comes to cooking quick and delectable rice dishes in under 15 minutes. Here are a few well-liked choices:
Jasmine Rice
Chipotle
Cilantro & Lime
Garlic & Olive Oil
Let's examine each flavor in detail and find wonderful recipes that use it.
Investigating Tasty Jasmine Rice Recipes
Rice made from jasmine is renowned for its delicate texture and intoxicating aroma. If you are seeking excellence, this type of rice will never let you down. This Salmon Fried Rice with Kimchi will be a smash whether you're hosting a family gathering or your kids are unusually hungry and you need to cook something quickly!
Our Coconut Flavored Shrimp Fried Rice is an additional Jasmine Rice alternative. Your kids will want this on a weekly basis because it is loaded with delicious shrimp, shallots, coconut, and more.
Dishes with Cilantro and Lime
As the star of a more elaborate meal like burritos or other Latin-inspired recipes, our Cilantro and Lime variation is a tasty mix that works nicely as a side dish. Want some Tex-Mex? Try our Tex Mex Rice Bowl
or our Nacho Rice. The kids will love the nacho rice on any hectic weeknight and it only takes 5 minutes to prepare. This irresistible combination is incredibly simple to make and works well in just about any recipe you can think of. Carolina® Rice has a special dish for you if you're in the mood for something a little on the hotter side.
Garlic & Olive Recipes
Lastly, we will examine our Garlic & Olive Oil Creations, which are guaranteed to be a success with the whole family. Olive oil and garlic are used to season these basic grains. They are a time-saving addition to a quick midweek dinner or weekly meal prep, and they also have a sense of Mediterranean flair. For a tasty and easy side dish, pair this ready-to-heat rice with beef, chicken, or seafood. Other foods won't be overpowered by its delicate flavors.Craving a salad? Try our Green Rice Salad with Chicken! Made with simple ingredients like rotisserie chicken, Carolina® Ready to Heat Jasmine Rice, and frozen broccoli and peas are just a few of the convenient ingredients that make this chicken and rice salad easy to prepare. It can be eaten as a snack, a quick meal on the run, or even for dinners.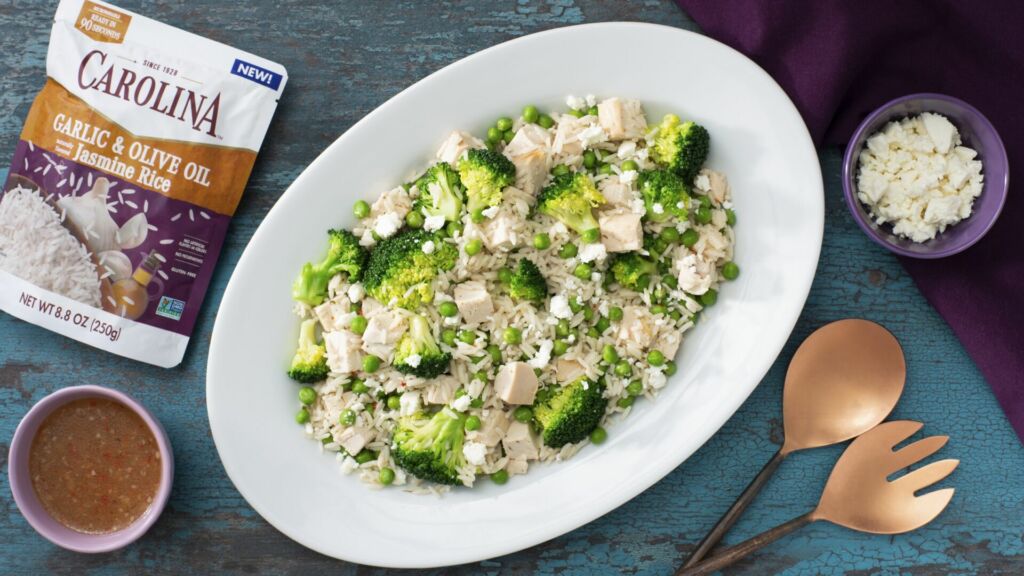 Adding More Ingredients to your Rice Meals
Planning your next meal gives you a ton of alternatives for boosting your rice recipes with extra components. Rice may be spiced up with a variety of sauces and seasonings, along with vegetables and proteins, to create tasty dinners. Here are some ideas to improve your rice-based meals:
Adding Different Sauces and Flavors to Rice
Teriyaki Sauce: Drizzle teriyaki sauce over your rice for an umami taste boost. Any protein you choose to serve it with will taste great because of the sweet and savory undertones.
Curry Paste: For a flavorful and aromatic twist, add curry paste to your rice meals. Red, green, or yellow curry will all impart flavorful tastes to your rice.
Soy Sauce and Sesame Oil: Create a simple yet flavorful combination by mixing soy sauce and sesame oil. Drizzle it over your rice for a savory and nutty taste.
Enhancing Rice Meals by Including Veggies and Proteins
Colorful veggies: By including a range of colorful veggies in your rice dishes, you can up both their nutritious content and aesthetic appeal. The vegetables bell peppers, carrots, peas, and broccoli are excellent additions to your cuisine.
Protein Options: Increase the amount of protein in your rice dishes by adding items like tofu, shrimp, chicken, or beef. Your meals will be more satisfying and filling as a result of these enhancements.
Spices and herbs: To enhance the flavor of your rice meals, try experimenting with various herbs and spices. Your dishes can be given a fresh and aromatic touch by the addition of cilantro, basil, garlic, and ginger.
You can make plain rice dishes into intriguing and savory masterpieces by adding these extra components. Don't be afraid to use your imagination, experiment with different combinations, and #unfollowlareceta to find your own preferences. You'll never run out of tasty options with all that Carolina® Rice has to offer.
For more quick and easy meal inspiration, don't forget to visit our website at www.carolinarice.com.