As we delve into the world of island cuisines, get ready to go on a journey. These flavors immediately conjure up pictures of luscious pineapples, creamy coconuts, and zingy citrus fruits in our minds. Whether it's a fruity dressing or a thick parfait, these tropical treats give every dish a delightful edge. In addition to fruits, you may savor the vivacious spices and distinctive ingredients that characterize island cuisine. So take a seat back, unwind, and let us explore the delectable world of island flavors while your taste buds travel to paradise.
Recipes Elevated by Coconut
To balance the flavors of sweet, sour, spicy, and even salty foods, a multitude of delicious techniques can be used to cook this wonderfully versatile fruit. One typical Southeast Asian meal is coconut rice. It can be categorized as either a savory dish or a sweet treat, depending on where it is cooked. This recipe is adaptable, so it's simple to add anything you and your family may be craving.
For any sit-down weekday meal with the family, these delectable Thai Coconut Curry Jasmine and Chicken Burritos are the ideal option. Kids enjoy helping to prepare the burrito filling by simmering the diced chicken and freshly chopped vegetables in sweet coconut milk and curry paste. Recipe Tip: Use green or yellow curry paste instead of red.
A traditional Coconut Flavored Rice Pudding is always a good choice.
The whole family will adore this straightforward treat. Utilize any fruit you already have in your home, such as a pineapple, mango, or banana. Test out your pudding both warm and cold.
There are so many mouth watering tropical fruits to select from, but everyone loves pineapple.
Pineapple-Based Cooking
A particularly bright and lively tropical fruit flavor that is both sweet and acidic characterizes the pineapple. Your thoughts will almost certainly immediately transport you to a tropical island where you are relaxing on the beach and sipping a piña colada. As it may be used in drinks, savory dishes, salads, and sweets, it is one of the most adaptable fruits. Some recipes call for pineapple slices, while others merely call for pineapple juice. Although both come in prepared forms, fresh pineapple has a unique flavor. Once you've tried these Carolina® Rice recipes, we can quickly transport you to a tropical paradise (even if it's just in your mind).
Shrimp and Pineapple
This Shrimp Fried Rice with Pineapple and Egg is a must if shrimp is on the menu for dinner today! This delicious meal will make the entire family beg for more. This dish's savory rice achieves new umami heights thanks to the sweet pineapple. Fresh sautéed shrimp, roasted peanuts, soy sauce, and a tiny bit of sriracha heat are all abundant ingredients in this dish. With a hint of cilantro and lime, our naturally flavored ready-to-heat jasmine rice takes center stage and is equally as priceless as those cherished pineapple morsels. Our Jerk Shrimp and Rice Lettuce Wraps with Pineapple Salsa are another shrimp alternative. The homemade pineapple salsa with red onion, jalapeños, lime juice, and cilantro, together with the flavorful jerk-seasoned shrimp, really sets this dish apart. Every bite of the shrimp and rice is infused with flavor.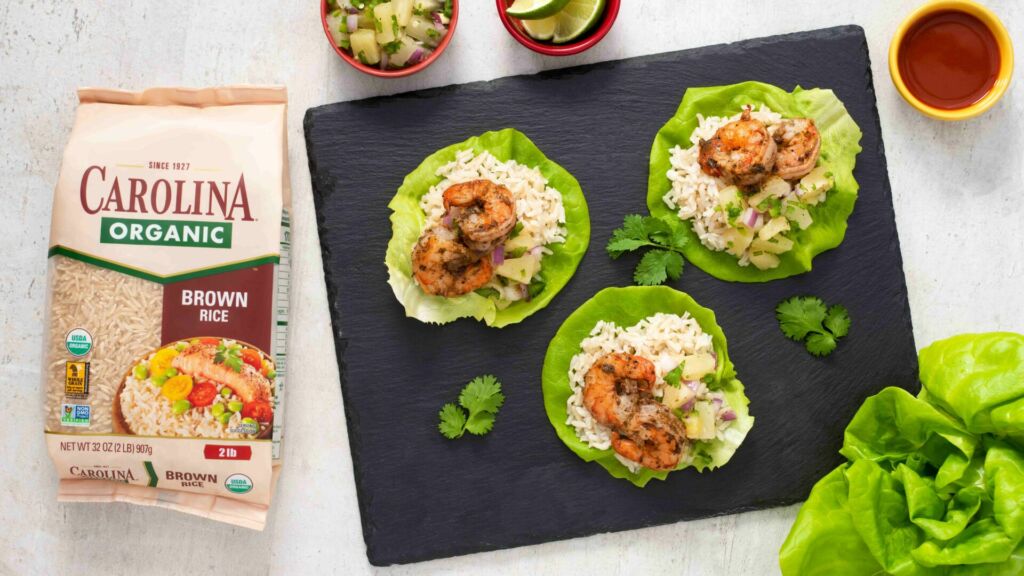 Fried Rice Options
This Thai Fried Rice with Pineapple ticks all the criteria with a little heat and everything nice! We promise that with just one serving, everyone in the family will start to love this recipe. Whether your favorite fried rice is made with kimchi, bacon, or pineapple, all you need to do is add your desired ingredients. This adaptable meal is fantastic because it includes fruits, veggies, and proteins. You'll love the combination of sweet and tart pineapple and a tiny bit of honey.
Rise to the Mango Challenge
There is nothing a mango can't accomplish! These instagrammable recipes make this tasty fruit out to be the star. With this Tuna Ceviche with Mango and Avocado, #unfollowlareceta. It's the ideal cool summer salad, full of fresh ingredients like mango, avocado, and tuna. All those mouthwatering summertime cravings condensed into one. Our Mango Rice Salad with Ginger Vinaigrette is another popular summer dish.Serve this sweet and tasty salad as a one-person lunch or during your upcoming barbecue or family reunion. Skip the inconvenience, but not the enjoyment. Enjoy these Rice Pudding Parfaits with Pineapple and Mango to cap off a wonderful day. They are simple to make and perfectly sweet and tart. What an easy way to bring the island flavors home!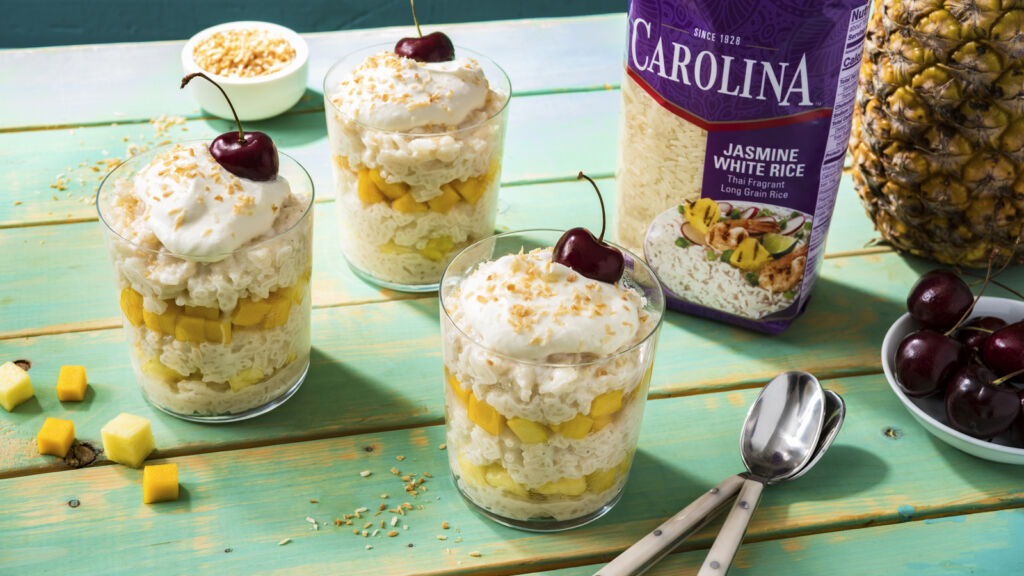 Delicious Poke Bowl Combos
The use of fragrant herbs and spices like jerk seasoning, lemongrass, ginger, and turmeric is another feature of island cuisine. These ingredients give foods richness and complexity, resulting in a delicious symphony that transports you to a tropical paradise. Remember to include poke bowls in your list as well!
This Spicy Rice Tuna Poke Bowl with Sesame, which is inspired by Hawaiian cuisine, has all the exotic island tastes you've been yearning for. No worries if you need to deviate from the recipe; this dish is adaptable. Use anything you have available in the kitchen or pantry. Tuna isn't what you're feeling? Tonight, try the salmon poke bowl instead.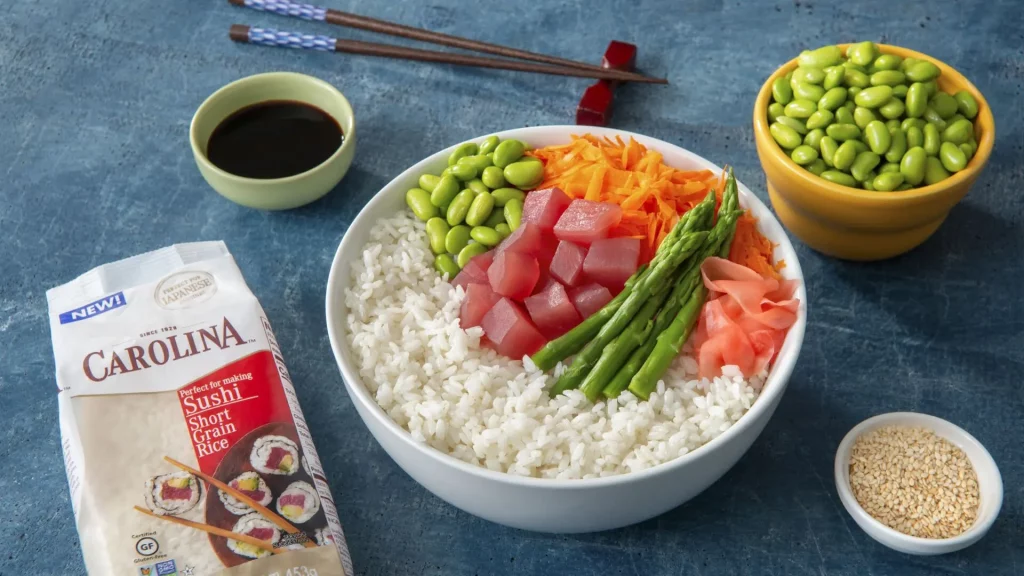 Check out www.carolinarice.com for more recipe info.