It's that time of year again when we need to start thinking about sending our kids back to school. As always, you'll need to make sure they are well equipped with pens, notebooks …and snacks for when they go back! With Carolina® Rice, there's no shortage of kid-friendly snacks and treats your children can enjoy at both school and home. 
Let's start with some tasty lunchbox snack ideas.
Snacks to put in Your Kids' Lunchboxes
It's always nice for your kids to see that you've left them a little snack for them to enjoy at lunchtime. You'll want to make sure that you are leaving them with a savory snack as this will give them more energy to help get them through the day.
Cheese Flavored Snacks
For a cheesy, on-the-go snack that fits straight into a lunchbox, try these Chicken and Brown Rice Lunchbox Cups. The great thing about these rice cups is that you can batch cook them at the weekend, saving you time mid-week.
Your kids will love these Cheesy Rice and Beef Empanadas, especially when served with some guacamole, salsa or sour cream. Feel free to swap in your kids' favorite ingredients to make this a snack they will look forward to every day. If you don't have any egg roll wrappers in your kitchen, you can use ready made empanada wrappers or wonton wrappers instead.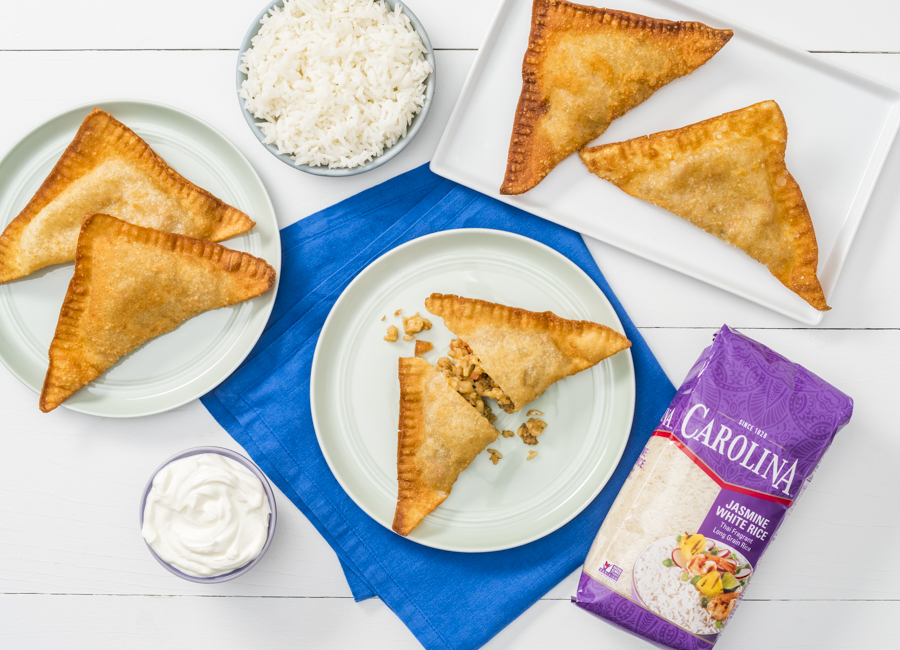 Vegetarian Snacks
If your kids can handle a bit of spice, then why not pack these Crispy Veggie Rice Balls made with Carolina® Rice into their lunchboxes.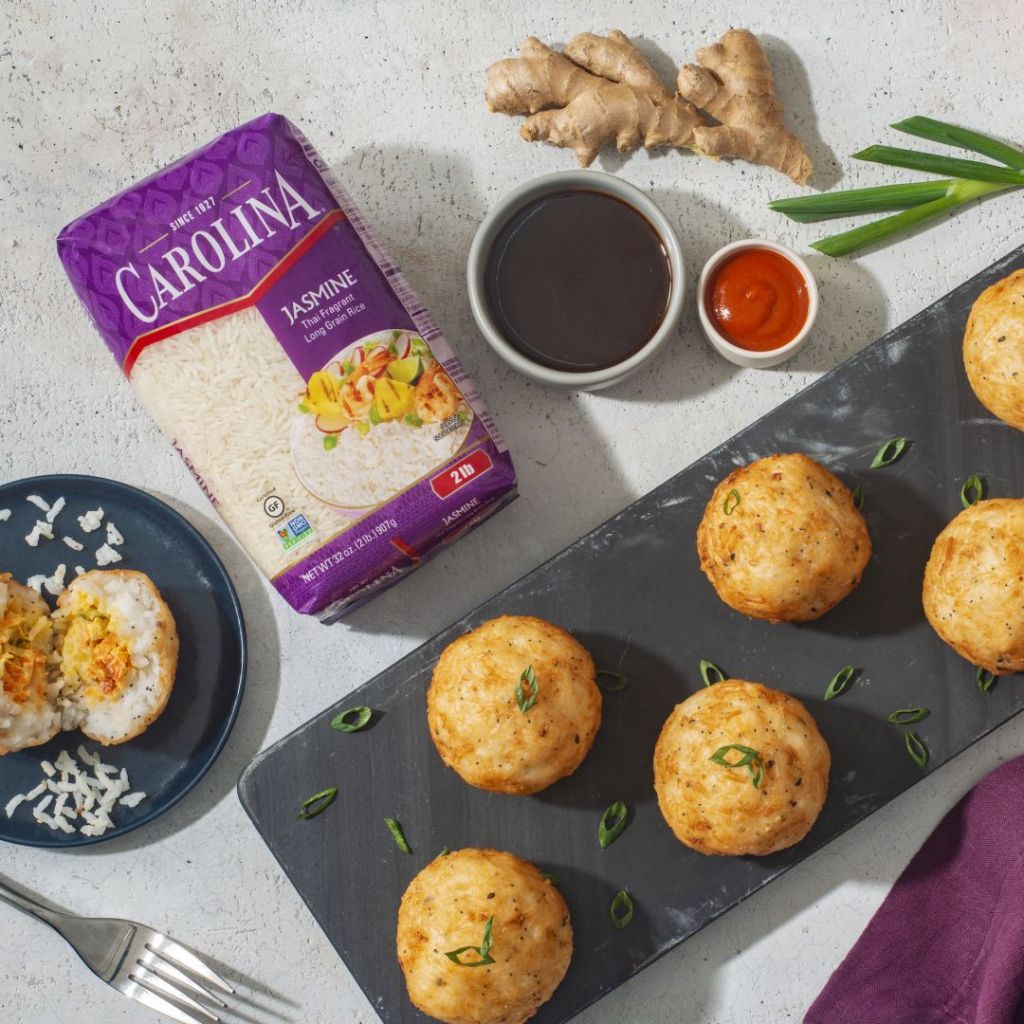 If you're looking to sneak some greens into your little one's lunch box, look no further than this Yaki Onigiri made with Carolina® Jasmine Rice. Although this recipe calls for crab sticks, feel free to swap them out for salmon or tuna if your kids prefer these ingredients.
Fishy Snacks
Seafood starter recipes also make excellent snacks for your child's lunchbox. For example, this Pressed Sushi made with Carolina® Short Grain Rice is a fun recipe which tastes great when dipped in some mayonnaise.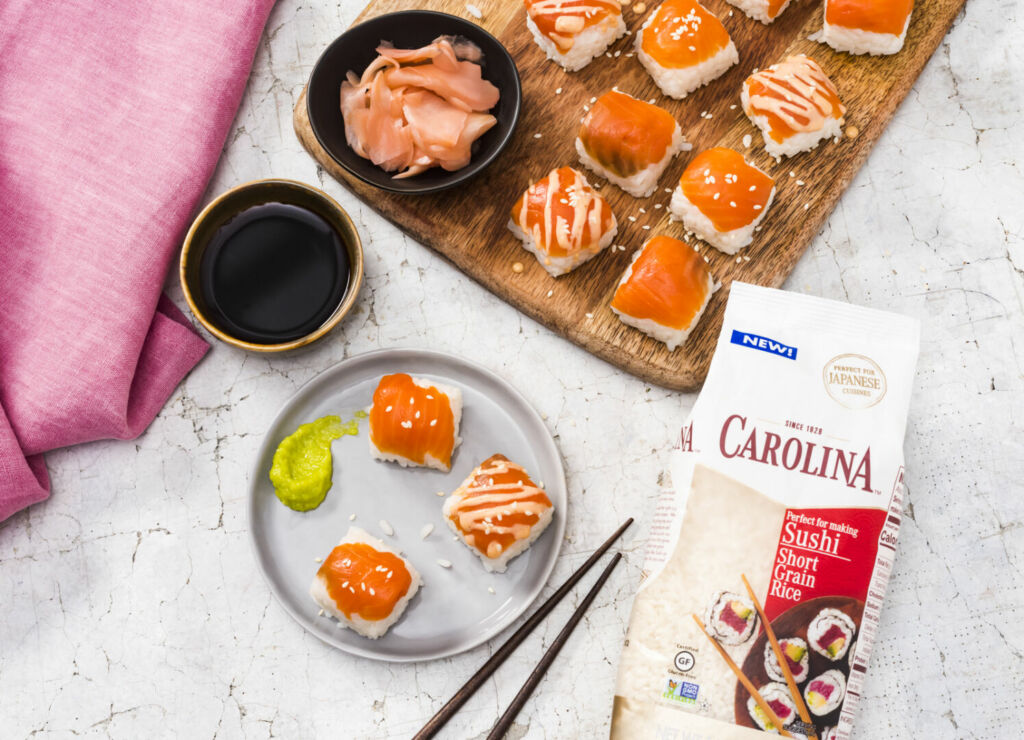 For another great fish flavored snack which also tastes great when served with jalapeno peppers, chives and onions, try these Crispy Rice With Spicy Avocado bites.
What to Include in a School Lunch box
Sometimes making the perfect lunch box for your kids can be quite difficult as you need to give them something you know they will eat, but will also give them enough energy to get through the day. It's for this reason why Carolina® Rice works so well for school packed lunches. 
In addition, you should also try and get some fruits and veggies in there as well. This is easier said than done, especially if your kids are fussy eaters. That said, if you've managed to get your kids to eat their greens, this juicy and colorful Rice and Chickpea Salad Bowl might be the perfect addition to their lunchboxes.
For some more salads that your kids might be more likely to eat, take a look at these other well presented salads.
After School Treats
A sweet treat is the perfect way to reward your kids for a good day at school. Here are some of our favorite sweet treats that can be made with Carolina® Rice.
Popped Rice is a common favorite for kids everywhere. Popped rice can either be a sweet or savory snack depending on what you serve it with. Feel free to add your kids favorite toppings to make this treat extra special.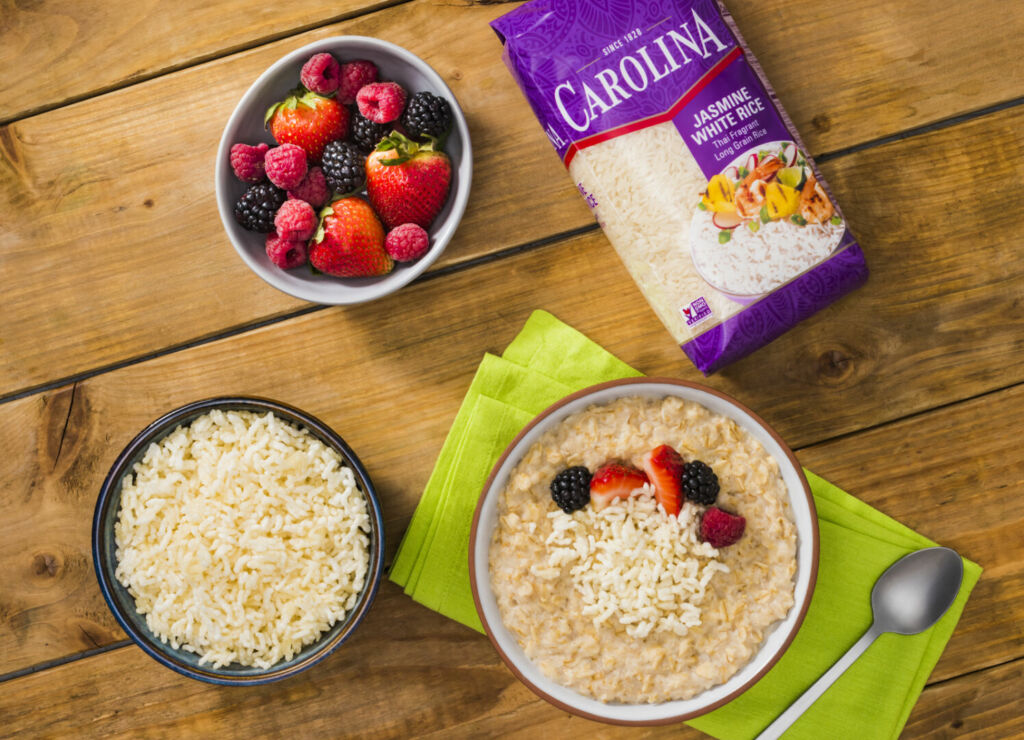 Your kids will also love these 5-Ingredient Puffed Rice Chocolate Bars. By cooking a batch of these chocolate bars you can have a week's worth of snacks for your kids.
For more recipes your family will love, stay tuned to Carolina® Rice.