When the temperatures start to drop outside, one of the best things to beat the winter blues is a nice, warm meal to comfort you. This holiday season, why not try experimenting with Carolina® Rice by preparing some international comfort food recipes. In these recipes, you will learn new cooking techniques that you can utilize for your own home cooked meals.
But before we dive right into these recipes, what do we mean by comfort foods?
Comfort Foods
Comfort foods normally refer to meals or snacks that are indulgent but filling at the same time. Comfort foods are normally served hot, so they are perfect for when temperatures start to drop! They are normally associated with particular memories, so why not have some fun by preparing or enjoying these recipes and making memories with family and friends. 
Comfort Food Recipes From Around the World
Here are some of our favorite international comfort food recipes that feature Carolina® Rice.
Asian-Style Comfort Food Recipes
These Crispy Veggie Rice Balls are perfect if you are looking for a comforting Asian-style appetizer or snack that's filled with fall flavors like carrots and ginger. You'll want to serve these rice balls hot, ideally with a side sauce like wasabi spiked soy sauce. Experiment with different fillings to really make these rice balls your own. 
Storage Tip: These rice balls can last for a few days in the fridge in a sealed container, so don't panic if you've made too many!
Latin American-Style Comfort Food Recipes
If you are in the mood for something comforting with Mexican flavors you can serve at Thanksgiving, learn how to make this Green Bean Rice Casserole which can be made with Manchego or Oaxaca style cheeses.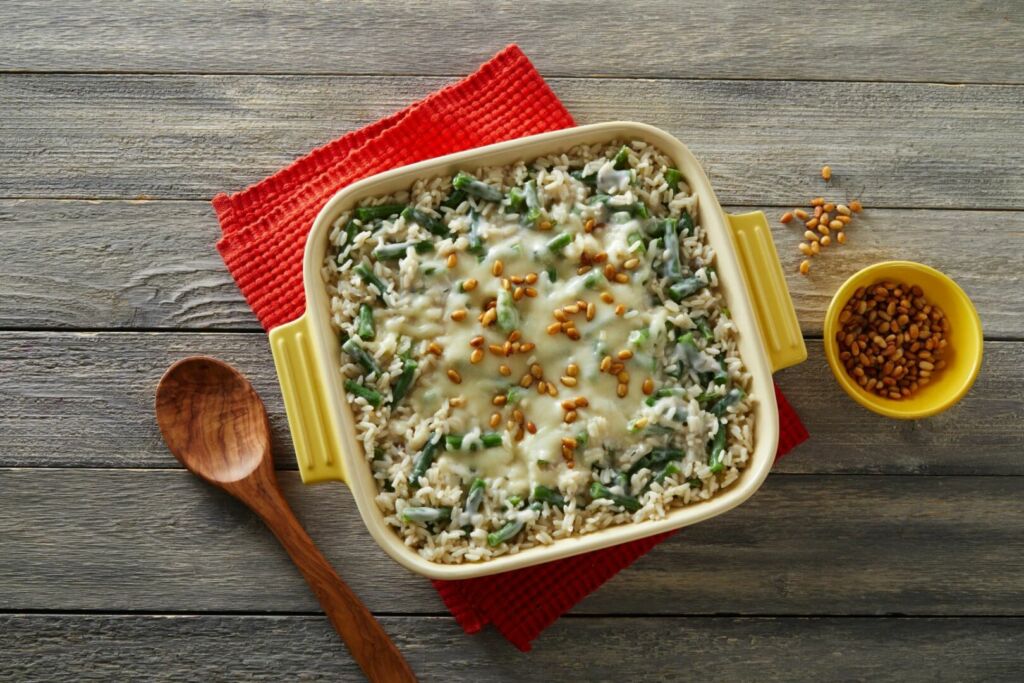 If you've got any turkey leftover from Thanksgiving, you'll want to learn how to make these Turkey and Rice Picadillo Empanadas for a warm snack. Add some zesty, herb flavors by serving these empanadas with chimichurri sauce. Keep dough and filling stocked in the refrigerator so that you can easily whip them up whenever the mood strikes. If you are entertaining guests, set up a filling station where friends can fill their own empanadas with the ingredients of their choice.
For another spicy comfort meal you can make with leftover turkey, make this Spicy Green Chili With Turkey and Rice. If you are looking for a garnish, try serving it with some sour cream or avocado. If you're out of leftover turkey, chicken or pork taste just as delicious! .
This comforting yet delicious Brazilian Shrimp Stuffed Pumpkin is a fun dish to serve at a dinner party as it's actually served inside everybody's favorite fall fruit! If you'd prefer to serve this recipe as individual portions, divide the filling into sweet potato skins instead. Save the pumpkin seeds to roast– voila! – a holiday season classic snack.
Fusion Comfort Food Recipes
If you want to explore some comforting fusion recipes this holiday season, check out this Mexican Style Roasted Chicken With Brown Rice Pilaf: it's a mixture of Latin American and Middle Eastern cuisine influences. Although this recipe calls for a roasted chicken, it can easily be replaced by a roast turkey if you are serving this recipe at Thanksgiving dinner. This dish is perfect for when you are looking to serve something unique – the next time you are cooking for friends, give it a try!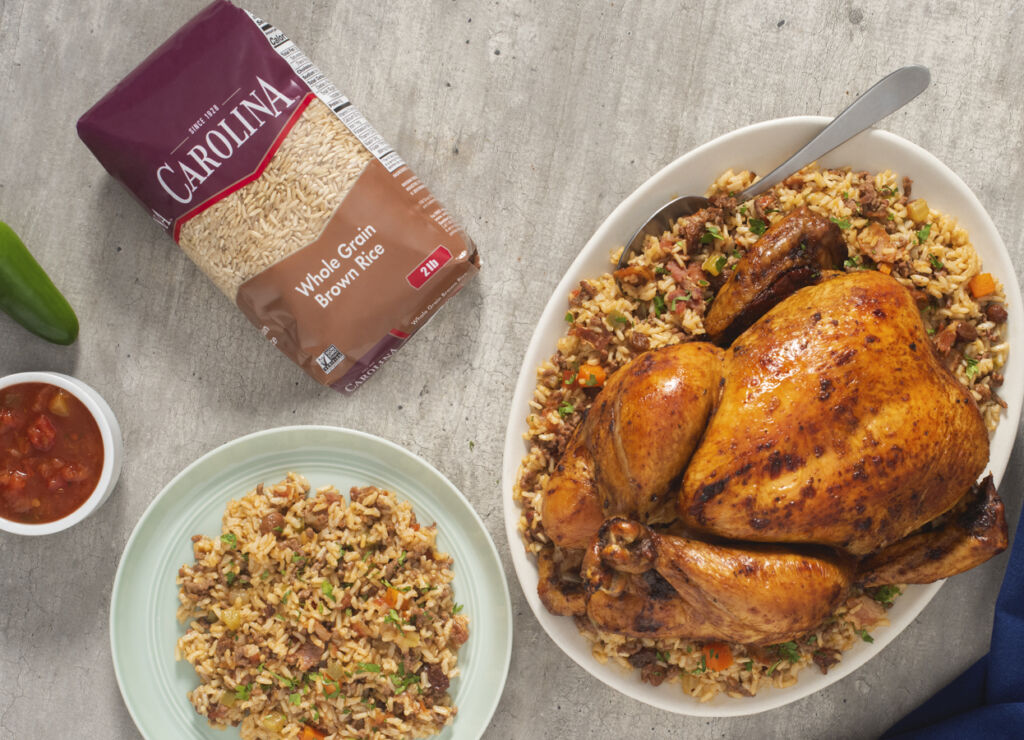 For another Latin-American/Middle Eastern style combination you can serve at Christmas, take a look at this sweet and savory Peruvian-Style Christmas Arab Rice. Make this recipe more appealing to your guests by adding in some saffron, giving it a golden tint.
Comforting Holiday Desserts
If you are looking for something comforting yet festive to serve after your main dish, you'll love this creamy Rompope Rice Pudding.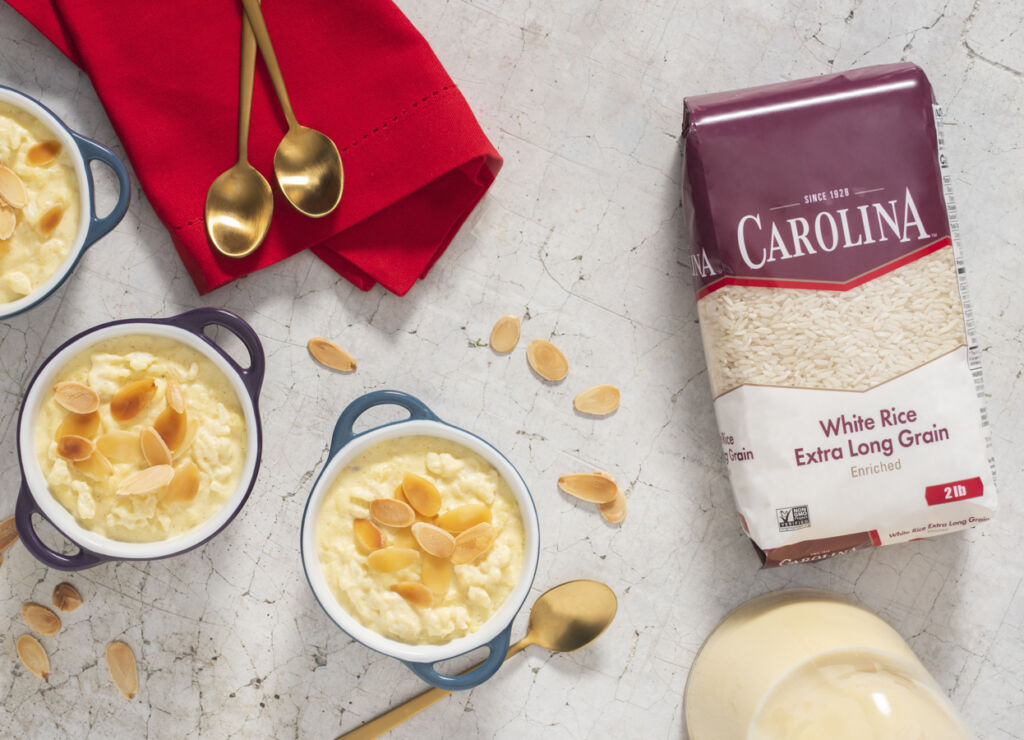 For another sweet guilty pleasure you may also be interested in trying out a Cuban-Style Natilla Custard With Rice recipe. If you've got a sweet tooth, try adding in some dulce de leche for something really indulgent. If you've accidentally made too much, don't worry! This recipe also doubles as an excellent breakfast.
For a sweet take on another Latin American classic, take a look at this Sweet Rice Tamale recipe. This warm and comforting dessert is perfect for enjoying after a big thanksgiving meal.
For more international recipes, stay tuned to Carolina® Rice.